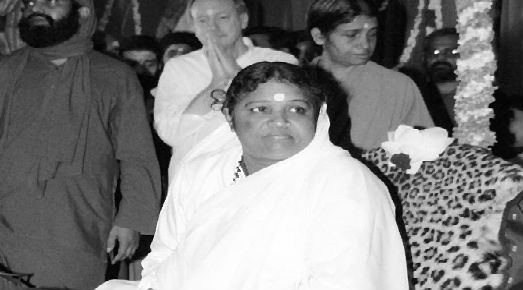 In her book Holy Hell: A Memoir of Faith, Devotion and Pure Madness, former ashram aide Gail Tredwell has alleged rape and corruption in the ashram of "Mata" (Mother) Amritanandamayi, the "hugging saint" of India. Given the name 'Gayatri' by the ashram inmates, Tredwell specifically alleged that she was repeatedly raped by "chief priest" Mutt Balu and tortured physically by Amritanandamayi. She also describes an atmosphere of secrecy and deceit prevalent in the ashram to protect the 'saint's public image and facts about her personal wealth.
Tredwell, an Australian national had joined Amritanandamayi's ashram in 1978 and left it in 1999. She claims to have been part of an inner circle of aides who suppressed criticism and maintained a facade for public consumption. Information suppressed included that about the wealth of Amritanandamayi's family. In her book, Tredwell says her attempts to speak out earned her the saint's wrath:
"Those who dared to speak out were immediately blacklisted, deemed a traitor, and looked upon as a threat to the preservation of faith among her disciples. This life was more than just grueling."
Amritanandamayi heads the Mata Amritanandamayi Math (MAM), which is an international organization engaged in promoting the spiritual teachings of Amritanandamayi and social services. She is widely popular across India.
The allegations have sparked political exchanges. A leader of the Communist Party of India (Marxist), P. Rajiv has criticized the media for not covering the story, even as the Tredwell's books went viral on the internet. Another Communist leader, Pinarayi Vijayan has said the allegations were "serious" and required investigation by the government. However, Kerala state chief minister Oommen Chandy personally defended the ashram's reputation, reminding the opposition Communists of the "social services" they have performed.
Meanwhile, the Karunagappally police have filed a case against the administrators of a Facebook page that posted criticism of Amritanandamayi, following the complaints of five disciples against "offensive content." The police have clarified they are targeting the source of such pages and not the Facebook users who "liked" the posts.
"Unlike confusions created in the past in connection with similar cases, we are not going after everyone who shared these posts and registered their 'likes'. Our probe is in the direction of finding the origin of these posts," said Karunagappally sub inspector Justin John.
While her devotees have pursued critics and are mulling a defamation suit against Tredwell, Amritanandamayi herself spoke about forgetting and forgiving: "Some people are saying certain things against the ashram when their plans did not materialise. I am trying to forget and forgive these issues. I don't ask anyone to serve me. Instead, I am serving others."
In emails exchanged with India Today magazine, Tredwell said "I stand behind everything that is written in my book and have no intention of withdrawing anything." She also spoke out against the use of police force against critics of Amritanandamayi, saying "Such an action could not only intimidate freedom of speech but also incite violence and retaliation against district people who speak out."
Photo Credits: Fotokannan