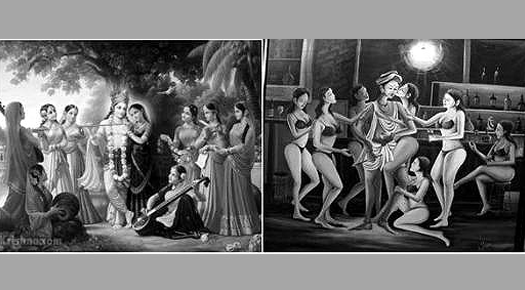 A Muslim artist in Assam landed himself in trouble after depicting Lord Krishna in a light that may seem offensive to staunch Hindus. Akram Hussain, whose artwork was showcased at the State Art Gallery in Guwahati, had an FIR filed against him at the local police station, as one of his paintings portrayed Lord Krishna in a bar, surrounded by bikini-clad gopis. As expected, the art installation did not go down very well with radical religious groups and activists.
Hussain hails from a small town called Goalpara and he completed his graduation from Assam's Government Art College. At the recent exhibition, which was held at Assam's State Art Gallery in the first week of April, Hussain displayed two paintings – one of the unfurled Indian national flag upon which were placed several objectionable items like cigarettes and bottles of liquor and another of Lord Krishna standing at a bar among several semi-nude women.
While Hussain's artwork could have been easily dismissed for being neither spectacular nor compelling, the fact that a Muslim artist dared to depict a Hindu god in such a manner irked many radical Hindus in the state. So, the concerned religious groups and religious advocates took it upon themselves to respond to Hussain's apparently outrageous behavior by lodging an FIR against him. Following the FIR, Hussain's paintings were taken down from the art gallery.
Below are a few tweets that were aimed at undermining Hussain's artistic sensibilities:
Krishna as semi-naked & Gopi in Bikini painting by Mohd Akram Hussain . There will be outrage ?? #HatsOffGeneral pic.twitter.com/gPdBV8fBn3

— Kafir (@Ailurus01) April 9, 2015
#ValmikiFamilies Akram Hussain paints LORD KRISHNA ,BIKINI CLAD GOPIS in bar.Displayed At RAVINDRA BHAVAN, NEW DELHI pic.twitter.com/3dNqOuOH4O

— HimanshuS (@3uphoric) April 12, 2015
stupid Akram Hussain paints Lord Krishna wid his sisters in Bikini will media cover dis #GharWapsi #ValmikiFamilies pic.twitter.com/V0ll3BlH4e

— Sumit Nautiyal (@AwSumIt) April 12, 2015
Ironically, Hussain's paintings, which would have barely been noticed had this controversy not arisen, have now managed to grab many more eyeballs, thanks to his detractors.
Photo Credits: World Hindu News