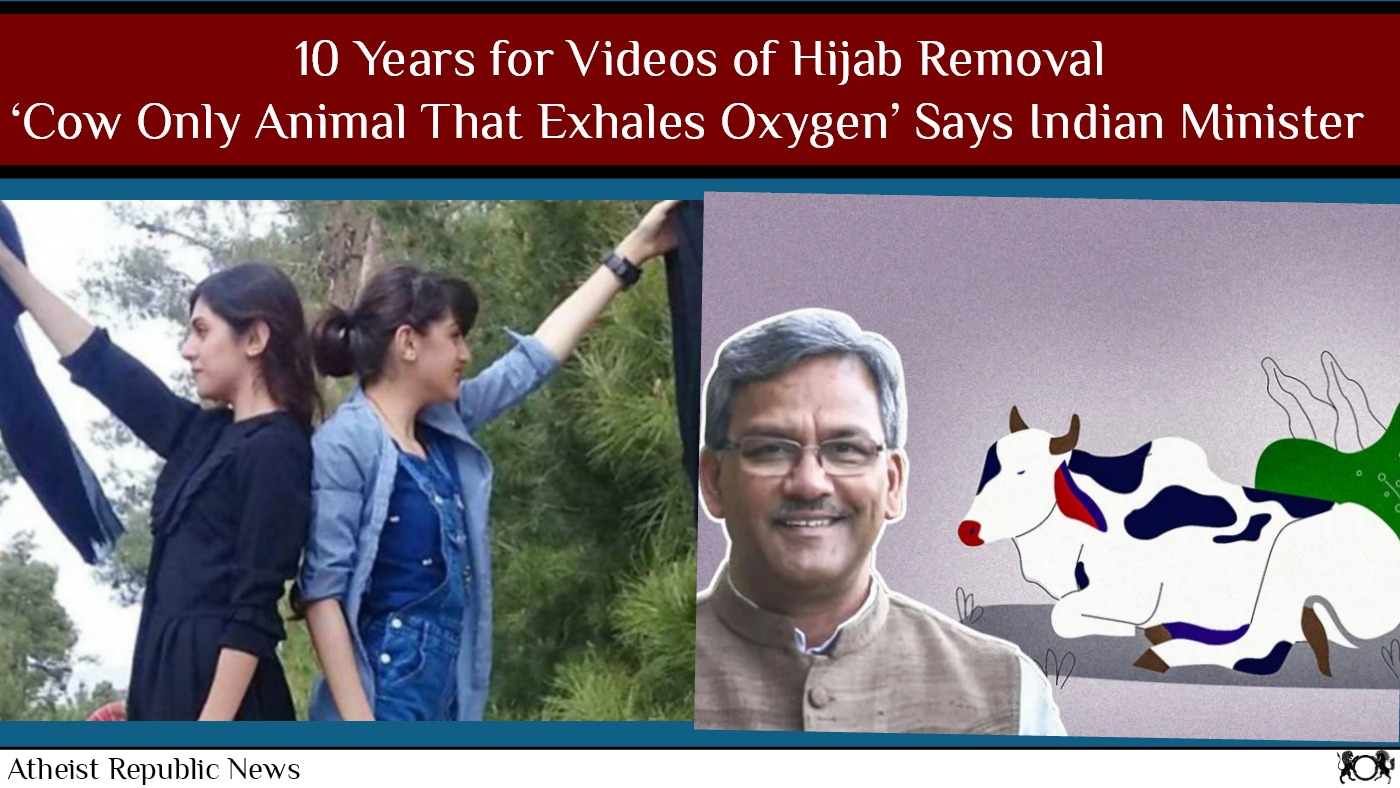 1. Iranian women face 10 years for sharing videos of hijab removal
https://www.facebook.com/130148817071986/posts/2558109614275882
Location: Iran
2. Russian LGBTQ Activist Yelena Grigorieva Found Dead In St. Petersburg
https://www.facebook.com/130148817071986/posts/2554307511322759
Location: Russia
3. Parents refuse to donate kidney to dying daughter, say 'she is a girl'
https://www.facebook.com/130148817071986/posts/2556760621077448
Location: Sheikhpura, India
Suggested by: Subham
4. Greek Orthodox Priest: Gay People Are Caused by Pregnant Women Having Anal Sex
https://www.facebook.com/130148817071986/posts/2554947624592081
Location: Cyprus, Greece
5. Many U.S. Prisons Deny Muslim Inmates Halal Food and Proper Prayer
https://www.facebook.com/130148817071986/posts/2553016024785241
Location: USA
6. 'Cow only animal that exhales oxygen', says Uttarakhand CM Trivendra Singh Rawat
https://www.facebook.com/130148817071986/posts/2554545904632253
Location: Uttarakhand, India
Suggested by: Subham
7. Joshua Harris, a former pastor who wrote relationship book, says his marriage is over and he is no longer Christian
https://www.facebook.com/130148817071986/posts/2558567087563468
Location: Ohio, USA
8. Atheist parents take primary school to court as they say assembly prayers breach children's human rights
https://www.facebook.com/130148817071986/posts/2558163110937199
Location: United Kingdom
9. Woman shouts 'shame on you' in homophobic rant at Pride march
https://www.facebook.com/130148817071986/posts/2554805811272929
Location: East London
10. Triple talaq: India criminalises Muslim 'instant divorce'
https://www.facebook.com/130148817071986/posts/2560082257411951
Location: India
1. Iranian officials have warned that posting video footage of women removing their mandatory headscarves in public could lead to up to 10 years imprisonment. The announcement specifically named the US-based social media platform of Masih Alinejad, which since 2014 has been inviting Iranian women to post pictures of themselves without the hijab.
Ms Alinejad has been accused by the Iranian regime of working as an agent of the US government over the website, known as My Stealthy Freedom. Earlier this year Ms Alinejad met with US Secretary of State Mike Pompeo who "thanked her for her bravery and continued dedication to the cause of freedom for Iranian women".
2. Dozens of demonstrators have held solo pickets in St. Petersburg to commemorate a political and LGBT rights activist who was killed. Yelena Grigorieva's body was found near her home with eight stab wounds and signs of strangling. Some participants in the rally said the 41-year-old had received many threats connected with her activism, particularly for gay rights. Homosexuality is not criminalized in Russia, but animosity toward non-traditional sexuality is strong.
3. A teenage girl has been battling for life at a government hospital in Bihar after both her kidneys have failed. With no money to pay for her kidney transplant, the parents rushed Kanchan back home in Sheikhpura and admitted her to the local Sadar hospital, the main government hospital in the district. What was more distressing was that her parents have refused to donate their kidneys on the grounds that she is a girl, local media has reported.
Update: After battling for life for the past over a month, she died at a government hospital on Wednesday evening.
4. Greek Orthodox Bishop Neophytos Masouras, of the Church of Cyprus, claims that gay people are the result of pregnant women having anal sex. During his speech in June to a group of people in Akaki, the bishop said Saint Porfyrios made mention of the issue in his writings. "It is a problem, which is usually transmitted by parents to the child," the bishop said.
He added that it occurs when the couple has sex while the woman is pregnant, and the sex is "unnatural," as he characterised anal sex.
The bishop said that when the woman enjoys anal sex, "a desire is created, which is then transmitted to the unborn child."
5. A new report on Muslim prisoners from civil rights organization Muslim Advocates has revealed alarming truths about Muslim experiences in U.S. prisons.
Among other things, the report found that Muslims are significantly overrepresented in American prisons. Despite making up only 1 percent of the U.S. population, Muslims make up about 9 percent of the U.S. prison population. In some states, including Maryland, New Jersey, and Pennsylvania, that number is higher than 20 percent.
Muslim Advocates found that the most commonly reported form of discrimination against Muslim prisoners involved prisons' refusal to comply with Muslim dietary restrictions. The study's findings come after a report last year that a prison in Alaska was purposely starving Muslim prisoners during Ramadan by giving them pork sandwiches and not providing them with enough calories to sustain themselves while fasting.
6. Uttarakhand chief minister Trivendra Singh Rawat has kicked up a row by claiming that cow is the only animal which inhales and exhales oxygen, and has asserted breathing problems can be cured by massaging it. The chief minister also said that massaging a cow can cure one of breathing problems, while living in close proximity with the animal can cure one of tuberculosis.
An official at the CMO defended the chief minister's remarks saying that he was only stating something which is a common belief in the hills of Uttarakhand.
7. Joshua Harris, a former pastor who wrote a bestselling book on traditional relationships has confirmed the end of his marriage, apologized for opposing LGBTQ rights and announced he is no longer a Christian. His book  "I Kissed Dating Goodbye," which railed against sex before marriage and homosexuality, sold over 1 million copies and became a fixture in Christian youth groups after coming out 22 years ago.
But Harris now says the 1997 work "contributed to a culture of exclusion and bigotry," and that he has "undergone a massive shift in regard to my faith in Jesus." Harris has disavowed his book on a handful of occasions in recent years, including during a 2017 TEDx Talk called "Strong Enough to be Wrong."
He wrote a handful of other books, including "Sex is Not the Problem (Lust is)" and "Boy Meets Girl: Say Hello to Courtship."
8. Atheist parents are taking their children's primary school to the High Court, claiming that biblical reenactments and praying in assembly are a breach of their human rights. 
Lee Harris and his wife Lizanne have won permission to bring a judicial review against Oxford Diocesan Schools Trust (ODST) after arguing that Burford Primary School is acting "unlawfully". They allege that since ODST took over the running of the community school in 2015, they noticed "harmful aspects of evangelism spreading into assembly" and other parts of their pupils' education. Humanists UK, which is supporting Mr and Mrs Harris, believe this will be a test case to challenge schools which hold a daily act of Christian worship without providing a suitable alternative for non-Christians.
9. A woman has been filmed hurling homophobic abuse at Pride marchers in east London. The Pride marcher was wrapped in an LGBT rainbow flag when the woman, who was wearing a niqab, started yelling: 'Shame on you, you despicable people'. She was also heard shouting a line from Alan Partridge: 'God created Adam and Eve, not Adam and Steve.' Despite the shocking abuse, the victim replied: 'We still love you, you will not shame me,' as a steward in a yellow vest tried to separate them. Police are now investigating the suspected hate crime, which happened Saturday during Waltham Forest Pride in Hoe Street, Walthamstow.
10. India's parliament has approved a bill that makes the Muslim practice of "instant divorce" a criminal offence.
"Triple talaq", as it's known, allows a husband to divorce his wife by repeating the word "talaq" (divorce) three times in any form, including email or text message.
Supporters say the new measure protects Muslim women. Opponents say the punishment is harsh and open to misuse. Men found in breach of the new law can be jailed for up to three years.
The bill was first tabled in 2017 but stalled in the upper house of parliament, where some MPs called it unfair. On Tuesday, the bill was passed by 99 votes to 84 after a number of walkouts and abstentions.
Prime Minister Narendra Modi was quick to celebrate the vote as "a victory of gender justice". But others accused his Hindu nationalist BJP of targeting Muslims.