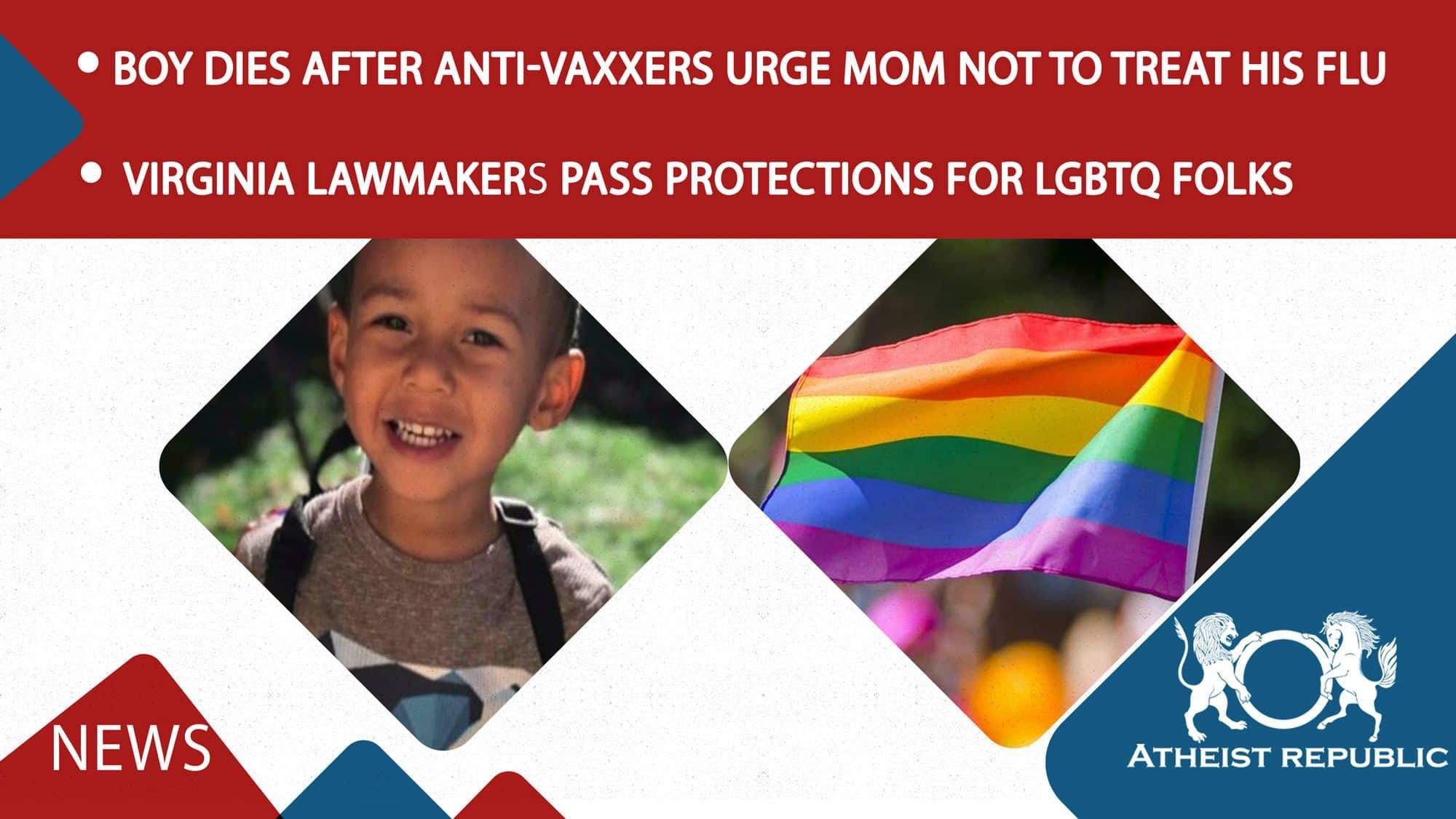 1. 4-Year-Old Dies After Anti-Vaxxers Tell His Mom Not To Treat His Flu
https://www.facebook.com/130148817071986/posts/2986268141460025
Location: Colorado, USA
2. Virginia Passes the South's First Law to Protect LGBTQ Folks from Discrimination
https://www.facebook.com/130148817071986/posts/2987170304703142
Location: Virginia, USA
3. "Pro-Life" Activist Does Damage Control After Whining About Baby She "Saved"
https://www.facebook.com/130148817071986/posts/2986151141471725
Location: USA
4. Oklahoma House Passes Bill to Revoke Medical Licenses of Abortion Providers
https://www.facebook.com/130148817071986/posts/2986446078108898
Location: Oklahoma, USA
5. Christian Pastor: Coronavirus Won't Hurt Us Since Donald Trump is Anti-Abortion
https://www.facebook.com/130148817071986/posts/2995713120515527
Location: Nebraska, USA
6. Christian Blogger on Hitting Kids: "You Must Make Sure It Hurts to be Effective"
https://www.facebook.com/130148817071986/posts/2986828014737371
Location: USA
7. The UK's first ever Muslim LGBT+ Pride festival is finally happening
https://www.facebook.com/130148817071986/posts/2996179810468858
Location: London, UK
8. Holden Matthews: Man admits burning churches to raise 'black metal' profile
https://www.facebook.com/130148817071986/posts/2993506110736228
Location: Louisiana, USA
9. Hindu minor girl who was forcefully converted renounces Islam; Pakistani mullahs demand death penalty
https://www.facebook.com/130148817071986/posts/2992169457536560
Location: Pakistan
10. Kentucky Owes Atheist $151,206.74 After Rejecting His "IM GOD" License Plate
https://www.facebook.com/130148817071986/posts/2993829580703881
Location: Kentucky, USA
1. A four-year-old boy has died of the flu after anti-vaxxers encouraged his mom not to give him Tamiflu, an antiviral medication that was prescribed by a doctor, because they preferred "natural cures" instead. The mother was reportedly a member of "Stop Mandatory Vaccination," a massive anti-vax group known for spreading false information about autism and government conspiracies. She asked the group for help and that's where the problem took shape. The mother also wrote that the "natural cures" she was treating all four of her children with — including peppermint oil, Vitamin C and lavender — were not working and asked the group for more advice. The advice that came in the comments included breastmilk, thyme and elderberry, none of which are medically recommended treatments for the flu.
2. The Virginia Values Act establishes gender identity and sexual orientation as protected classes under anti-discrimination statutes, meaning that businesses and individuals can no longer deny service, housing, employment, or credit on the basis of one's LGBTQ status. The bill also includes language that allows the state's Attorney General to take action in civil court if they notice a particular person or business "engaged in a pattern or practice of resistance" to civil rights protections (including but not limited to sexual orientation and gender identity). While the bill isn't quite law yet — it needs to flip chambers and then be signed into law by Democratic Governor Ralph Northam — the legislation is considered a safe bet. Northam has expressed his wholehearted approval.
3. Jamie Jeffries, an "anti-abortion activist" was saying she talked a mom out of getting an abortion. Six months later, the child was taken away by the government, and the mother put Jeffries down as the "next preferred placement" — meaning if the mother wasn't allowed to care for the baby because she's undocumented (or something like that), then Jeffries was next on the list. Jeffries said she's too busy, that a child would "break" her, and that it would interfere with her marriage and health. Instead of supporting the other woman's decision, Jeffries persuaded her to do something that wasn't in her best interest, adding further misery to their lives months later, and apparently refused to take any responsibility for what she did. A different placement was found for the child.
4. The Oklahoma State House has passed a bill that would revoke the licenses of doctors who help women obtain an abortion. The bill, HB 1182, sponsored by Republican State Rep. Jim Olsen, would take away the license of any doctor who provides abortions (except if the mother's life is in danger) for a full year, in addition to issuing a $500 fine. It doesn't matter if the fetus is deformed. It doesn't matter if the woman is in a proper mental state. It doesn't matter if a doctor believes an abortion is necessary. The bill passed 71-21 along party lines.
5. Nebraska pastor Hank Kunneman of One Voice Ministries believes the United States will be protected from Coronavirus because of Donald Trump and his anti-abortion record. "Listen to the words that I speak to you at this moment, says the Living God," Kunneman prophesied. "Why do you fear, United States? For I have spoken to you before, and I speak to you again. I have extended and opened a window of mercy to this nation at this time. Therefore the virus that they speak of, the prognostication, the diagnosis — my mercy is the quarantine that shall be greater than what they have spoken to you, United States."
6. Christian blogger and professional mommy-shamer Lori Alexander said, "There are too many children who are being left to themselves. Their parents aren't disciplining, nor are they training their children. They have fallen for the "gentle parenting" movement. They refuse to say "no" to their children or tell them what they should do. They want them to have a "free spirit" so when they are biting, hitting, and pulling out other children's hair, their response is, "They'll grow out of it." This is testing God."
7. LGBT+ Muslim group Imaan has set the date for the UK's first ever Muslim Pride festival. The event will take place in London on Saturday, April 11, the group announced on social media. Imaan announced: "It's happening! We've set the date for the first EVER Muslim Pride event. Tickets go on sale in two weeks!" The event will take place in London at an as-yet-unannounced venue. People from across the LGBT+ community gave money to make the event happen, with a crowdfunding campaign raising £10,000 to help fund it.
8. A 22-year-old man has pleaded guilty to intentionally setting fire to three African-American churches in the US state of Louisiana. Holden Matthews, 22, admitted to starting the fires to raise his profile as a "black metal" musician, prosecutors said. He burned three Baptist churches in the Opelousas area over 10 days beginning in late March 2019. He faces 10 to 70 years in jail when he is sentenced on 22 May. Matthews entered several guilty pleas for federal and state charges. The three churches Matthews admitted to torching had predominantly African-American congregations.
9. Radical Islamic clerics in Pakistan are up in arms after a minor Hindu girl Mehak Kumari renounced Islam. She says she had not accepted Islam of her own free will but was forced to do so and also lie about it. While the cases of forceful conversions have always existed in Pakistan, a significant spike has been registered lately. Her subsequent kidnapping and forced conversion invited widespread protests and condemnation by the minority Hindu community in Pakistan which said that a nexus between government officials and Islamic clerics was acting behind forced conversions which were happening all over the country. The court has not announced any verdict and we have been given a time frame of eleven days, said the counsel adding that the next hearing is on February 18.
10. After telling an atheist he wasn't allowed to have an "IM GOD" license plate, the state of Kentucky will have to pay him more than $150,000 in attorneys' fees and litigation costs. This case began in 2016, when the head of Kentucky's Division of Motor Vehicles rejected Bennie Hart's request to get the personalized license plate even though he had it (without incident) in Ohio, where he had lived for the previous twelve years. That's when he filed a lawsuit with the help of the ACLU of Kentucky and the Freedom From Religion Foundation. Last November, the case was all but settled. The same judge said that Kentucky officials "went too far" in rejecting Hart's plate request and that "personalized license plates aren't just for UK fans." All that was left was deciding how much money the state owed Hart for his troubles.