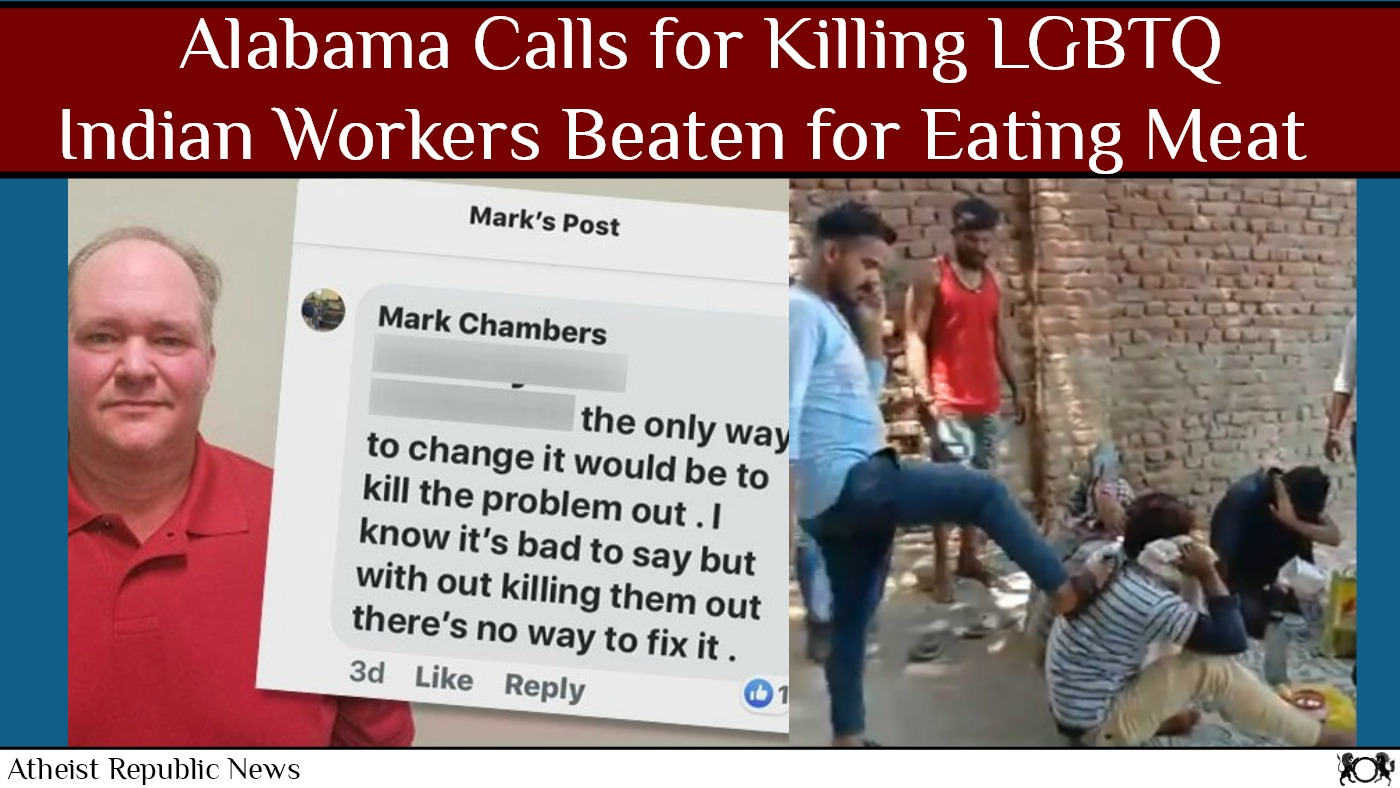 1. During a House hearing on domestic terrorism, Rep. Rashida Tlaib got emotional as she read one of the death threats she has received during her short tenure in Congress. She read a threat she received shortly after the mass shootings at mosques in New Zealand: "I was totally excited and pleased when I heard about 49 Muslims were killed and many more were wounded in New Zealand. Let's hope and pray that it continues here in the good ol' U.S.A. The only good Muslim is a dead one."
She asked FBI Assistant Director for Counterterrorism Michael McGarrity how it is not enough to fall under domestic terrorism if they are targeting, solely based on her faith and others and saying 'a good Muslim is a dead one." McGarrity said the FBI does not differentiate between domestic terror threats and foreign terror threats and they take them very seriously.
2. Carbon Hill Mayor Mark Chambers, an Alabama mayor, posted comments on Facebook about killing LGBTQ people, then tried to deny the post was his, but finally admitted it. His post read, "We live in a society where homosexuals lecture us on morals, transvestites lecture us on human biology, baby killers lecture us on human rights and socialists lecture us on economics." It has now been removed, but Birmingham TV station WBRC captured a screenshot.
WBRC called Chambers, who first claimed the post was on someone else's page, then ended the conversation. Then he called back and said the comment was meant to be a private message to his friend. On Tuesday, Chambers released an apology on Facebook before taking down his personal page.
3. As it stands in Louisiana, there's no minimum age to get married. That's why the original version of SB 172, filed by State Sen. Yvonne Colomb, would've set the minimum age at 18.
But the GOP-dominated Senate only passed the bill after it had been amended. The revised bill set the minimum age for marriage at 16, with anyone 16 and 17 limited to marrying people no more than four years older than them. The bill passed 22-15. The amended version of the bill allows anyone under 18 to get married as long as their parents gave permission. Rep. Nancy Landry, R-Lafayette said, "We want children to be born into wedlock if possible, we're discouraging that with this. If they're both 16 or 15 and having a baby why wouldn't we want them to get married? It's really disturbing to me, because a lot of 16-year-olds are very mature."
4. Two women say they were subjected to a homophobic attack and left covered in blood after refusing to kiss on a bus.
Melania Geymonat, 28, said the attack on her and partner Chris happened on the top deck of a London night bus as they were travelling to Camden Town. A group of young men aged between 15 and 18 began harassing them when they discovered the women were a couple, asking them to kiss while making sexual gestures. The four male teenagers have been arrested. They are being questioned on suspicion of robbery and aggravated grievous bodily harm.
5. Bethune College in Kolkata, India unveiled its online application for next year's students, there was a new option under the menu for "Religion." Students can now select "Humanity." In fact, one school official said she wanted students to avoid putting down something explicitly non-religious, so this was a way for applicants to say they believe in something. Mamata Ray Chaudhuri, Principal of the college said that humanity is above every religion and it is better to have faith in humanity rather than becoming a non-believer at a young age.
6. After posting a picture of his rainbow turban, Jiwandeep Kohli, a Sikh, brain scientist, and bisexual baker has gone viral on Twitter. Kohli posted the photo to mark the beginning of Pride month and it currently (as of June 7) has over 21,000 retweets and 149,000 likes. He wrote on Twitter: "I'm proud to be a bisexual bearded baking brain scientist. I feel fortunate to be able to express all these aspects of my identity, and will continue to work toward ensuring the same freedom for others." He made the turban himself but he has had a decade or so of practice.
7. Another incident of mob attack came to light in India after a video went viral on Twitter showing a group of men beating up four workers sitting and eating food. "Four unidentified labourers had been hired for construction work at a residence. During lunch break, they had gone to a nearby devasthan (a miniature shrine with idols of gods usually near shady trees) to have a meal sitting under the tree," a report by news agency IANS quoted police officer Dhananjay Singh was saying.
Link to the video: https://youtu.be/MjNB7vk6AUE
8. A tweet from a US Catholic bishop, advising parents not to let their children attend LGBTQ "Pride Month" events has been described as "dispiriting" by Minister for Justice Charlie Flanagan. In a tweet, Bishop of Providence Rhode Island Thomas Tobin said pride events are especially harmful to children.
His comments illustrated a "complete absence of tolerance, understanding and compassion. So sad and disappointing," Mr Flanagan tweeted in response.
9. The state of New York  just ordered a school to accept unvaccinated kids despite the school's objections. The Shulamith School for Girls in Cedarhurst, a private Orthodox Jewish school, reportedly banned unvaccinated kids from classes and extracurricular activities during the outbreak, but the state's education department overturned the decision twice. Now the school is suing the state saying officials are violating their First Amendment rights. New York legislators are currently considering a law that would ban vaccine exemptions based solely on the basis of religion
10. A Bangladeshi student who stabbed her Melbourne homestay host in a terror act inspired by Islamic State will spend at least 31 years behind bars. Judge Lesley Taylor sentenced Momena Shoma, 26, on June 5 to 42 years in prison for an act the bench labelled "an outrage to our democracy".
Shoma admitted to engaging in a terror act when she stabbed Roger Singaravelu's neck while he dozed beside his five-year-old daughter at Mill Park on February 9, 2018. Shoma becomes the first woman to be sentenced for directly carrying out a terrorist attack in Australia.