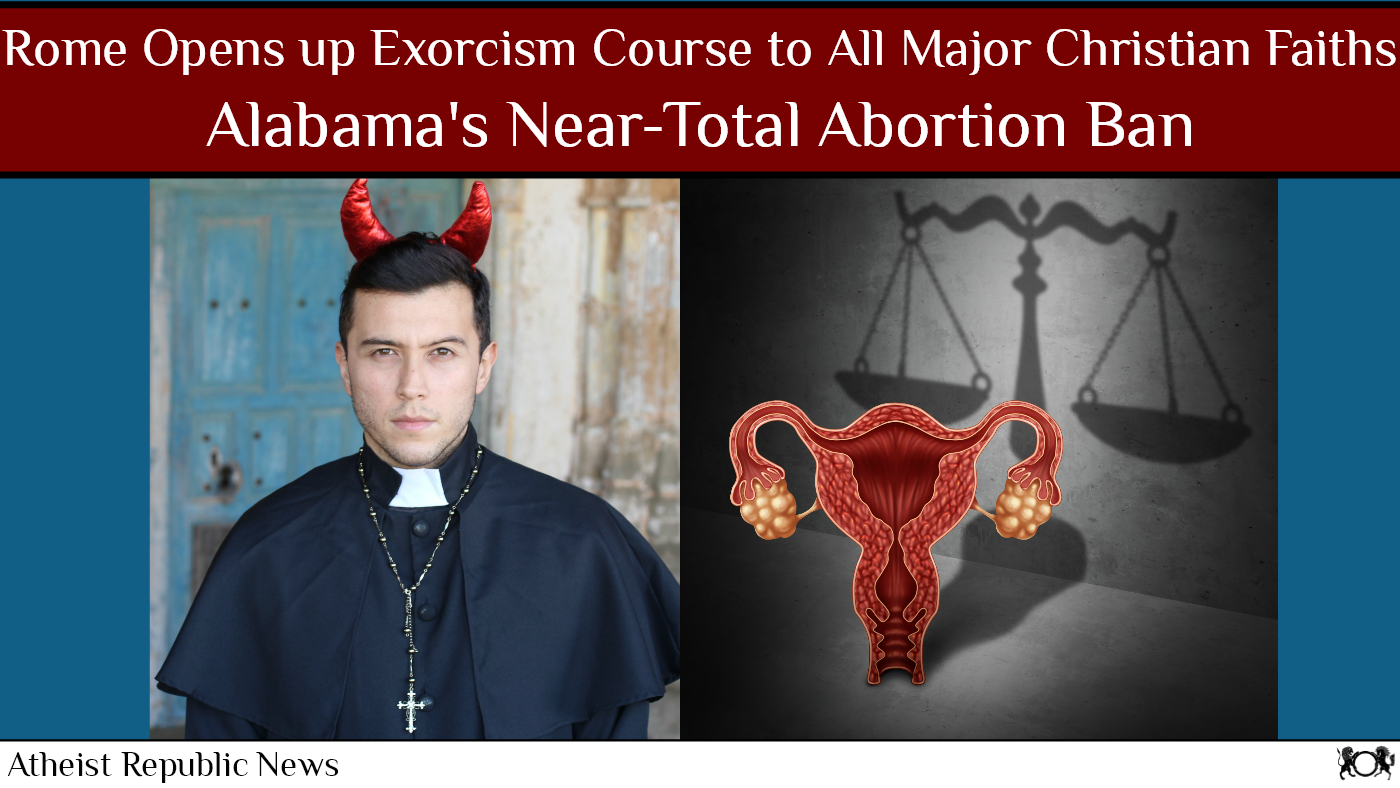 1. At least one person was killed Monday amid renewed anti-Muslim violence in a Sri Lankan town targeted during last month's Easter Sunday terrorist attacks. Police said 45-year-old Fauzul Amir was slashed with a sword as mobs attacked at least five mosques, causing damage and allegedly burning a Koran, in the town of Negombo, north of the capital Colombo. Amir later died in hospital. A nationwide curfew was instituted following the violence, which comes after shops and businesses owned by Muslims were attacked last week in Negombo, which has a large Christian community.
2. Pastor David Richards has repeatedly raped his adopted daughter, starting when she was 14 years old. A jury found him guilty on nine felony counts (including rape, incest, and sexual battery) earlier this year. Richards faced the possibility of 72 years in prison. During his sentencing hearing, dozens of people told the judge about what a wonderful Christian man he was. Knox County Criminal Court Judge Steve Sword fell for it. The judge backed away from the 72 year maximum sentence he could have given and settled on 12 years.
3. The Roman Catholic Church has opened up its annual exorcism class in Rome to all major Christian faiths in a bid to stem the rising tide of demonic forces around the world for the first time in 14 years. The one week course which is taught in Italian at a cost of approximately $450 is being held May 6- 11. More than 241 people, both lay and religious, from more than 40 countries signed up for the course this year. 
4. Megan Lovelady, a 22 year old cafe worker, converted to Islam at the Christchurch mosque where 43 people were shot and killed. She now wears a full-face veil, has started calling herself by an Arabic name and prays five times a day with her Muslim brothers and sisters. She said, "When I heard the priest read the Quran, it was truly amazing." She continued adventuring to find out about Islam until she decided to convert. 
5. There are four mosques in the Russian capital Moscow, but the growing Muslim population struggles to find a place to pray. Some Muslims complain the issue of new mosques has been politicized. Russian news coverage about Islam is largely focused on terrorist activity in the majority Muslim North Caucasus region.
6. Kim Reynolds, Iowa's governor, has signed into law a budget bill for the state's Department of Human Services that limits funding for transgender and intersex health care. She signed it after Republican legislators added last-second amendment creating a way for local governments to avoid providing support for any surgeries related to "transsexualism, hermaphroditism, gender identity disorder, or body dysmorphic disorder."
7. Worshippers at the Seven Kings Mosque in Ilford were part-way through evening prayers late on Thursday when the sound of a gunshot rang out. A man, said to have had his face covered, was reported to have entered the mosque but was chased out by people inside before he fired the gun. No arrests have been made.
8. Alabama Gov. Kay Ivey on Wednesday signed into law a controversial abortion bill that could punish doctors who perform abortions with life in prison. Under the legislation, doctors could face up to 99 years in prison for performing an abortion. Democrats had re-introduced an amendment to exempt rape and incest victims, but the motion failed. The law only allows exceptions "to avoid a serious health risk to the unborn child's mother," for ectopic pregnancy and if the "unborn child has a lethal anomaly."
9. With Ramadan underway, the Diyanet Mosque of New Haven was a daily gathering place for Muslims to be among friends and family as they broke their fast. But on Sunday, worshipers received devastating news: A fire had broken out just before 4 p.m.,
rendering the mosque uninhabitable. The specific motive for the arson was unclear. There have been no arrests and the investigation is continuing, the authorities said. The New Haven officials believed that the fire had been set intentionally.
10. A video featuring a provocative Syrian-American commentator describing Islamic culture as "barbaric" and "primitive" was shared by Country Liberal Party (CLP) candidate for Lingiari Jacinta Price on her personal Facebook page. The candidate shared the video on her Facebook account in 2014, but did not comment on it or endorse it. The post still appears publicly on her personal Facebook profile.
Link to the video (duration - 5:35):
https://www.facebook.com/osnat.nameri/videos/839614462716488/
In the video, Dr Sultan compares how Jews and Muslims dealt with adversity, saying "only the Muslims defend their beliefs by burning down churches, killing people and destroying embassies". The Australian National Imams Council has condemned the video.