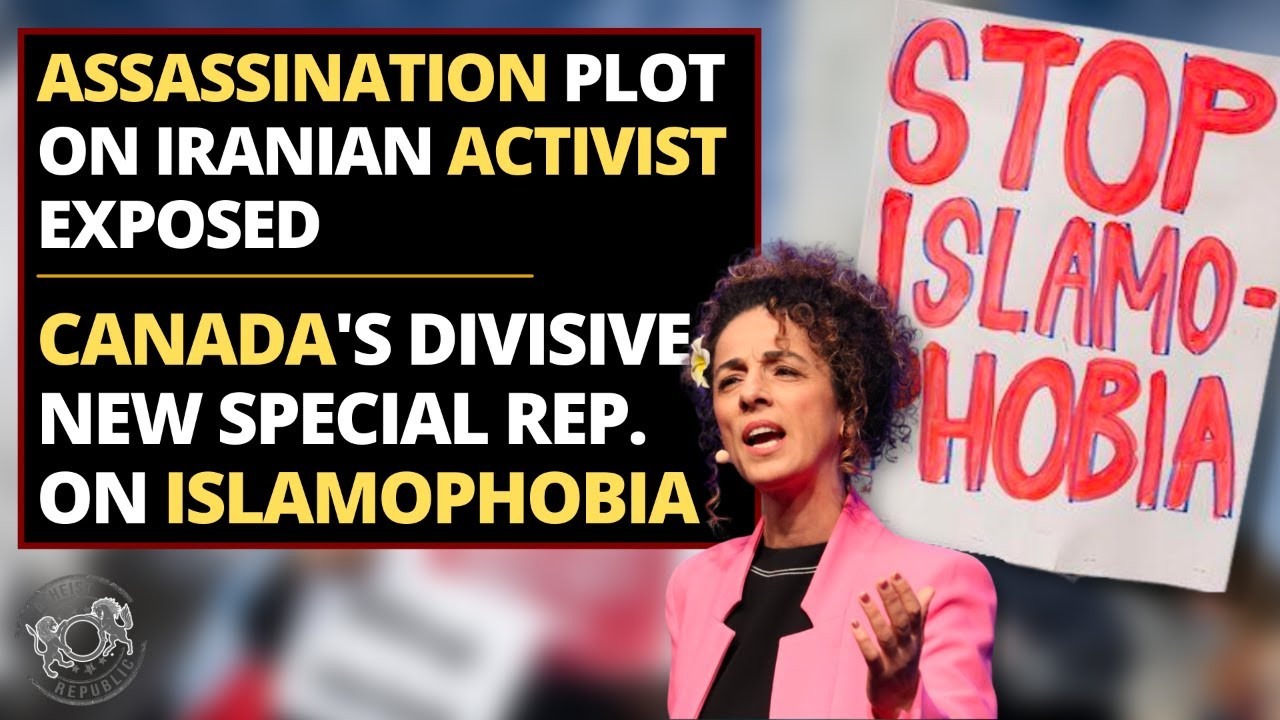 Assassination Plot on Iranian-American Activist Revealed by Justice Dept.
https://www.atheistrepublic.com/news/assassination-plot-iranian-american-activist-revealed-justice-dept
Location: Iran
On January 27th, officials announced that the US Department of Justice charged three men for their role in allegedly plotting to kill Iranian-American journalist and human rights activist Masih Alinejad. The three men are, 43-year-old Rafat Amirov of Iran, 38-year-old Polad Omarov of Czechia and Slovenia, and 24-year-old Khalid Mehdiyev of Yonkers, New York. The three men are reportedly members of an Eastern European crime syndicate. Alinejad said, "I want to tell you that the Iranian regime thinks by trying to kill me, they will silence me or silence other women." The Iranian mission to the United Nations and the Iranian state media did not immediately comment regarding the charges. Jake Sullivan, the United States National Security Advisor to President Joe Biden, said that the incident "follows a disturbing pattern of Iranian government-sponsored efforts to kill, torture, and intimidate into silence activists for speaking out for the fundamental rights and freedoms of Iranians around the world." Alinejad had been a constant target for attacks plotted against dissidents and critics of Iran's government. In July 2021, she was a target of a kidnapping plot allegedly connected to the Islamic Republic.
Canada Appoints First "Special Representative on Combatting Islamophobia"
https://www.atheistrepublic.com/news/canada-appoints-first-special-representative-combatting-islamophobia
Location: Canada
The Canadian government appointed the country's first-ever Special Representative on Combatting Islamophobia, after a series of attacks and harassment against Muslims in Canada. For example, in June 2021, four members of a Muslim family were killed when a man ran them over with his truck in London, Ontario. On January 26th, Prime Minister Justin Trudeau announced the appointment of journalist and human rights advocate Amira Elghawaby in the new post. He described Elghawaby's appointment to the post as "an important step in our fight against Islamophobia and hatred in all its forms." The Special Representative on Combatting Islamophobia is mandated to support Canada's efforts to fight "Islamophobia" and offer counsel on government programs, legislation, and policies. However her appointment is not without controversy, as the Quebec government asked the federal government to retract its endorsement of Elghawaby, just four days after her appointment. The Quebec government took issue with a column she published in 2019, wherein she condemned the "anti-Muslim sentiment" associated with the passage of Bill 21, a piece of legislation in Quebec that prohibits public servants from donning religious symbols such as hijabs.
Deadly Machete Attack at Spanish Church Labeled "Jihadist Attack"
https://www.atheistrepublic.com/news/deadly-machete-attack-spanish-church-labelled-jihadist-attack
Location: Spain
On January 25th, Spanish authorities arrested a 25-year-old Moroccan man, Yassin Kanjaa, after two Catholic churches in Algeciras, Spain, were attacked. The suspect is accused of killing a sexton, Diego Valencia, and injuring a priest, Antonio Rodríguez, with a machete. The Spanish interior ministry is keeping Kanjaa in custody. The judge investigating the incident suggested that the attacks were connected to "Salafi jihadism." According to reports, the assailant went inside the Maria Auxiliadora y San Isidro church at 7 pm and attacked a priest, who was severely injured. After the first assault, the suspect went to Nuestra Señora de La Palma church, five minutes from San Isidro, where he murdered a sexton. Local media also reported that three other people were injured in the attacks. Leaders of the conservative People's Party (PP) and the far-right Vox Party have been criticized for using the attack to smear and stigmatize the Muslim community in Spain. Alberto Núñez Feijóo, the People's Party leader, said that "there are people who kill in the name of God, or in the name of a religion," arguing that Christians were no longer killing people in the name of the religion.
Man Stopped from Defiling Torah in Sweden Despite Permitted Quran Burning
https://www.atheistrepublic.com/news/man-stopped-defiling-torah-sweden-despite-permitted-quran-burning
Location: Sweden
Recently, the Swedish authorities reportedly denied giving a protester permission to burn the Torah in front of the Israeli embassy as a protest, a week after far-right Danish-Swedish activist Rasmus Paludan burned the Quran in front of the Turkish Embassy in Sweden. The protestor is identified as an Egyptian writer living in Sweden. He stated that he wanted to demonstrate that Sweden has double standards regarding freedom of expression and religion as free speech laws were used to justify the Quran-burning. He also told the Swedish newspaper Dagens Nyheter that he understands that "burning holy books is not permissible," but he wanted to "create a discussion." A rabbi involved in interfaith work told the Jerusalem Post that the Swedish Muslim community leaders also helped discourage the protester from burning the Torah. However, the Egyptian writer contradicted the rabbi's statement by saying, "I will still carry out my actions. It is important to me. I will submit a new application next week."
Bombing at Pakistani Mosque Kills Over 100, Injures Over 200
https://www.atheistrepublic.com/news/bombing-pakistani-mosque-kills-over-100-injures-over-200
Location: Pakistan
On January 30th, a mosque was attacked by Islamist suicide bombers in Peshawar, Pakistan. The Police and the rescue officers reported that the death toll of the incident is now roughly 101. Chief rescue official Bilal Faizi said that the bombing in the mosque wounded over 200 people. More than 300 worshippers were inside the mosque praying when the bomb was set off. The mosque that was attacked is located in a high-security zone. Most of the dead were police officers. Sarbakaf Mohmand, one of the commanders of the Tehreek-e-Taliban Pakistan (TTP), claimed responsibility for the bombing. However, the main TTP group, via its spokesperson, denied involvement in the bombing attack and said that they would not target mosques, seminaries, and religious places. Prime Minister Shahbaz Sharif posted on Twitter stating, "The sheer scale of the human tragedy is unimaginable. This is no less than an attack on Pakistan." The Foreign Ministry of Afghanistan, the Saudi Embassy, as well as the U.S. Embassy in Islamabad condemned the attack.
Christian Man Sentenced to Death in Pakistan for Alleged Blasphemy as Minor
https://www.atheistrepublic.com/news/christian-man-sentenced-death-pakistan-alleged-blasphemy-minor
Location: Pakistan
In 2022, a trial court in Pakistan sentenced Shahzad Masih, an innocent Christian man to death by hanging for allegedly committing blasphemy against Prophet Muhammad when he was still a child. Shahzad was only 16 years old when he was falsely accused of a crime he did not commit. In 2017, during a discussion about religion that his coworker named Jalili initiated, Shazad had mentioned to Jalali that his father's friend would make disparaging comments when he heard about people who have 'Muhammad' in their names. Jalali, a member of an extreme Islamic group, used this information to label Shazad a blasphemer. Superintendent of Police (SP), who investigated the case, gave a testimony in court that said, "During my investigation, I did not declare Shahzad Masih guilty." Members of Tehreek-e-Tahafuz-e-Islam (TTIP), (which translates to "movement to protect Islam") and several Islamic clerics routinely attended the court hearings to threaten the judge that if the court does not punish Shahzad, they will kill him with their own hands. The American Center for Law & Justice (ACLJ), a Christian-based legal organization in the U.S., filed a formal complaint with the United Nations Working Group on Arbitrary Detention (WGAD) regarding this unjustified punishment.
Posters Discouraging Hindus from Selling Homes to Muslims Appear in Delhi
https://www.atheistrepublic.com/news/posters-discouraging-hindus-selling-homes-muslims-appear-delhi
Location: India
Lately, posters have surfaced in different parts of India's Brahmpuri (Shahdara district), telling Hindus not to sell their properties to Muslims and that any property sold to them will not be registered. The message roughly translates: "Sell at your own risk, for street residents shall not allow such sales to be registered. All future transactions must be between Hindus." Advocate Pradeep Sharma of Lane No. 13, Brahmpuri issued these posters to be circulated. A pediatrician, Dr. Nafees Ahmed, who runs a clinic in the area, said that when riots were happening in some parts of northeast Delhi in 2020, the Brahmpuri area remained unscathed from the violence due to the efforts of the residents. He said, "We have never had any kind of such communal tension in this area. As such, these posters only seek to criminalize the atmosphere". Dr. Ahmed said that the mentality of staying away from Muslims is rising, and Hindus are starting to distance themselves from Muslims. Gaurav Sharma, the leader of the Aam Aadmi Party of Brahmpuri, condemned the actions of Pradeep Sharma and asked, "who has time for such nonsense."
Criminal Trial Exposes Child Marriage Practices in Turkey
https://www.atheistrepublic.com/news/criminal-trial-exposes-child-marriage-practices-turkey
Location: Turkey
Recently, a Turkish woman's parents and ex-husband were put on trial for child and sexual abuse charges. The 24-year-old woman, identified as H.K.G., filed a complaint against her husband and parents in 2020 for forcing her to marry in a religious union when she was only 6 years old. If found guilty, her husband, Kadir, will face 30 years of imprisonment and her father, Yusuf Ziya Gumusel, and mother, Fatma Gumusel, would face a minimum of 18 years in prison. Yusuf Ziya Gumusel served as head of the Hiranur Foundation, a religious group with ties to the larger İsmailağa Sufi order in Turkey, which has ties to the current president, Recep Erdogan. Kadir was also a prominent member of the group. The courts decided to conduct the hearings in secret on January 30th and prohibited any form of broadcast. Women and children's rights groups held rallies outside the court, demanding to stop abuses against minors by members of religious sects. On the other hand, the Hiranur Foundation staged a counter-demonstration, claiming that the defendants and the foundation were victims of a defamation campaign against them.
New Research Reveals that Atheists are Just As Healthy as the Religious
https://www.atheistrepublic.com/news/new-research-reveals-atheists-are-just-healthy-religious
Location: USA
New research published in the Journal of Religion and Health reveals that atheists and agnostics are just as healthy and satisfied with their lives as religious people. The study was conducted by David Speed, an associate professor at the University of New Brunswick. For the study, Speed used data collected from the General Social Survey of Canada to determine whether religion positively connected with physical and psychological health in a representative sample of Canadians. The sample included 455 atheists, 215 agnostics, 2,080 participants who identified as non-religious, 6,205 Catholics, 5,685 Protestants, 595 practitioners of Eastern religions, and 430 individuals who belonged to "other" faiths. The participants were asked about their religious identity, how often they prayed and attended religious services, and how religious they were. Speed failed to find any evidence that religious people had better physical health, mental health, life satisfaction, and stress compared to non-religious people, even after controlling variables such as age, sex, household income, language, marital status, minority status, geographic region, and educational attainment.
Political Sponsorship of Persecuted Iranian Atheist Soheil Arabi!
https://www.exmuslim.net/?p=1641
Location: Germany
We are thrilled to announce that persecuted Iranian atheist Soheil Arabi has recently received political sponsorship from 57 members of the Social Democrat party in the German state of Niedersachsen! A political sponsor, is a politician that "adopts" a political prisoner. This role involves writing letters to Iranian embassies expressing their concern over the treatment of the prisoner, bringing attention to the situation of the prisoner through the press and social media and pressuring the regime by monitoring their status and advocating on their behalf, particularly if they are at risk of execution. The 57 members also adopted Soheil's mother, Farangis Mazloum. Farangis is currently serving a one-year sentence for "gathering and colluding against national security" and a six-month sentence for "propaganda activities against the state" due to her activism on behalf of her son. This political sponsorship is a major victory in advocating for the safety and release of Soheil Arabi and his mother Farangis!