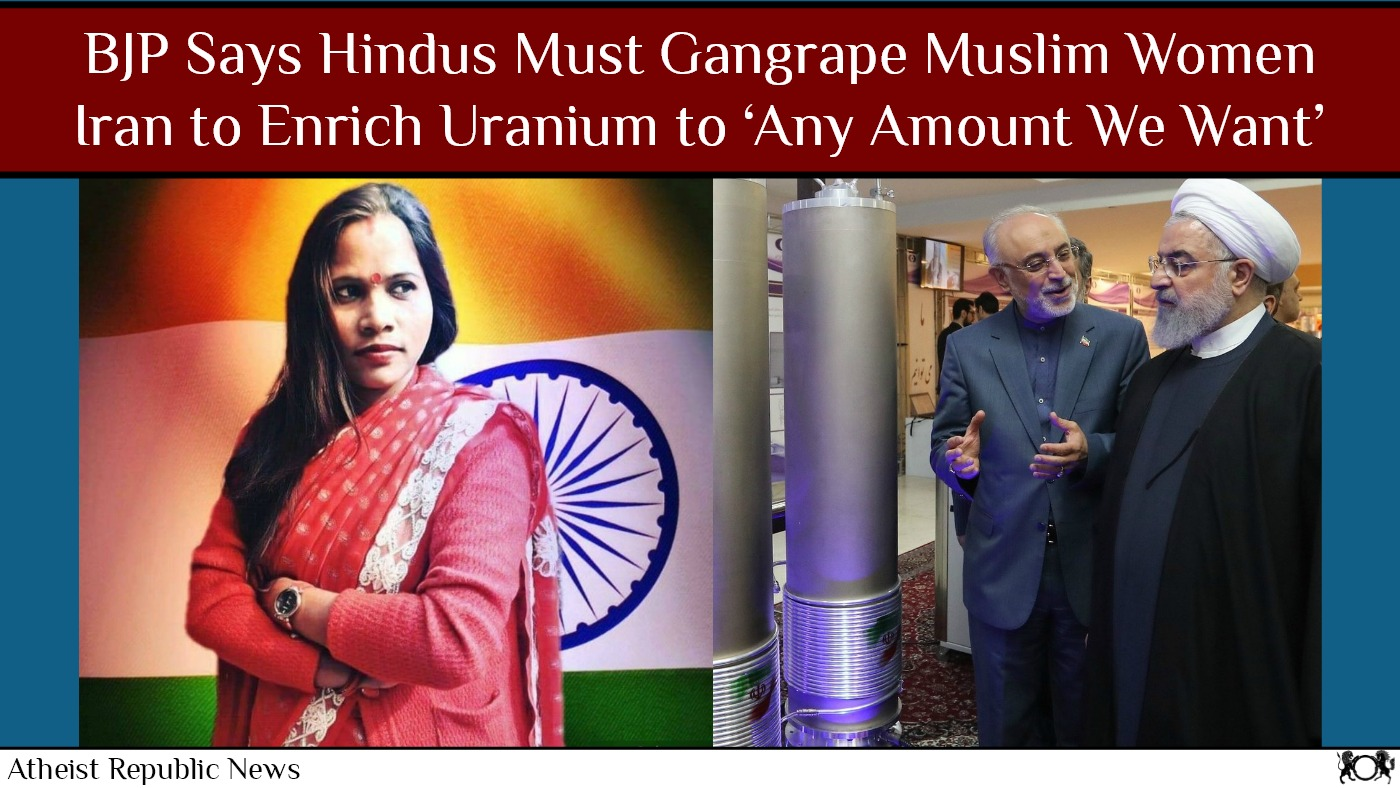 1. The police have booked a man for allegedly divorcing his wife by triple talaq following a heated argument over Rs 30 in Greater Noida's Dadri. According to the woman, her husband allegedly lost his cool, thrashed her and then divorced her when she asked him for Rs 30 to buy vegetables. The incident took place on June 29, police said, adding that the complainant, 30-year-old Zainab, lived with her husband Sabir (35) in Nai Abadi Mohalla in Dadri with their three daughters and a son. In her complaint, she has alleged she was subjected to domestic violence by her husband and in-laws. "My husband divorced me by triple talaq, spat on my face and ousted me from the house," she alleged further.
2. Jenna, a 19-year-old member of the choir at Swansboro United Methodist Church in North Carolina was fat-shamed by a church leader who told her she shouldn't be wearing jean shorts with her body. She went into the church's bathroom to check her phone because a family member was in the hospital. She was confronted by Bonnie Sue Bihary, who immediately began to shame her by talking about how another "chubby" girl in the church wears an appropriate dress that comes to her knees, and why aren't you doing that? Jenna got it all on video: https://twitter.com/roo_jenna/status/1145418354498461698
3. Dalai Lama, the Tibetan spiritual leader, has apologised for controversial comments about the possibility of a woman succeeding him. He said that any future female Dalai Lama should be "attractive". But a statement from his office apologised for his words, suggesting he had been joking. "He is deeply sorry that people have been hurt by what he said and offers his sincere apologies"; it said.
4. Kentucky Gov. Matt Bevin signed a bill allowing Bible courses to be taught in public schools. The bill allows local school boards the option of developing a class for students to understand the role the Bible played in American history, according to WDRB-TV. The class would be an elective. Rep. D.J. Johnson, R-Owensboro, sponsored the bill and said the Bible was the foundation for the development of the Declaration of Independence and other important  documents in U.S. history.
5. Sunita Singh Gaur, leader of the Bharatiya Janata Party Mahila Morcha in Uttar Pradesh's Ramkola, has reportedly been removed from her position after she posted on Facebook that Hindu men should enter Muslim homes and rape the women. "There is only one solution for them (Muslims). Hindu brothers should make a group of 10 and gang rape their (Muslims) mothers and sisters openly on the streets and then then hang them in the middle of the bazaar for others to see," Gaur's post in Hindi says.
6. The City of Fort Worth is receiving complaints after someone put up banners that say, "In No God We Trust" on downtown light posts. The city said Metroplex Atheists purchased the banners that are currently displayed in several downtown locations. The city explained, "While some residents might not like the messaging on these banners, we do not currently restrict religious messaging, as long as it follows the current policy and procedures for display banners."
7. Monsignor Rubén Darío Jaramillo Montoya, a Catholic bishop in Buenaventura, Colombia said his city has been ravaged with drugs, gangs, and corruption. He will borrow a helicopter and spray his city with holy water on July 14 in order to cleanse it from all the demons. "We want to go around the whole of Buenaventura from the air and pour holy water onto it… to see if we exorcise all those demons that are destroying our port," Montoya told a local radio station. "So that God's blessing comes and gets rid of all the wickedness that is in our streets."
8. The organisers of a so-called "straight pride" parade in Boston have claimed to be victims of terrorism after receiving envelopes full of glitter. Three members of Super Happy Fun America called the authorities over envelopes filled with a "granular substance". The letters prompted a response from the FBI, three fire departments and the bomb squad. The FBI is investigating but says there is no threat to public safety. John Hugo, Super Happy Fun America's president, told NBC that what happened was "an act of domestic terrorism". He wants to "see this person prosecuted...even if it's just baby powder". So-called glitter bombing - covering someone in glitter- has historically been used as a means of protest against those who oppose LGBT rights.
9. North Carolina Lt. Gov. Dan Forest, a Republican, told a conservative Christian audience about the awfulness of diversity during a sermon. "[N]o other nation, my friends, has ever survived the diversity and multiculturalism that America faces today, because of a lack of
assimilation, because of this division, and because of this identity politics," Forest claimed. "But no other nation has ever been founded on the principles of Jesus Christ, that begin the redemption and reconciliation through the atoning blood of our savior," he added.
10. Iran has declared that it will enrich as much uranium as it wants, regardless of its obligations under an international agreement. The New York Post reports that Iranian President Hassan Rouhani has rejected pleas from Europe to uphold the 2015 nuclear deal, which lifted sanctions in return for Iran agreeing to limits on its nuclear ambitions. Speaking at a cabinet meeting, Mr Rouhani said Iran would increase its enrichment levels above the agreed 3.67 per cent cap unless those remaining in the pact follow through with their obligations. It would require 90 per cent enrichment for nuclear weapons."Our advice to Europe and the United States is to go back to logic and to the negotiating table. Go back to understanding, to respecting the law and resolutions of the U.N. Security Council. Under those conditions, all of us can abide by the nuclear deal."