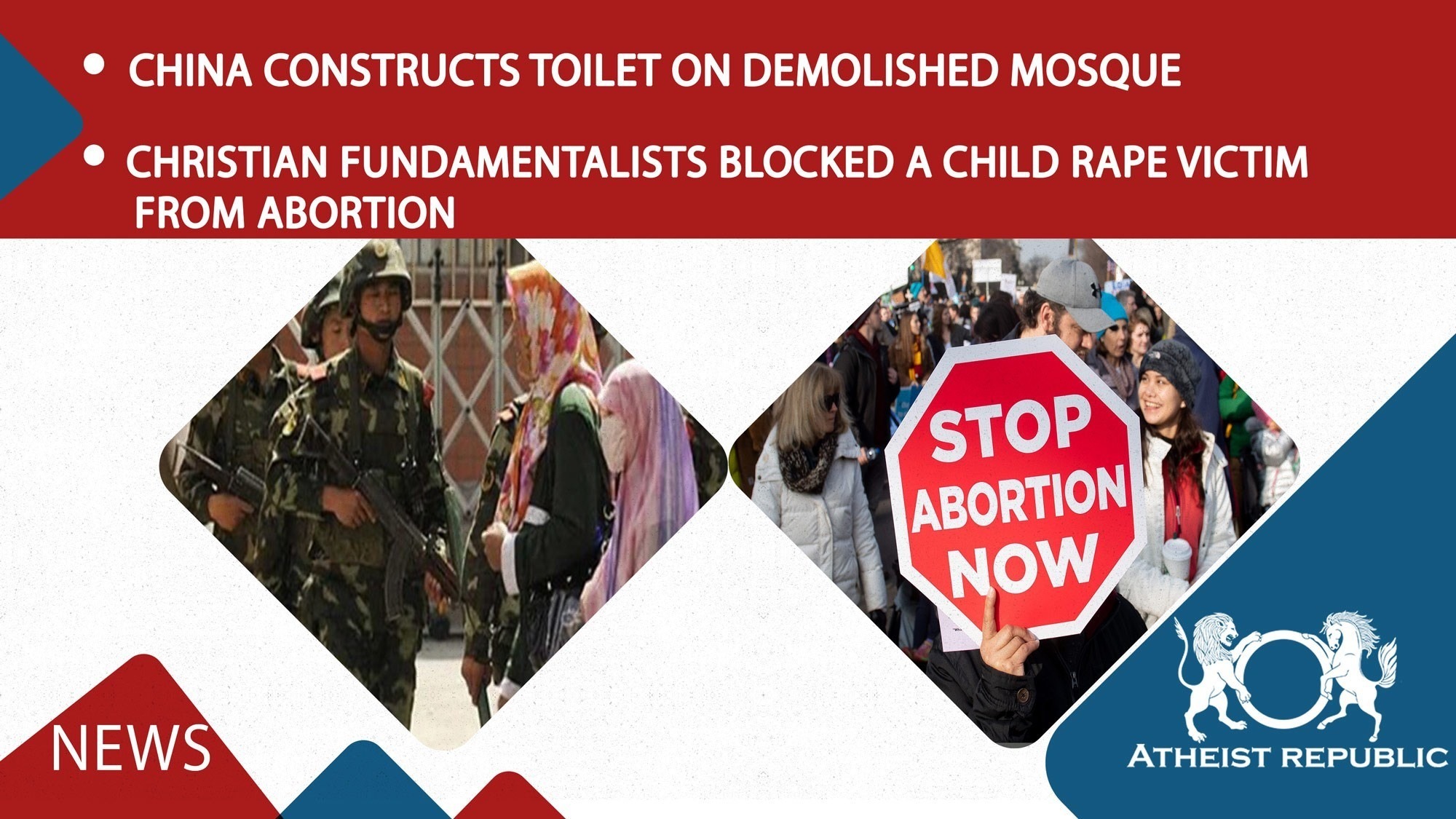 1. Chinese authorities build public toilet on demolished mosque
https://www.facebook.com/130148817071986/posts/3491853337568167
Location: Xinjiang, China
2. Christian Fundamentalists Blocked a Child Rape Victim from Abortion
https://www.facebook.com/130148817071986/posts/3492679267485574
Location: Espírito Santo, Brazil
3. Bahraini woman smashes Hindu religious idols
https://www.facebook.com/130148817071986/posts/3496319953788172
Location: Manama, Bahrain
4. Pakistani Trans Activist Arrested In 'Fabricated Case' #FreeJulie
https://www.facebook.com/130148817071986/posts/3488457841241050
Location: Islamabad, Pakistan
5. The NBA league is running a training center amidst Uyghur genocide
https://www.facebook.com/130148817071986/posts/3490424407711060
Location: Xinjiang, China aka East Turkestan
6. Indian politician claims mud baths can ward off Covid-19
https://www.facebook.com/130148817071986/posts/3485527624867405
Location: Rajasthan, India
7. Why Muslim conversion therapy needs to be banned immediately
https://www.facebook.com/130148817071986/posts/3495035820583252
Location: United Kingdom
8. Islamist terror attack on motorway in Berlin
https://www.facebook.com/130148817071986/posts/3495629953857172
Location: Berlin, Germany
9. Iraqi women's rights activist Reham Yaqoub killed by unknown gunmen
https://www.facebook.com/AtheistRepublic/posts/3499888563431311
Location: Barsa, Iraq
10. Islamic cleric says Muslims should boycott juice
https://www.facebook.com/130148817071986/posts/3495177403902427
Location: Kerala, India
11. We screwed up!
https://www.facebook.com/AtheistRepublic/posts/3503151883104979
https://humanistglobal.charity/tunisia-nacer-arami-who-is-he-really
Location: Atheist Republic
Video descriptions:
1. China's war against Xinjiang has touched a new low as reports claim that Chinese authorities have built a public toilet on the site of a demolished mosque. The incident took place in the Atush region of Xinjiang. The mosque in the Suntagh village was demolished in 2018. Two years later, a public toilet stands in its place. The people of Suntagh have toilets at home and the village barely receives tourists, so locals say there is no need for the public toilet. Reportedly, China has destroyed 70% of the mosques in Xinjiang.
2. A 10-year-old girl, who had been a victim of sexual abuse by her uncle for four years, became pregnant several months ago. She visited a local hospital with the help of her grandmother to obtain an abortion, but she was denied permission. Hospital administrators refused the intervention. A court authorized the procedure for her because her life is clearly in danger and because she's the victim of sexual abuse but the information was leaked about where it would take place and anti-abortion Christians flooded the entrance of the hospital to make sure she couldn't access treatment. They also shouted "ASSASSIN" at the girl. Sources say that she went to a different hospital to complete the procedure.
3. A woman in Bahrain has been charged with criminal damage and publicly insulting religious idols after she was filmed smashing Hindu statues. The 54-year-old woman was summoned for questioning after the video appeared on social media showing her picking up the statues one by one and smashing them angrily while asking the shop worker: "This is a Muslim country, right? Why is this here? … Does Hamad Bin Isa [the King of Bahrain] accept this?" She will face charges of intentional criminal damage as well as publicly insulting and desecrating items associated with a religious faith, Bahrain's Interior Ministry said.
4. Julie Khan is one of Pakistan's most well-known transgender rights activists. She's frequently spoken out against violence and abuse towards the country's trans community, with her popular "Naked Truth" video series going viral earlier this year. On August 10th, Khan was violently arrested for falsified charges, without a warrant, by Islamabad Police. She was reportedly offering moral support for a friend in the middle of a legal situation and was detained soon after. Now, Khan is in danger and currently being held in the men's section of the Adiyala jail. Since being detained, she hasn't been able to meet her lawyer or her family. The campaigns #FreeJulie and #JusticeforJulie have begun trending as the global community expresses concerns for her safety.
5. In Oct. 2016, the NBA (the American National Basketball Association) set up one of its three Chinese training centers in Ürümqi, the capital of Xinjiang. The center, which houses roughly 240 student-athletes ages 14 to 18 has kept a very low profile. That's unsurprising, because the NBA presence in Xinjiang is shameful. It's not hard to figure out the motives of the NBA; China has a market of 1.4 billion potential fans. Beijing presumably approves of the league's presence in Xinjiang—both because it helps bring development to a relatively poor region and because it helps legitimize the repression against Uighur Muslims. There are also reports of ongoing physical abuse of the athletes in the NBA training camps in the Xinjiang region.
6. BJP politician Sukhbir Singh Jaunapuria posted a video on Facebook in which he is seen blowing a conch while drenched in mud, before he begins eating leaves from various trees and shrubs, saying that these actions will "build up immunity against the coronavirus". "Blowing a conch makes our lungs stronger," he says, "Earlier, I could only blow for 10 seconds, now I can blow for two minutes." He also insisted that eating the random leaves boosts immunity.
7. On July 20, prime minister Boris Johnson made a statement that he would consider banning so-called conversion therapy after his government had carried out a study. Conversion "therapies" are often associated with Christian practices, but these practices also take place within Muslim communities. Pink News spoke to Khalid, a gay man from a muslim family who underwent a ruqyah in an attempt to "cure" his desire for men. He described his experience of the exorcism and for 6 months afterwards he would emotionally and physically torment himself at moments when he felt that he wanted to masturbate or when he wanted sex. He would scold himself for his overwhelming "evil urges", swear at himself for being so weak and punch himself as though he needed to be physically shocked out of the feelings. A UK ban on conversion therapy would benefit all LGBT citizens, especially those from religious backgrounds.
8. Prosecutors in Germany suspect a series of crashes that brought a Berlin motorway to a standstill was an "Islamist" terror attack carried out by one 30-year-old man. Six people were injured, three of them severely, when a motorist drove into a number of vehicles. Local media reported that the man later stopped on the highway and put a box on the roof of his car, claiming it had explosives inside. Specialists opened the box and found only tools. The man shouted "Allahu Akbar" or "God is great" as he got out of his car, according to local media. Police and prosecutors would not confirm reports of claims or shouts made by the man. Detained by police, the man is now being investigated for attempted murder.
9. Unknown gunmen have assassinated three women human rights activists, including Reham Yaqoub, a doctor, media personality, and women's rights activist on August 19th. Sources speaking to the German News Agency said all the victims were activists in the protests taking place in nine Iraqi cities since October 2019 demanding political and economic reforms and solving the unemployment problems in the country. Dr. Yaquob is said to have played a prominent role in leading local anti-government protests. Iraqi Prime Minister Mustafa Al Kazemi has fired Basra Police Chief Lieutenant General Rashid Falih, and a number of security directors from their posts due to the recent Basra assassinations.
10. A Muslim preacher's fatwa against 'Juice' is going viral on social media. Rahmathulla Quasimi Muthedathu, a Sunni cleric, has lashed out at 'Juice' in a religious speech and urged his followers to boycott all varieties of juice because it was introduced by 'Jews', the enemies of Islam! "We must chew whatever we consume, chew your water. Never drink the juice. Fruits shall never be mixed up with water. There is a race called 'Jews'. They are our enemies. Juice came from Jews. Jews…. Juice!" he continued, "...there was no juice in the world before. Who brought juice to the Middle East? It was Jews! So never drink juice."
11. We would like to thank the Atheist Republic community for raising your concerns regarding the fundraiser for atheist refugee Nacer Amari. We took your worries seriously and examined all claims thoroughly. Upon examination of new evidence that was brought to our attention, we have made the difficult decision to withdraw support from Amari's asylum case. Atheist Republic applies strict criteria in determining those to whom we provide support. We only support individuals and cases who have been thoroughly screened and endorsed by at least three other organizations also involved in assisting atheists/humanists in danger. In spite of our efforts, this case evolved in an unfortunate and regrettable direction. We would like to thank our community once again for voicing your concerns, and we deeply appreciate your feedback and continued support.
Atheist Alliance International has informed us that they will be reaching out to donors over the next week to offer them a full reimbursement of their donation. You may also email asn@atheistalliance.org with evidence of your donation for a full refund.