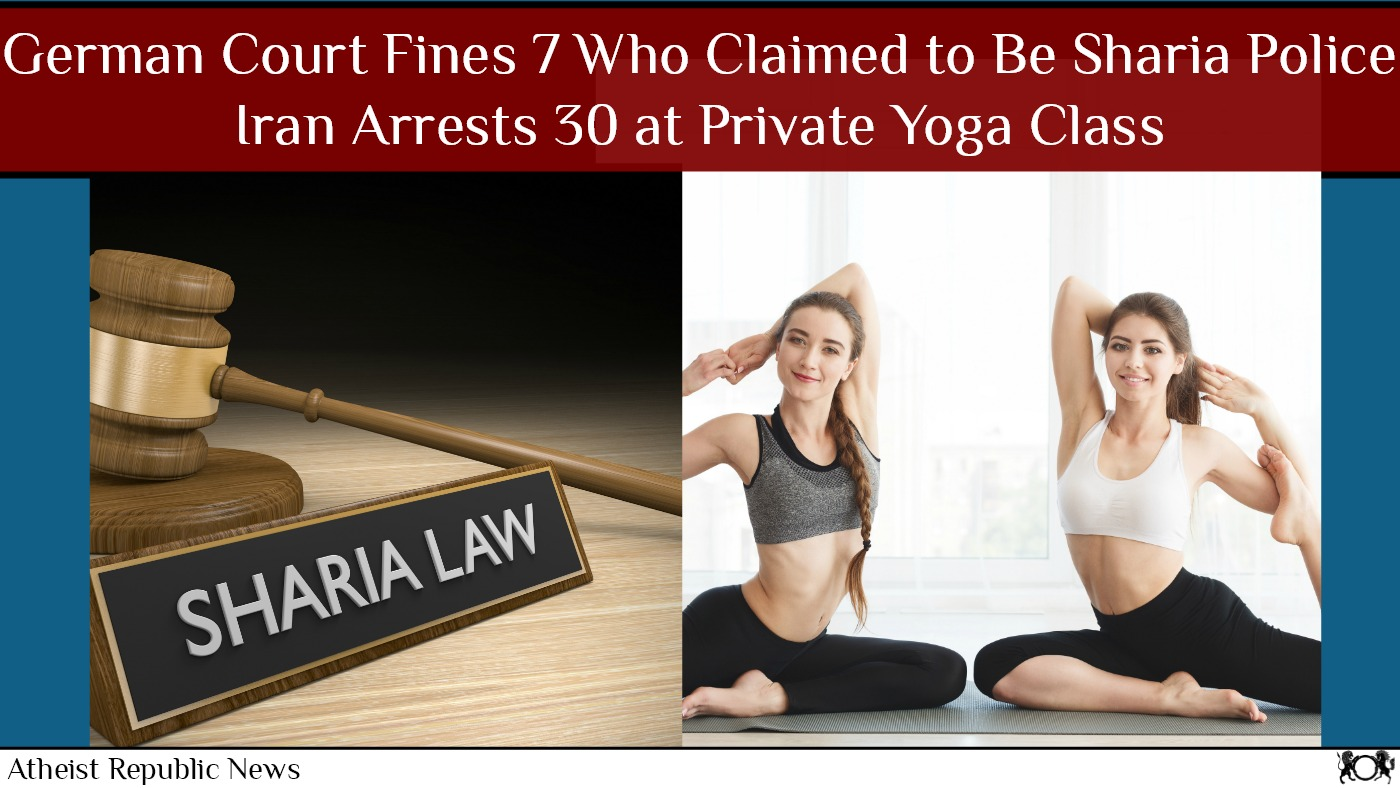 1. A German court has found seven men who formed a self-styled "Sharia police" guilty of violating rules on wearing uniforms.
German news agency dpa reported that a court on Monday fined the men, aged between 27 and 37, to penalties ranging from 300 euros ($335) to 1,800 euros ($2,015). The group took to the streets of the western city of Wuppertal in 2014, dressed in orange vests bearing the words "Sharia police" and handing out leaflets declaring the area a "Sharia-controlled zone" where alcohol, music and pornography were banned under Islam's Sharia law.
2. Samuel Earle Shropshire, an American pastor-turned-Muslim preacher has revealed the inspiration behind his embracing Islam: The people of Saudi Arabia. He shared the story behind his conversion to Islam in an interview published on semi-official Saudi news website Sabq last week.
Shropshire, who now lives in Saudi Arabia, said living among the kingdom's "good people" and witnessing their hospitality and "good morals" majorly contributed to his decision to become Muslim.
3. Felix Klein, the government's anti-Semitism commissioner, was quoted Saturday as saying: "I cannot recommend to Jews that they wear the skullcap at all times everywhere in Germany." He didn't elaborate on what places and times might be risky. Israel's president said Sunday he is shocked by a German official's comment that he wouldn't advise Jews to wear skullcaps in parts of the country, which is drawing mixed reactions at home. Government statistics released earlier this month showed that the number of anti-Semitic and anti-foreigner incidents rose in Germany last year
4. Mohammed Qasim, a detergent Muslim salesman in Kumbhi village, was allegedly shot at after he was asked his name in Begusarai district of Bihar. He identified his attacker as Rajiv Yadav, who he said was drunk at the time of the incident. "I was stopped by Rajiv Yadav and he asked me my name. When I told him my name, he said you should go to Pakistan and then shot me." The police have registered an FIR but the accused has not been arrested yet, The Hindu reported. AIMIM chief Asaduddin Owaisi blamed the BJP leadership for the brazen attack and said Muslims have been "reduced to target practice" in the country.
5. Thirty people taking part in a yoga session have been arrested during a private class in Iran, reports suggest. They were detained at a private residence in the northern city of Gorgan, where they were apparently taking part in a mixed class. Local justice department official Massoud Soleimani said the instructor, who was also arrested, had no licence to run the class and had advertised the event on Instagram.
He also said that those taking part were wearing "inappropriate outfits" and had "behaved inappropriately", the Tasnim news agency reports.
6. Amber Wang and Kristin Huang, two 24-year-olds from Taipei joined 526 other same-sex couples in registering their marriages Friday, the first day it was allowed under a law passed last week that is the first of its kind anywhere in Asia and the culmination of years of struggle in Taiwan. "I feel very proud of Taiwan, because we are the first country in Asia to legalize gay marriage," Huang said. Legislators passed the law, despite divided public opinion, after more than two years of back-and-forth involving the Constitutional Court and a voter referendum.
7. Andrew Ramsey, 25, had pleaded guilty Monday in Marion County Circuit Court to second-degree intimidation, a hate crime under Oregon law. He attacked Harwinder Singh Dodd on Jan. 14 at Dodd's Salem convenience store. He was sentenced Friday to 180 days in jail and ordered to attend the local temple's annual parade to learn more about the faith. Dodd wrote in a victim impact statement Friday that Ramsey got angry and refused to leave his store when Dodd refused to sell Ramsey cigarettes without an ID. Dodd said Ramsey ripped his turban off his head, pulled his beard, spat on him, punched him and kicked him until customers intervened.
8. More than 83,000 people have signed a petition backing a British doctor who could lose his job for asking a Muslim woman to remove her veil. Dr. Keith Wolverson, 52, insists he only asked the woman to remove her niqab, a veil covering all but the eyes, so he could hear her while trying to diagnose her daughter at Royal Stoke University Hospital last June. "I'm not racist. This has nothing to do with race, religion or skin color," he previously told the Daily Mail. But the unidentified woman complained, and now Wolverson says he is "fearful of the consequences" of a formal probe by the UK's General Medical Council (GMC) as well as a racial discrimination inquiry.
9. A Yemeni father callously tortured and killed his daughter, 10, for allegedly committing adultery in the northern Dhamar province. Police found out that the girl was killed by her father. During the investigation, the man admitted that he threw his daughter off a cliff in the Samara Mountains in Ibb province after severely beating her. He is still on trial, his next hearing is after eid. He filmed her to prove her "guilt". Here is the video: https://bit.ly/2XiY9Jd
#JusticeForMaab
10. Jeetrai Hansda, a professor at the Government School and College for Women, Sakchi, in Jharkhand was arrested on Saturday. A lawyer from the team handling Hansda's case told HuffPost India that a complaint was filed against him in June 2017 based on a Facebook post he had written. The lawyer suspected the arrest was made after the elections were over so that the BJP did not anger the Adivasis and lose their votes before the polls.
Hansda is a prominent Adivasi activist and theatre artist and his Facebook post asserted his community's right to eat beef. The post also said that they oppose India's laws on eating beef and that his community also consumes peacocks, the country's national bird. He also expressed his unwillingness to follow Hindu customs.