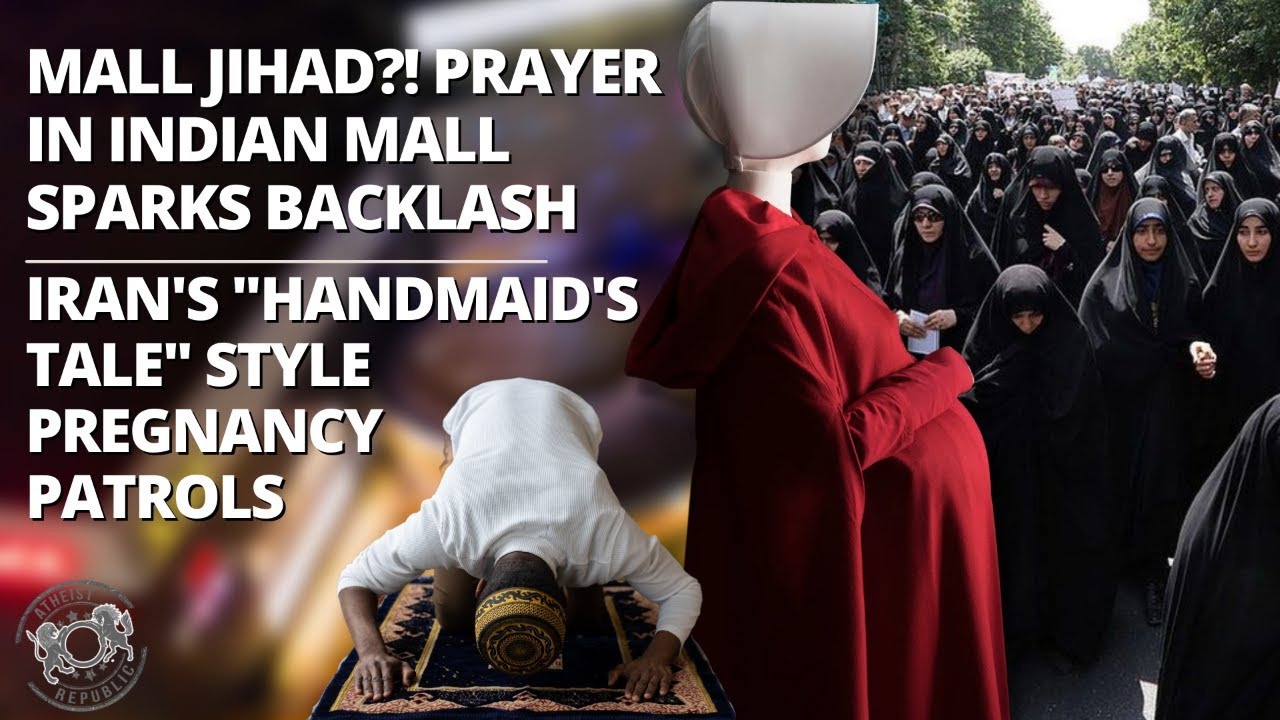 How Muslims Praying in a Mall Became a Major Controversy in India
https://www.atheistrepublic.com/news/how-muslims-praying-mall-became-major-controversy-india
Location: India
On July 15th, several men were booked with a police complaint (FIR) after a video of them offering the Muslim prayer, or namaz, inside a recently opened shopping mall in Lucknow, Uttar Pradesh, went viral. The group was charged with multiple charges, including "promoting enmity between different groups on the grounds of religion" and "malicious acts intended to outrage religious feelings." Members of the Akhil Bharatiya Hindu Mahasabha, a local Hindutva group in Lucknow, began protesting outside the mall. Multiple people have been arrested for attempting to give Hindu prayers and chants inside the mall, including a godman who attempted to "purify" the establishment. Right-wing outfits also alleged that the mall employed 70% Muslim men, and 30% Hindu women, constituting a "love jihad" plot. Love Jihad is a conspiracy in which it is believed that Muslim men deceive Hindu women into marrying them on false pretenses, then reveal their true identity as Muslim and force the women to convert to Islam, all in a grand scheme of replacing India's Hindu majority. On July 17th, Jaykumar Gangadhar, the regional director of Lulu India and the proprietor of Lulu Mall, issued a statement denying allegations of love jihad and stated explicitly that the staff is "over 80%" Hindu.
"Pregnancy Patrols" & Conception Registries: Iran's Abortion Crackdown
https://www.atheistrepublic.com/news/pregnancy-patrols-conception-registries-irans-abortion-crackdown
Location: Iran
Recently, the Iranian Ministry of Health started conducting "Pregnancy Patrols'' and interrupting medical procedures that might affect the fertility of women undergoing such procedures. With an official and legal permit, these operatives roam the wards of the major hospitals in the country and warn the young women not to go through a hysterectomy, ovary removal, and other similar procedures, regardless of the reason. The Health Ministry also announced last month that "aiding and abetting" abortions will be considered a criminal offense. Any medical professionals taking part in such procedures will be heavily fined and could be disbarred. On top of this, the Health Ministry's Youth Population Department recently announced that results and data of any woman visiting the hospital for pregnancy-related tests, such as sonography, would be recorded in the country's new "Comprehensive Pregnancy Registration System." This means the moment the system learns a woman is pregnant; she will be under surveillance. Iran's declining birth rate has been a source of worry and consternation for the regime for many years. Supreme Leader of Iran, Ayatollah Ali Khamenei, has decreed that "Any action that slows or stops population growth should only be done after we reach 150 million people." Despite various government incentives, state subsidies to families are unlikely to work, considering the protracted cost of living crisis devastating Iranians' livelihoods. In order to increase the population, alongside banning abortions, the government has banned the import of condoms, vasectomy, contraceptive advertising, and the distribution of contraceptives.
Framed: Fake "Love Jihad" Case Leads to Arrest of Muslim Boyfriend
https://www.atheistrepublic.com/news/framed-fake-love-jihad-case-leads-arrest-muslim-boyfriend
Location: India
Indian police have recently arrested two men in the state of Uttar Pradesh for hiring a woman to falsely accuse a Muslim businessman named Qureshi of "love jihad" and rape. Love jihad is a prevalent conspiracy theory in India. This theory alleges that Muslim men coax unsuspecting Hindu women into marriage only to convert them to Islam. Their alleged goal in doing so is to increase the population ratio to favor Muslims. In 2020, the state of Uttar Pradesh passed the "Prohibition of Unlawful Conversion of Religion Ordinance," a decree meant to stamp out "love jihad," but in actuality, it effectively criminalizes interfaith relationships and marriages. One of the arrested men was identified as the district vice-president of a BJP youth wing organization. Initially, a woman filed a complaint against Qureshi, stating that Qureshi had lured her into believing that they would get married by introducing himself as a Hindu man. Later, she admitted that she had lied and was hired by the men from the right-wing outfit. According to the local Superintendent of Police, the plot to frame Qureshi seems to be an old rivalry related to financial agreements between the parties.
The Jew Who Entered Mecca: Saudi Authorities Arrest Accomplice
https://www.atheistrepublic.com/news/jew-who-entered-mecca-saudi-authorities-arrest-accomplice
Location: Saudi Arabia
Recently, footage of Jewish Israeli-American reporter Gil Tamary filming himself in Mecca has outraged Saudis and Muslims across the world. In Saudi Arabia, non-Muslims are strictly prohibited from entering the city known as Islam's most holy site. Tamary made it clear that he intentionally slipped into Mecca. He boasted of being the first Jewish man from Israel to enter the religiously bound city, although he didn't clarify to the driver about his origins during the recording period. Mecca Regional Police Department detained and charged Tamary's driver for alleged complicity in helping the entry of a non-Muslim to the holy site. Esawi Friej, Israel's Regional Cooperation Minister, who is also a Muslim, called the stunt "stupid and harmful" to the goal of normalizing ties in the Gulf region. After much condemnation, both the reporter and the Israeli channel that aired the footage posted an apology on Twitter. Tamary knew what he was doing was illegal but insisted that he wanted to showcase "a place that is so important to our Muslim brothers and sisters."
Muslim Teen Killed in Violent Assault by Hindu-Extremists
https://www.atheistrepublic.com/news/muslim-teen-killed-violent-assault-hindu-extremists
Location: India
On July 21st, an 18-year-old teenager, B. Masood, was assaulted and killed in the Indian state Karnataka by members of right-wing Hindu gangs. At least eight men associated with Vishawa Hindu Parishad-Bajrang Dal were behind this incident. All of them have been arrested. According to Masood's friend, Sharif, the discontent started when the victim bought a three-month-old baby cow. The police were alerted, and they inquired into the matter to ascertain if Masood had any intentions of slaughtering the calf. On July 19th, a neighbor named Sudhir, a Hindutva follower, and Masood had a physical altercation regarding the calf. Sudhir reportedly lured Masood to go to a secluded spot in the village, where Sudhir, together with seven others, attacked him. Masood was eventually found by a well in critical condition and brought to the hospital, where he succumbed to his injuries two days later.
Why Do the Iranian Mullahs Hate Pets So Much?
https://www.atheistrepublic.com/news/why-do-iranian-mullahs-hate-pets-so-much
Location: Iran
The Parliament of Iran is on the verge of passing the "Protection of Public's Rights Against Animals" bill, which outlaws pet ownership without a permit issued by a special committee. This includes the criminalization of owning pets such as dogs, cats, and even crocodiles. Those found in opposition to this law would be subjected to a fine of around $800 and can be detained. Many conservative Iranian authorities have previously tried to ban dogs altogether. The President of the Iran Veterinary Association, Dr. Payam Mohebi stated, "Debates around this bill started more than a decade ago when a group of Iranian MPs tried to promote a law to confiscate all dogs and give them to zoos or leave them in deserts. Over the years, they have changed this a couple of times and even discussed corporal punishment for dog owners. But their plan didn't get anywhere." The local police in Tehran started a crackdown on citizens who were walking their dogs in public parks as a measure to "protect the safety of the public." Tehran authorities justified their decision to protect and uphold public safety, but the reason is very conservative and ideological. In Islam, dogs are considered to be impure animals, and since the Islamic revolution of 1979, dogs have been seen as a symbol of Westernization.
The Pope's Tour to Apologize to Canadian Natives Met With Mixed Reactions
https://www.atheistrepublic.com/news/popes-tour-apologize-canadian-natives-met-mixed-reactions
Location: Canada
Recently, Pope Francis apologized for the abuses done by missionaries within the residential school system run by Catholic staff for centuries in Canada. The abuse includes grave offenses such as familial separation, cultural genocide, systematic physical abuse by staff, childhood sexual abuse, and rampant medical negligence. According to many victims, even though they might no longer be around the abusive environment, the traumas remain, and they keep on haunting those who were abused. An official report from the Truth and Reconciliation Commission of Canada, released in 2015, listed 139 residential schools, primarily Catholic-run, which operated until the 1970s. The report found that a total of 150,000 students were sent to these residential schools and over 3,200 children died. Some residential school survivors welcome the apology and do not hold anger towards Pope Francis himself, while others feel that the Vatican's actions do little to hold the abusers within the Catholic Church accountable.
Islamic Preacher Claims that Women's Football Causes Wildfires
https://www.atheistrepublic.com/news/islamic-preacher-claims-womens-football-causes-wildfires
Location: Morocco
On July 23rd, Morocco's female football team reached the Africa Cup of Nations Women's Football finals after a 5-4 penalty shootout victory against Nigeria. This milestone sparked controversy after a Moroccan preacher, Hamza Elkhaldi, claimed their success invoked God's wrath and led to natural disasters and economic calamity. Recently, Morocco suffered devastating damages due to wildfires. He claimed their wins invoked God's wrath because women's football matches are "undoubtedly forbidden" because their sports attire is "impermissible" for Muslim women. The preacher pointed out that watching and broadcasting women's football matches, as well as Morocco's hosting of the tournament, was a huge sin and was subject to undesirable consequences. He remarked on Facebook that "everyone who watches women's matches is without a doubt a sinner" and that they should repent to Allah for the great scandal.
Satanism in Dress Code? Kansas Elementary Asked to Allow Satanic Symbols
https://www.atheistrepublic.com/news/satanism-dress-code-kansas-elementary-asked-allow-satanic-symbols
Location: Kansas, United States
A mother of three kids that attend schools within the Hays Unified School District in Kansas sent a complaint before the Board of Education about the school dress code policy that bars students from wearing satanic apparel. Mary Turner told the Board that her family has belonged to the Satanic Temple for years. She claimed that the district's non-discrimination policy expressly states that no student will be discriminated against based on their religion. Still, the school specifically bans any apparel that references satanism on elementary and middle school students. Turner told the Board, "Banning satanic students from wearing clothes that declares their faith while allowing students of all other faiths to wear similar clothing is an act of discrimination." After the board discussion, Superintendent Ron Wilson said he would discuss this with the school administrators and have the dress code back for them to approve on August 5th.
The Broader Consequences of Atheist Republic's Indian Legal Battle
https://www.newsclick.in/Does-Twitter-Have-The-Power-Remove-Content-Block-User-Merely-Complaints
Location: India
Recently, the Atheist Republic team discussed an analysis of the court case before the Delhi High Court that involves Atheist Republic's "blasphemous" tweets. Published by Newsclick.In, the commentary examines the statements from the bench during the last hearing in March of 2022 and the legal precedents concerned. Some intriguing points included the argument that the court has not established the prima facie view that Atheist Republic's blasphemy is hate speech and that previous cases heard before Indian high courts have found that hate speech is not determined nearly by offending someone but by the denigration of the social standing of an individual via their membership in a group. The analysis also provided an excellent breakdown of why the Delhi High Court compared Atheist Republic to Trump, and it's not what you expect! The commentary concluded with the cautionary message that the court's demand that Twitter remove content like ours without a court order could be tantamount to the "Heckler's veto." You can read the full analysis here, and make sure to check out the video covering the team's reaction to this written piece!