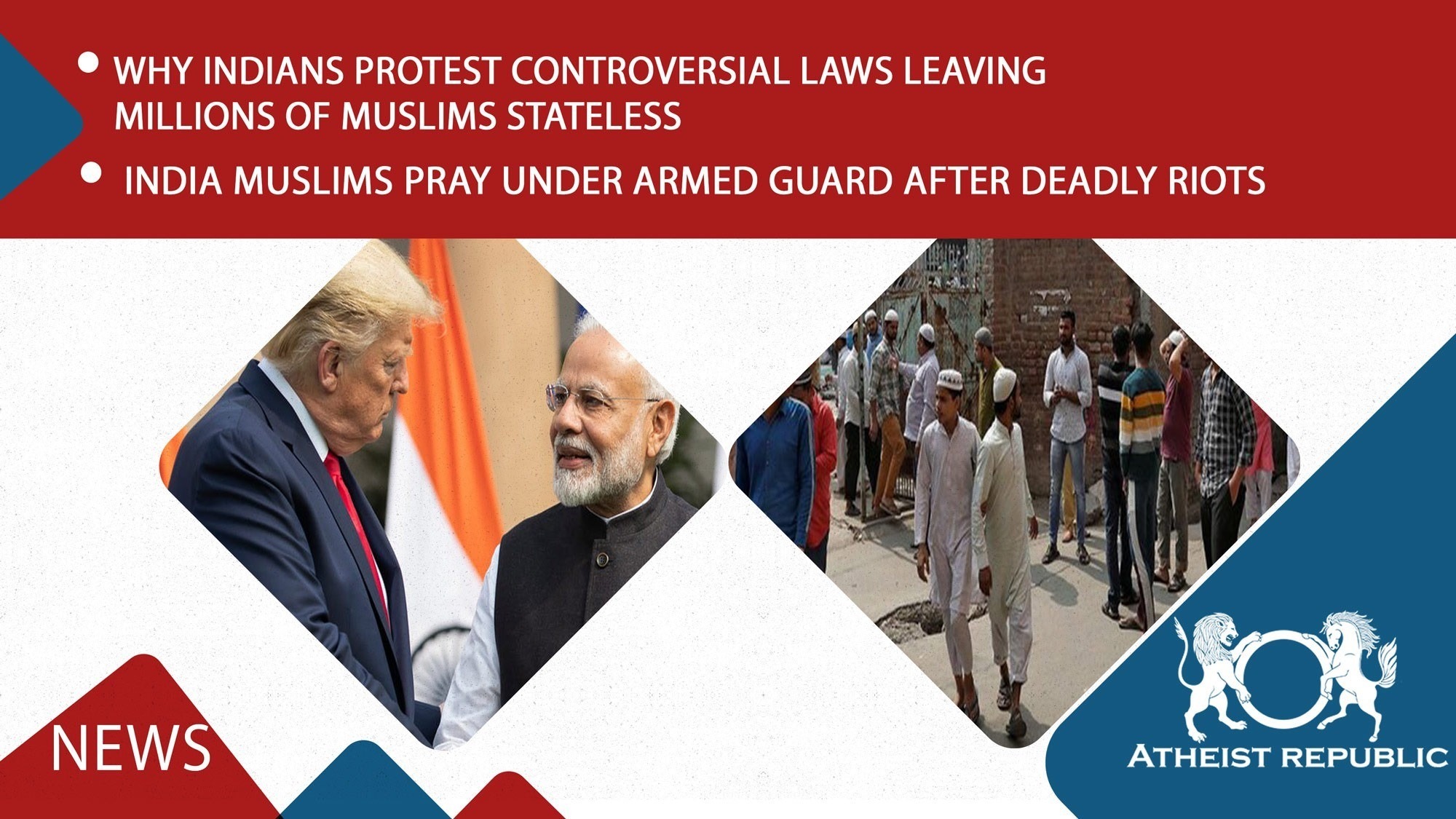 1. Why Indians are protesting 2 controversial laws that could leave millions of Muslims stateless
https://www.facebook.com/130148817071986/posts/3030364463717059
Location: India
2. Delhi's Muslims pray under armed guard after week of riots
https://www.facebook.com/130148817071986/posts/3033803776706461
Location: Delhi, India
3. Christian Mother Tries Defending Her Guide to Hitting Kids: "It Has to Hurt"
https://www.facebook.com/130148817071986/posts/3044064142347091
Location: USA
4. Pastor: I Will Stop Coronavirus… But Only Within the Borders of the U.S.
https://www.facebook.com/130148817071986/posts/3033072343446271
Location: USA
5. Idaho Lawmakers Pass Resolution to Install "In God We Trust" Signs in Chambers
https://www.facebook.com/130148817071986/posts/3033456020074570
Location: Idaho, USA
6. Most Americans don't see Democratic candidates as very religious
https://www.facebook.com/130148817071986/posts/3033615030058669
Location: USA
7. Virginia Becomes First Southern State to Ban Conversion Therapy For Minors
https://www.facebook.com/130148817071986/posts/3045511395535699
Location: Virginia, USA
8. New Jersey Catholic Church Denies Child First Communion Because He's Autistic
https://www.facebook.com/130148817071986/posts/3036071923146313
Location: New Jersey, USA
9. Christian Blogger Ridiculed for Saying Men Can't Be Attracted to Female Cops
https://www.facebook.com/130148817071986/posts/3042799202473585
Location: USA
10. Ohio Pastor Charged With Running Sex Trafficking Ring Using Underage Girls
https://www.facebook.com/130148817071986/posts/3036488689771303
Location: Ohio, USA
1. In recent months, protests have erupted across India due to two controversial laws that critics say target Muslim immigrants, and even those born here. At odds are the country's deeply religious roots and its secular constitution. Milan Vaishnav, director and senior fellow at the Carnegie Endowment for International Peace: "India is a very poor country. Even today, only about 70% of births happen with an official birth certificate. So a lot of people cannot prove their citizenship status. They're worried that this essentially is going to disenfranchise a bunch of genuine citizens who simply are either too poor or come from the wrong community to be able to justify their existence." People who are not considered citizens fear being sent to detention centres, even though Prime Minister Narendra Modi has denied the camps exist. Across the country, Indians of all faiths have been protesting for months. They claim these laws go against the constitution by deciding citizenship on the basis of religion. In the weeks and months to come, Muslims fear that life in their homeland may get increasingly harder if they can't prove Hindustan is home.
2. Muslims in Delhi have held Friday prayers under the watch of riot police after a week in which 42 people were killed and hundreds injured during the city's worst sectarian violence in decades. Scores of mosques in the north-east of the Indian capital held their first sermons since mobs armed with swords, guns and acid razed parts of the district. Paramilitary police patrolled the streets, still littered with broken shards of glass, stones and other debris. "If they burn our mosques, we will rebuild them again and pray," said Mohammad Sulaiman, who was among about 180 men who prayed on the rooftop of a mosque that was set on fire in the unrest. "It's our religious right and nobody can stop us from practicing our religion." Five days after the riots started, hospitals were still trying to identify the dead as the toll continued to rise.
3. Christian blogger Lori Alexander has a long history of saying the worst possible thing in every situation, but this week, a few screenshots began circulating of comments she made several months ago in which she describes smacking her children. In one case, she talks about hitting her kid for four straight hours. In another, she says "it has to hurt" or else they won't learn their lesson. In yet another, she claims to use a "foot-long strap."
4. Conspiracy theorist Rodney Howard-Browne, best known for his "Holy Laughter"-based religious ceremonies, wants you to know he has the power to prevent the spread of the recent strain of coronavirus. But only within the boundaries of the U.S. He knows this because he stopped the Zika virus in Florida. "… and we destroyed and declared — we cursed that thing in the name of Jesus, and Zika disappeared. We are doing the same thing with the coronavirus. We do not need it on these shores. And obviously, somebody said, "What about the rest of the world?"… I mean, I can't be responsible for every city or whatever."
5. The Republican-dominated Idaho legislature has overwhelmingly passed a resolution to display the words "In God We Trust" just "above the chairs of the presiding officers" in each chamber. The State House voted 65-5 in favor of it while the State Senate approved it 29-3 (with three abstentions). House Concurrent Resolution 32 is nothing more than a loophole to inject the Christian God in the government while hiding behind the excuse that this is merely about patriotism because it's our national motto. Senate Majority Leader Chuck Winder, R-Boise, said the intent of the legislation isn't to promote or protect any particular religion. Rather, it's to give lawmakers "a sense of why we're here, a sense that we can look to other things in our world that we trust, and that we need to set a high standard while we're here."
6. Religion has been a topic of conversation during the Democratic presidential primary, and some candidates have pointed out how their religious beliefs have shaped their political positions. But Americans don't consider the Democratic candidates to be particularly religious, according to a new Pew Research Center survey that covers four of the top contenders: Joe Biden, Pete Buttigieg, Bernie Sanders and Elizabeth Warren. Sanders is described as "not too" or "not at all" religious by six-in-ten Americans. Just a third of respondents say Sanders is at least "somewhat" religious, including only 4% who say he is "very" religious. Biden is the only candidate who is considered at least "somewhat" religious by more than half of U.S. adults (55%), though fewer than one-in-ten (9%) describe him as "very" religious. If elected, Biden, who often talks about his faith on the campaign trail, would be the country's second Catholic president after John F. Kennedy.
7. Virginia just became the first Southern state to ban the harmful practice of conversion therapy as applied to minors. Gov. Ralph Northam proved last month that Virginia really is for lovers when he supported a bill to protect LGBTQ+ folks from discrimination. Now, he has signed a bill that will finally ban conversion therapy, the dangerous process by which religious figures attempt to change the orientation of LGBTQ+ children. In approving the bill, Northam referenced his roots as a doctor for kids. The move in Virginia comes just over a month after Utah, a heavily Mormon state, banned the use of the bigoted and discredited practice on LGBTQ+ children, although Utah left a loophole for certain religious groups. Virginia is the 20th state to take such a step, but the first in the South.
8. An 8-year-old New Jersey kid was denied First Communion because he's autistic. The boy's father, Jimmy LaCugna, shared the story on Facebook. Today Nicole and I were informed that our son Anthony would not be able to make his communion this year. As most of you know, Anthony is an autistic non-verbal child who is in his sacrament year. Father Bambric at Saint Aloysis Church in Jackson and the Archdiocese of Trenton came to this position since Anthony is unable to determine right from wrong due to his disability they feel he is not up to the "benchmark required to make his communion"…
9. Christian blogger and mommy-shamer Lori Alexander set off Twitter when she ranted about how men could possibly be attracted to women in traditionally male professions, specifically law enforcement and the military. It didn't sit well with women (and plenty of men) who have spent their careers as cops and soldiers. Alexander eventually responded as you'd expect: with a complete denial of doing anything wrong, followed by a doubling down of her position because those women weren't taking care of their babies at home.
10. Reverend Randolph Brown, who runs the Inner-City Missionary Baptist Church in Cleveland, Ohio, was arrested by a local human trafficking task force and indicted on two counts of compelling prostitution. The date of the alleged offense was in August of 2018, so there was nearly a year and a half between that initial action and the arrest. (A woman, Joyce Richmond, was also arrested in connection with this incident.) Brown was indicted on two counts of compelling prostitution.