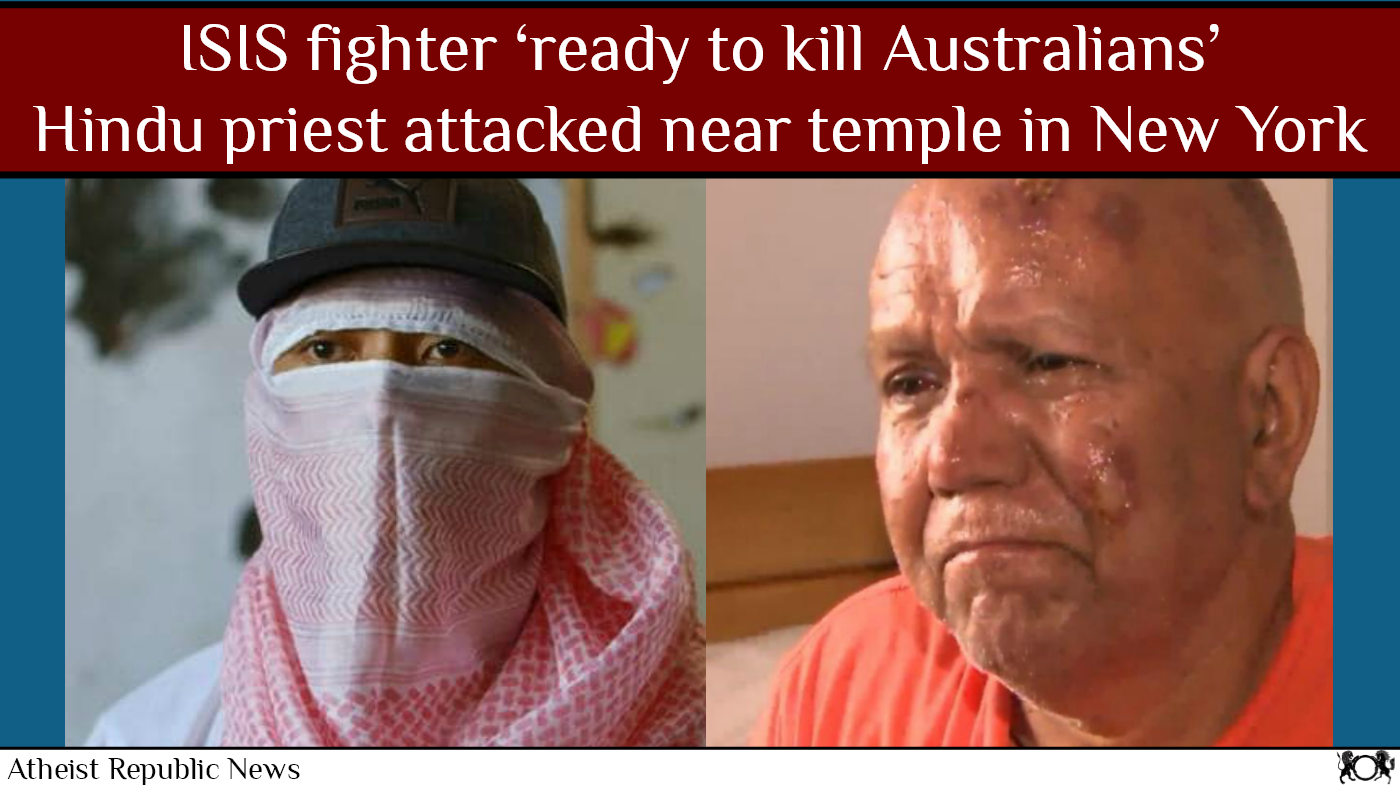 1. Former state Supreme Court Justice Bill Waller Jr., a Republican running for governor of Mississippi, says that he adheres to the "Billy Graham rule" because it's "common sense", according to HuffPost. The "Billy Graham rule": avoid sexual temptation by refusing to be alone with any woman who is not your wife.
"I just think in this day and time, appearances are important and transparency is important, and people need to have the comfort of what's going on in government between employees and people," Waller said.
2. An Islamic State terrorist living in a country right on Australia's doorstep has said he is ready to kill non-believers including Australians because "God told him to do it". The masked IS fighter from the Philippines gave the answer to 60 Minutes in an exclusive interview when asked by reporter Liam Bartlett, "would you be happy to kill people like me?"
The young man, identified only as Sadam, replied, "We will kill the people who's going to kill us. We're just doing what God told us to do".
Sadam said that foreign extremists had trained him to fight non-believers. With Syria crumbling and difficult to reach, the new Islamic State battlegrounds just hours from Australia include Indonesia, Philippines and Papua New Guinea.
3. Farangis Mazloumi who is the mother of resistant political prisoner Soheil Arabi has been arrested and taken to an unknown location by intelligence agents. Eight intelligence agents raided the residence of the sister of Farangis Mazloumi on Monday, July 22, 2019, and arrested her. They confiscated Farangis Mazloumi and her sister's cellphones and then took her away to an unknown location.
Soheil Arabi, 32, married with a young daughter, is a blogger who has been imprisoned for putting posts on Facebook critical of the clerical regime. Mr. Arabi spent 4.5 years in Evin Prison and was subsequently transferred to the Greater Tehran's Penitentiary (a.k.a. Fashafouyeh Prison) in February 2018, where he is being detained under harsh conditions. He has been subjected to various forms of mental and physical tortures over these years. He has gone on lengthy hunger strikes at least three times to protest brutal mistreatment of prisoners by the prison guards and interrogators.
4. On NBC News, Matt Bradly asks Suhail Shaheen, spokesperson for the Taliban political office, "What will be the status of women and girls after the United States led coalition leaves Afghanistan?"
Shaheen says that they will have all rights, "whether it is right of education or it is right of work, they will have it according to the Islamic rules."
Bradly presses on, asking about reports of the oppression of women under Taliban rule. Shaheen denies that they are oppressed, saying that they are in a situation of war, not a normal situation. He says any oppression of women is the result of U.S. occupation.
5. Friendship Baptist Church in Appomattox, Virginia put up a sign that says:  "America: Love or Leave It."
"I thought I was going to make some remarks regarding the situation in Washington," Pastor E.W. Lucas told ABC13. "It just came to me … America, I love it. If you don't love it, leave it."
6. A female suicide bomber struck outside a hospital in Pakistan on Sunday as the wounded were being brought in from an earlier shooting against police, in a complex assault claimed by the Pakistani Taliban that killed a total of nine people and wounded another 30.
The Pakistani Taliban claimed the attack but did not acknowledge that the bomber was a woman. The group has launched scores of attacks going back nearly two decades, but almost all of them were carried out by men.
7. In an audio recording released by a maritime security risk firm, a British naval officer can be heard saying that the transit of a British-flagged vessel through the Strait of Hormuz must not be impaired under international law, just before it is seized by Iranian forces.
The same recording has an Iranian naval officer telling the Stena Impero to change course, saying: "You obey, you will be safe."
The audio released Sunday by Dryad Global shows how the British navy was unable to prevent the ship's seizure by Iranian forces on Friday. Iranian officials say the move came in response to Britain's role in seizing an Iranian supertanker loaded with 2 million barrels of crude weeks earlier. Friday's incident comes amid heightened tensions between the US and Iran.
8. Swami Harish Chander Puri was attacked around 11 am on July 18 in the Queens area. A few people claimed he was assaulted because of his religious attire. He suffered bruises all over his body, including his face.
"He was very angry," the priest told the news channel. "I am in a little pain. Sometimes people have no control." The police have arrested 52-year-old Sergio Gouveia in connection with the case and charged him with felony assault and harassment in the second degree, CNN reported.
9. Dave Daubenmire, a Christian Right activist, last seen saying masturbation is gay, said on his "Pass the Salt Live" webcast that Muslims (like Rep. Ilhan Omar) should be banned from holding elected office in the country because "multiculturalism is cultural AIDS."
He said: "There should be no Muslims in office in America! No Muslims in office in America! That's the way that it was set up. Multiculturalism is cultural AIDS!"
10. In a white paper released Sunday, the Chinese State Council Information Office painted Xinjiang as a religiously diverse community where a number of faiths had co-existed for centuries.
The 6,800-word document, released in full by state news agency Xinhua, said that Xinjiang "respects citizens' freedom to believe in, or not to believe in, any religion."
However, it also said Islam was introduced to region by force during a religious war in the 10th century, which ended Buddhism's centuries of dominance.
"The Uyghur conversion to Islam was not a voluntary choice made by the common people, but a result of religious wars and imposition by the ruling class," the report said. "Islam is neither an indigenous nor the sole belief system of the Uyghur people," it added.