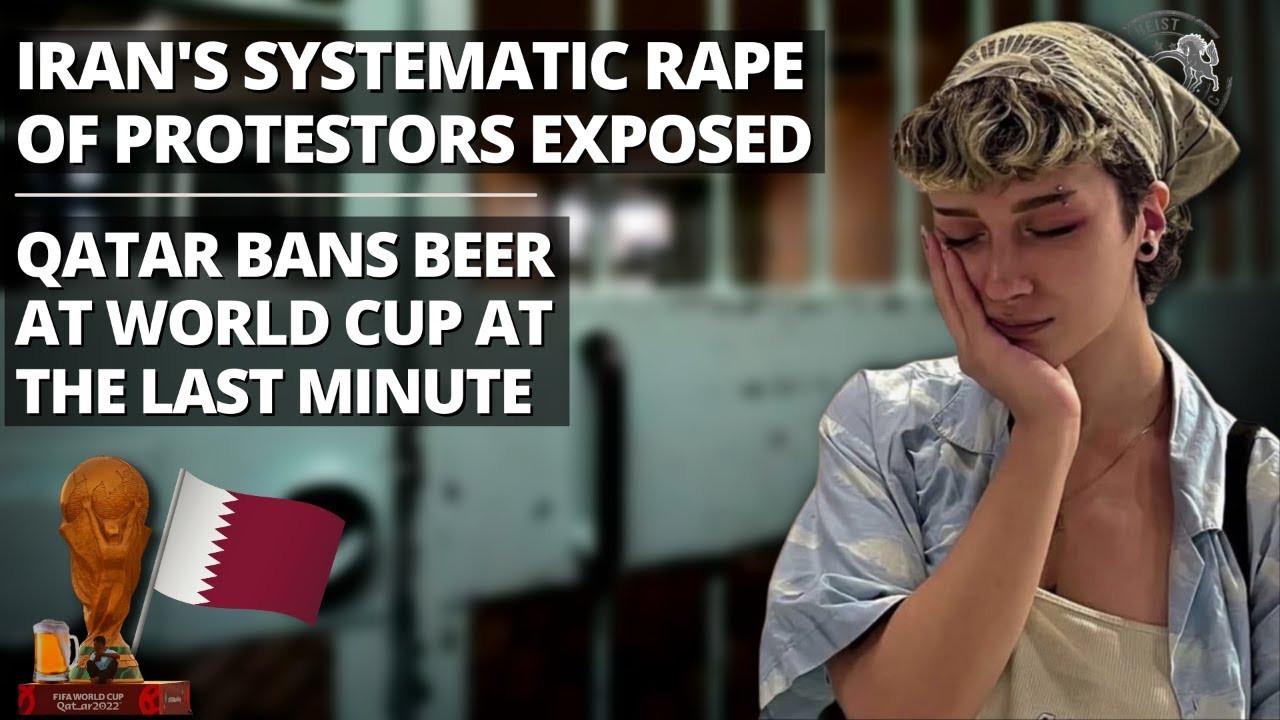 Islamic Republic's Systematic Rape of Iranian Protestors Exposed
https://www.atheistrepublic.com/news/islamic-republics-systematic-rape-iranian-protestors-exposed
Location: Iran
A new CNN special report reveals the shocking truth behind the Islamic Republic's brutal and repressive treatment of Iranian protestors amidst the growing uprising against the regime. The report particularly focused on the story of 20-year-old female protester Amrita Abbasi, corroborating for the first time the gruesome and horrific details of her treatment by regime authorities. When the protests began, Armita criticized the Iranian government through social media. But unlike other protestors inside Iran, she didn't do it anonymously, posting her criticisms publicly on Instagram. Amrita went missing after her arrest in the city of Karaj on October 10th, appearing again on October 18th when authorities brought her to the Imam Ali Hospital. Authorities released a statement asserting that Armita was sent to the hospital due to "digestive problems." But leaks gathered from medical staff at the hospital and verified by CNN say that Amrita was bleeding severely from her rectum as a result of "brutal rape." Staff members say that her head had been shaved, and she appeared in such a bad condition that initially, they thought she had cancer. "When she first came in, (the officers) said she was hemorrhaging from her rectum… due to repeated rape. The plainclothes men insisted that the doctor write it as rape prior to arrest," A staff member wrote in a message to CNN. "To make it short, they screwed up. They screwed up, and they don't know how to put it together again." Before Amrita's family could see her, officers whisked her out of the back entrance of the hospital, and they now claim that she is in Fardis Prison. The report also interviewed numerous other protesters who detailed a system of using rape as a weapon of torture against detainees, including children, as well as using it as a tool to create forced confessions. 
Haram: Qatar Bans Beer at World Cup at the Last Minute
https://www.atheistrepublic.com/news/haram-qatar-bans-beer-world-cup-last-minute
Location: Qatar
Qatar, the host nation for FIFA World Cup 2022, banned beer sales at the stadiums only two days before the opening game. This move completely backtracked on the deal the conservative Muslim country made to secure the soccer tournament. Islam forbids Muslims to drink alcohol as it is considered to be haram or "forbidden." Islamic scholars and religious authorities usually cite the sayings of Prophet Muhammad and the adverse effects alcohol can have on one's body. Authorities declared that alcoholic products would be served only in the luxury hospitality areas of the arenas. The decision spread tension over how the event will play out. Budweiser, the tournament's official beer sponsor, received a significant blow as the sale of alcohol is heavily restricted in the autocratic country and raised the question of how much control FIFA has over the tournament. Some soccer fans complained about the decision. After the news came in, Budweiser's official Twitter account posted, "Well, this is awkward..." The post was deleted without any explanation shortly after. 
Male Pastor Slut Shamed for "Sexy" Skinny Jeans
https://www.atheistrepublic.com/news/male-pastor-slut-shamed-sexy-skinny-jeans
Location: South Dakota
After wearing skinny jeans while preaching, a pastor from South Dakota, Reverend Adam Weber, was chastised by a congregation member for dressing "too sexy on purpose." Weber received a letter in purple ink from an anonymous churchgoer of his congregation Embrace Church. "As head pastor, do you really think it is appropriate to wear skinny-leg jeans to preach? Since when do men wear skinny-leg jeans? Where is your common sense? This is an outrage! You are a representative of Jesus Christ!" the congregant said in their letter. They also added, "This is mandatory being in ministry! This looks like you are trying on purpose to be sexy. JUST DISGUSTING FOR A PASTOR. USE SOME COMMON SENSE. DRESS LIKE YOU SHOULD! You are not in middle school but rather responsible for an entire church." Weber told the New York Post that this sharp critique of his fashion initially hurt him. He also said he shared photos of the letter in hopes of reaching out to them, saying that he genuinely harbors no ill will towards the letter sender.
Pakistani High Court Rules That Blasphemy Law "Does Not Apply to Dreams"
https://www.atheistrepublic.com/news/pakistani-high-court-rules-blasphemy-law-does-not-apply-dreams
Location: Pakistan
Recently, the Lahore High Court (LHC) declared that individuals cannot be prosecuted under blasphemy law for what they see in their dreams or for sharing their thoughts, visions, and emotions with others during those times. Judge Justice Tariq Saleem Sheikh declared the First Information Report (FIR) by the Saddar Police Station of Mianwali against the petitioner invalid. According to the complainant, the petitioner's claim that he could fly and see Allah and various companions of the Holy Prophet Muhammad in his dreams could hurt the religious feelings of the Muslim community. The counsel said that the petitioner is only accused of telling a group of people about his dreams where he saw God and some holy figures, and such narration is not an offense under Section 295-A of the Pakistani Penal Code, one of the aspects of the law that criminalizes blasphemy.
Sikhs Sue US Marines For "Religious Freedom" Violations of Uniform Policy
https://www.atheistrepublic.com/news/sikhs-sue-us-marines-religious-freedom-violations-uniform-policy
Location: India
On April 11th, four Sikhs sued the US Marine Corps for refusing to allow their religious articles of faith. USMC Captain Sukhbir Singh Toor and three recruits, Milaap Singh Chahal, Aekash Singh, and Jaskirat Singh, filed for religious accommodations in 2021. Their status remains in limbo due to the "uniformity" rules of the Marine Corps. Sikhs can keep their beards and unshorn hair under a turban while on duty. However, during combat deployments or recruit training, all articles of faith, which include kesh (unshorn hair), kanga (wooden comb), kara (metal bracelet), kachera (under-shorts), and kirpan (ceremonial knife), known as "the 5 K's, are banned. The Sikh Coalition accused the Marine Corps of stereotyping what Americans should look like. If the military, being the nation's largest employer, allows them to serve with their articles of faith, it would "make it harder for employers everywhere to discriminate against our community." The Interfaith Alliance, Jewish Coalition for Religious Liberty, Muslim Public Affairs Council, American Islamic Congress, Women Veterans and Families, and the Sikh American Veterans Alliance have all filed amicus briefs demonstrating their support for the Sikh recruits.
BBC Documentary Reveals Story of Nigerian Imprisoned for Atheism
https://www.atheistrepublic.com/news/bbc-documentary-reveals-story-nigerian-imprisoned-atheism
Location: Nigeria
BBC Africa recently released a new documentary titled "The Cost of Being an Athiest," which showcases the landmark case of Mubarak Bala, the president of the Humanist Association of Nigeria. The documentary also reveals the threats to religious freedom in Nigeria and features interviews with numerous other atheists who face discrimination and even threats to their life. On April 28th, 2020, Mubarak was arrested at his home in Kaduna after he posted criticisms of the Prophet Muhammad on his Facebook page. In the documentary, BBC journalist Yemisi Adegoke talks to Leo Igwe, the founding member of the Humanist Association of Nigeria, Mubarak's wife Amina Ahmed, and even the lawyer who wrote the petition that prompted Bala's arrest. According to Bala's lawyer, James Ibori, he was denied healthcare access, kept in solitary confinement, and forced "to worship the Islamic way." He was also detained for two years without any charges or trial. Initially, Bala maintained his innocence; however, on April 2nd, 2022, he pleaded guilty to 18 charges of blasphemy. The Kano High Court sentenced Bala to 24 years in prison.
Alleged "Witches" Murdered by Boko Haram in Nigeria
https://www.atheistrepublic.com/news/alleged-witches-murdered-boko-haram-nigeria
Location: Nigeria
On November 10th, a group of 14 women accused of using witchcraft were killed by the Islamic terrorist group Boko Haram. According to Talkwe Line, a woman who escaped two weeks ago, roughly 40 women were held in a village near Gwoza town. Talkwe said that the commander Guyile ordered his men to detain the women from the houses where they practiced "witchcraft." He accused the women of the sudden death of his children. Even though a clear description of how the crime was committed is yet to be revealed, the term used in the Hausa language for describing the deaths meant slitting their throats. Since Talkwe's escape, 12 additional women have been killed. Security sources in Nigeria confirmed they were aware of the circumstances and actively investigating. However, a thorough investigation was impossible as the village is located in a remote area.
Poll: Highly Religious Americans Are Less Concerned About Global Warming
https://www.atheistrepublic.com/news/poll-highly-religious-americans-are-less-concerned-about-global-warming
Location: USA
A new report from the Pew Research Center found that people who are very religious are less likely than other American adults to worry about climate change. 57% of the respondents from the survey of over 10,00 Americans believe climate change is a severe problem. However, the more religious an American adult is, the less likely they are to see climate change as a serious issue and the more likely they are to identify as Republican. As a group, Evangelicals are notorious for downplaying or denying climate change and its harmful effects. The survey discovered that 66% of Evangelicals are more concerned about the possible impacts of environmental regulations on the economy and individual freedoms than other religious groups. But when politics is taken into consideration, a different picture emerges. 78% of Evangelicals who lean Democrat perceive climate change as a serious issue, compared to only 17% of Republican-leaning Evangelicals. In contrast, religiously unaffiliated American adults are most likely to see climate change as a threat, with about 70% of the respondents claiming it is a serious problem. Yet the study also showed that only 34% of religious "nones" who lean towards the Republican Party are less likely to be concerned. Although many factors influence American adults' perception of climate change, the survey, conducted from April 11 to 17, concludes that "the main driver of U.S. public opinion about the climate is political party, not religion."
Child Victim of Iranian Regime HATED the Quran
Location: Iran
9-year-old Kian Pirfalak is one of the youngest victims of the Islamic Republic of Iran's ongoing bloody and horrific crackdown on civilians. Kian was traveling home with his family in their car when they got caught in anti-government demonstrations. Authorities ordered them to turn their car around, but as they drove back toward police officers, some plainclothes officers opened gunfire on the family, filling the car with bullets. The Pirfalak's youngest child was able to hide, but Kian was chubby and couldn't find a position to take cover. Kian was shot numerous times, and his father was also wounded. Videos of Kian's lifeless body, surrounded by ice, went viral. This was a chilling symbol, as the Pirfalak family was forced to ask their neighbors for ice to preserve Kian's body until burial because they knew that if the body was taken to the morgue, authorities would steal it. Iranian authorities are notorious for snatching the bodies of protesters and refusing to release them until the families gave a forced confession that aligned with their version of events. At Kian's funeral, his mother gave a passionate speech declaring the Islamic Republic to be responsible for Kian's death, and asking mourners not to read or recite the Quran, as this was something that Kian hated.