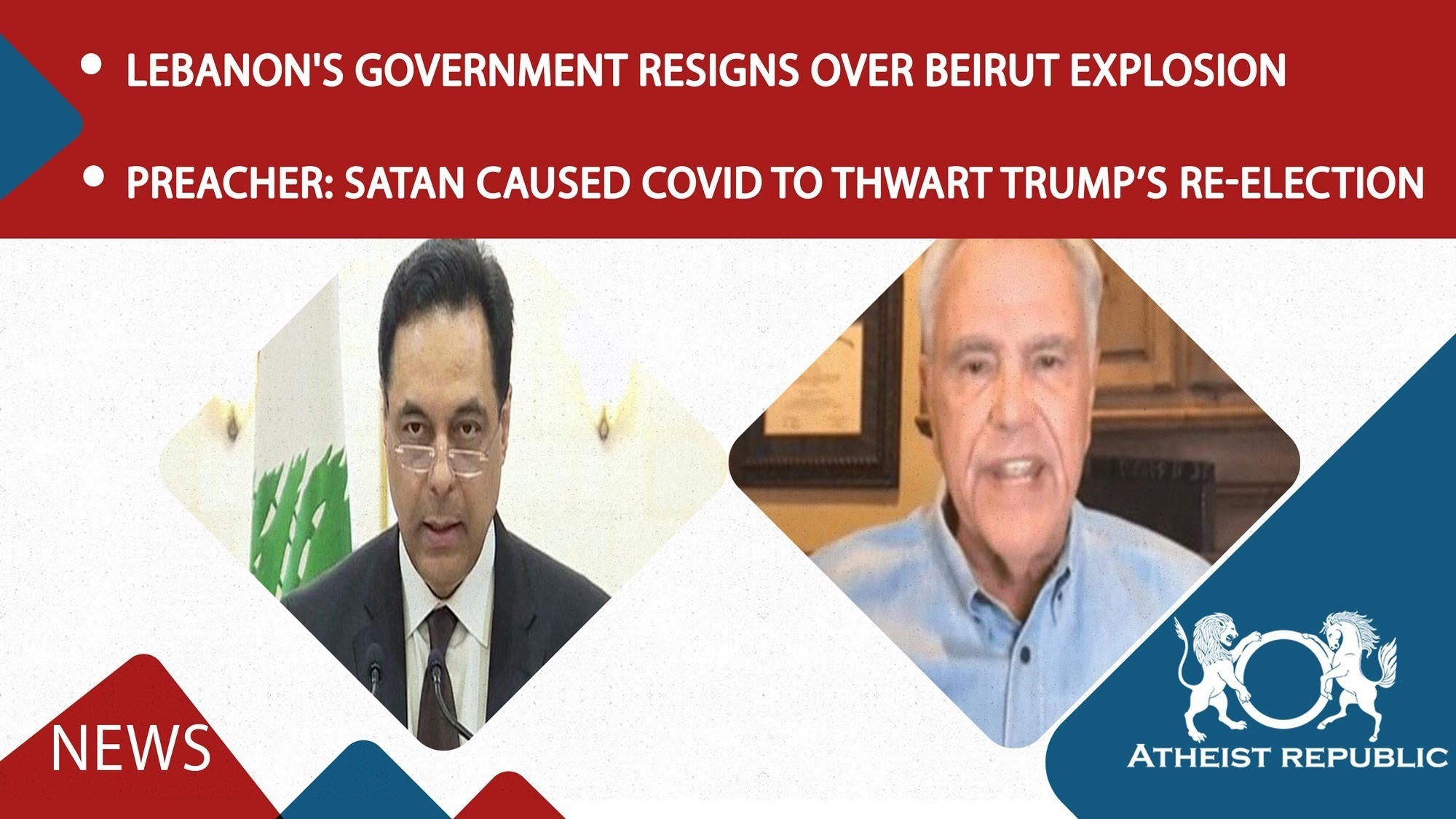 1. Lebanon's government resigns over explosion in Beirut blast
https://www.facebook.com/130148817071986/posts/3471231732963661
Location: Beirut, Lebanon
2. Preacher Says Satan Caused COVID to Thwart Trump's Re-Election
https://www.facebook.com/130148817071986/posts/3462683307151837
Location: USA
3. Nigerian singer sentenced to death for blasphemy https://www.facebook.com/130148817071986/posts/3470752936344874
Location: Kano State, Nigeria
4. Americans Oppose Religious Exemptions From COVID Restrictions
https://www.facebook.com/130148817071986/posts/3462230193863815
Location: USA
5. Somalia Introduces New Bill That Would Allow Child Marriage
https://www.facebook.com/130148817071986/posts/3477245665695601
Location: Somalia
6. Islamic school teacher rapes 9-year-old girl https://www.facebook.com/130148817071986/posts/3476713249082176
Location: Raipur, India
7. Assistant Professor booked for Facebook post on Hindu God Ram
https://www.facebook.com/130148817071986/posts/3467662273320607
Location: Assam, India
8. Violence sparked over social media post about Prophet Muhammad
https://www.facebook.com/130148817071986/posts/3476865482400286
Location: Bengaluru, India
9. Pakistani court rules forced child marriage as legitimate https://www.facebook.com/AtheistRepublic/posts/3478495422237292
Location: Pakistan
10. Atheist Republic Removes Woke Admins
https://www.facebook.com/groups/AtheistRepublic.Private/
Location: Facebook
Video Descriptions:
1. Lebanon's health minister said Monday "the whole government resigned" in the wake of last week's massive explosion, which claimed at least 220 lives and injured about 6,000. The government's resignation comes after seven cabinet members stepped down after Tuesday's devastating explosion, which is believed to have been caused by an accidental fire that ignited 2,750 tons of ammonium nitrate stored for six years in a port warehouse. Prime Minister Hassan Diab addressed the nation, announcing his resignation and that of his government in the wake of the blast, which he called a "disaster beyond measure."
2. According to right-wing evangelical James Robison Satan is going "ballistic" by spreading COVID to try to stop Donald Trump from getting re-elected. He stated: "We were beginning to push back miraculously, and of all things, the last person on the planet we thought would stand up for what's right — this president, Donald J. Trump — began to stand up for what was best. And I personally believe the pandemic, the whole bit, is not just that we were too often vulnerable, but I believe Satan went ballistic and had to stop the progress that was being made because we were glimpsing a spiritual awakening and answered prayer."
3. A musician in Nigeria's northern state of Kano has been sentenced to death by hanging for blaspheming against the Prophet Muhammad. An upper Sharia court in the Hausawa Filin Hockey area of the state said Yahaya Sharif-Aminu, 22, was guilty of committing blasphemy for a song he circulated via WhatsApp in March. Protesters had burnt down his family home and gathered outside the headquarters of the Islamic police, known as the Hisbah, demanding action against him. States across Muslim-majority northern Nigeria use both secular law and Sharia law, which does not apply to non-Muslims.
4. A new Pew Research Center survey finds that U.S. adults overwhelmingly say houses of worship should be required to follow the same rules about social distancing and large gatherings as other organizations or businesses in their local area. About eight-in-ten Americans (79%) take this position, four times the share who think houses of worship should be allowed more flexibility than other kinds of establishments when it comes to rules about social distancing (19%). On this question, Americans seem to align with two recent Supreme Court orders, which rejected lawsuits claiming that state restrictions on worship violated the First Amendment's guarantee of religious freedom.
5. An outcry is rising in Eastern African country Somalia as its parliament considers a bill that would allow child marriage once a girl's reproductive organs mature. The bill would even allow forced marriage, as long as the family gives their consent. The United Nations special representative on intimate violence in conflict, Pramila Patten, said that the bill "would represent a major setback in the fight against sexual misdemeanor in Somalia and across the globe". She added that the bill also weakens protections of victims of assault in the country where already more than 45 percent of young women are married or "in union" before the age of 18.
6. A 25-year-old Madarsa teacher has been arrested for allegedly raping a nine-year-old girl in Raipur on Sunday. The accused, who was a teacher at a Madarsa (an educational institution), had been going to the survivor's house to teach Arabic to her younger sister for last 15 days. Since Saturday, he was also teaching the survivor. The officials stated that the accused has been arrested. He has been booked under Indian Penal Code Sections 376 (rape) and 506 (criminal intimidation) and relevant provisions of the Protection of Children from Sexual Offences (POCSO) Act. Further investigation into the case is underway, the official added.
7. The Assam Police have booked assistant professor, Anindya Sen, for allegedly hurting religious sentiments with his "derogatory" Facebook post against the deity Ram. On August 5, the day of the foundation ceremony for the Ram temple in Ayodhya, Sen had posted a sarcastic swipe at the deity on  Facebook. A complaint was filed against him by a member of the student wing of the BJP party. He has been booked under sections 294 (obscene acts or words in public), 295A (deliberate and malicious acts to outrage religious feelings) and 501 (printing or engraving matters known to be defamatory) of the Indian Penal Code.
8. Major violence broke out after protesters alleged that politician Akhanda Srinivas Murthy's family had allegedly uploaded a derogatory post about Prophet Muhammad on his Facebook account. A mob gathered outside the house of the politician and threw stones and set fire to several vehicles. It was alleged that the locals first went to the police station to file a complaint against the politician's nephew, but dilly-dallying attitude of the policemen angered the mob and it attacked the police station. Meanwhile, the politician's relative claimed innocence saying that his Facebook account was hacked and he had no knowledge about the alleged derogatory post on the Prophet.
9. Maria, a 14-year-old Chrisitan girl, was abducted at gunpoint in April this year. She was then forcibly married to her abductor, an influential Muslim man. For three months, the child remained in her abductor's custody. Her family's only hope for justice was Pakistan's infamous judicial system. Recently, the Lahore High Court ruled that Maria Shahbaz had willingly converted to Islam and married her kidnapper. The verdict, therefore, asked her to stay in her abductor's custody and be a good wife. The court even discounted birth certificates and school records that proved that she was a minor. An eyewitness's account says that the girl was in tears when this ruling was announced, afraid to speak her mind, fearing for her family's safety.
10. After an attempted mutiny by some woke group administrators, Atheist Republic has made dramatic changes in the world's largest private atheist Facebook group. On August 11th, it was discovered that admins of the group formerly known as Atheist Republic LGBTQ+ Consulate had changed the name of the group, removed other moderators from the group, and made a disaffiliation announcement without any notice or consultation with Atheist Republic admin leadership, essentially stealing a group of ~2.1k members. As a result, the admins who undertook such actions were removed from the main Atheist Republic private group, leaving many long time members confused. Well now is the time to set the record straight.