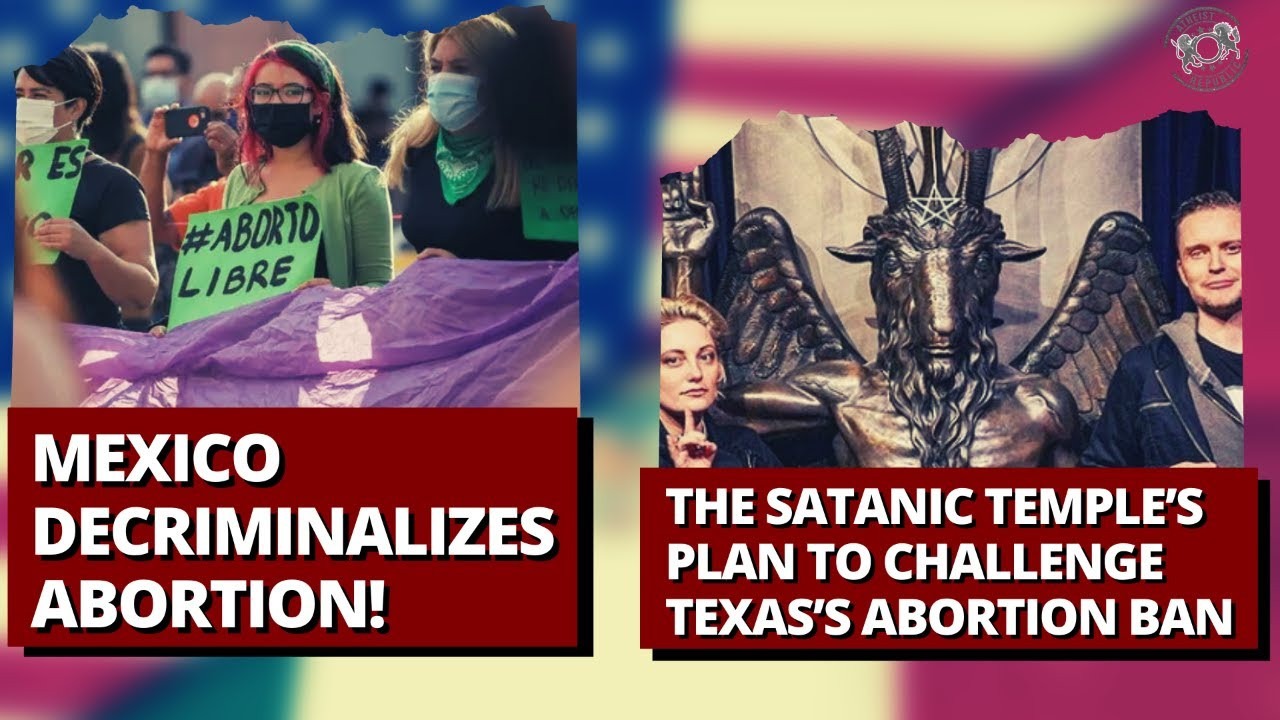 Mexico Decriminalizes Abortion!
https://www.atheistrepublic.com/news/mexico-decriminalizes-abortion
Location: Mexico
On September 7th, Mexico's Supreme Court ruled that a statute requiring a 3-year prison sentence for women who get abortions was unconstitutional. The ruling marks a new precedent for the Mexican legal system and is binding upon other states which have not yet legalized abortion. Women's rights activists in Mexico called the ruling a "watershed moment." While this does mean that abortion is decriminalized, it is not yet fully legal in Mexico, and access to care remains a major issue. With nearly 100 million practicing Catholics, there was a great deal of backlash from the religious community. The National Action Party, an ultra-right-wing political party, condemns the court's decision claiming they will defend "life from the moment of conception until natural death."
The Satanic Temple's Plan to Challenge Texas's Abortion Ban
https://www.atheistrepublic.com/news/satanic-temple-s-plan-challenge-texas-s-abortion-ban
Location: Texas
The Satanic Temple (TST), a nontheistic religious and human rights group, is planning to use its status as a religious entity to outsmart Texas' anti-abortion law. The organization plans to use the terminology in the state's bill against itself. The plan is to offer that anyone who wishes to have an abortion can take abortion drugs as part of the Satanic Abortion Ritual, as it is an act motivated by "sincere religious belief." The first step is for TST to send a letter to the FDA, seeking unrestricted access to abortion-inducing drugs "without being subjected to the agency's regulations." There is precedent for this in the state, in the form of indigenous Americans being allowed the use of peyote for their religious rituals, so the Satanic Temple hopes to utilize this loophole in order to address the problem of access.
Conference Gathers Experts on Uyghur Genocide to Put Pressure on China
https://www.atheistrepublic.com/news/conference-gathers-experts-uyghur-genocide-put-pressure-china
Location: UK
From September 1st to 3rd, the biggest gathering of politicians, legal and academic experts on Xinjiang gathered in the Boiler House at Newcastle University in the United Kingdom. Dr. Jo Smith Finley, who organized this gathering, has been researching the "evolution of identities among the Uyghurs of Xinjiang, Northwest China, and in the Uyghur diaspora," among others. "We are gathering all these people to combine their expertise and influence to up the ante to increase pressure on China," explained Dr. Finley. The three-day conference included in-person and virtual panel discussions. It aimed to discuss the urgent matter of China's increasingly volatile region of Xinjiang and the Chinese Communist Party's oppression of the ethnic Uyghur Muslim population. China has vehemently denied any of these accusations, despite mounting evidence. Dr. Finley stated that starting with the upcoming Winter Olympics in Beijing, the international community must hold China accountable, adding "there's a lot we can do in terms of shaming."
Chief Rabbi in Poland Condemns "LGBT-free" Zones
https://www.atheistrepublic.com/news/chief-rabbi-poland-condemns-lgbt-free-zones
Location: Poland
80 municipalities in Poland have established resolutions announcing that their community is "LGBT-Free." A predominantly Catholic country, Poland is governed by a conservative, nationalistic government. Speaking as part of the panel on August 20th in an episode of "Pride in the Living Room" by the Aguda, Rabbi Michael Schudrich, the Chief Rabbi of Poland stated that the LGBT-Free zones violate Jewish law. Rabbi Schudrich said, "as far as I can tell, it is against Halacha [Jewish religious law]," referring to the municipalities in Poland that implemented the LGBT-Free zone resolutions. During his panel appearance, he promoted LGBT acceptance within the Jewish community, saying that "if someone tells them they are not welcome, that person is incorrect." Rabbi Schudrich is not alone in his sympathies. Jewish communities in Poland have been actively campaigning against the growing homophobia in the country. The community has previously called out Poland's president, Andrzej Duda, for using dehumanizing anti-LGBT rhetoric to push his political agenda.
Report finds Major UK Religious Institutions Expose Millions of Children to Abuse
https://www.atheistrepublic.com/news/report-finds-major-uk-religions-expose-millions-children-abuse
Location: United Kingdom
A recent inquiry into a wide range of religious organizations based in the United Kingdom found a number of issues in how such organizations handle abuse allegations. The Independent Inquiry into Child Sexual Abuse (IICSA) examined child protection within 38 religious institutions within England and Wales. According to their report, the groups had a "significant; or even dominant influence on the lives of millions of children." It was also found that religious leaders deterred reporting of abuse to protect the reputations of the organization, and that victim-blaming was part of the tactics used to silence allegations. The inquiry provided several case studies from various religious groups including Judaism, Islam, and Christianity. Alexis Jay, chair of the inquiry commented, "Religious organizations are defined by their moral purpose of teaching right from wrong and protection of the innocent and the vulnerable. However, when we heard about shocking failures to prevent and respond to child sexual abuse across almost all major religions, it became clear many are operating in direct conflict with this mission."
Afghan Man Attacks 58-year old German because "she was working"
https://www.atheistrepublic.com/news/afghan-man-attacks-58-year-old-german-because-she-was-working
Location: Berlin
On September 4th, 2021, a 29-year-old Afghan man approached a 58-year-old German woman who was doing some gardening work in a Berlin neighborhood. For reasons unknown, he engaged in a short conversation with the woman, then drew out a knife and began to stab the woman repeatedly in the neck. At this point, a 66-year-old bystander attempted to intervene to help, but this individual was also attacked. The assailant was arrested and charged with aggravated assault and attempted murder. The police initially suspected mental illness may be to blame, but are now considering Islamic extremist ideologies may have played a part in this heinous attack. Due to German privacy laws, the names of the victims have been withheld. According to reports both victims have survived the initial attack, and are undergoing treatments for their injuries.
Christian Loses Federal Lawsuit, Must End Children's Conversion Therapy Practice
https://www.atheistrepublic.com/news/christian-loses-federal-lawsuit-must-end-conversion-therapy-practice
Location: Washington, USA
In March 2018, the state of Washington passed Senate Bill 5722; which restricts the practice of conversion therapy for minors in the state. Brian Tingley, a licensed marriage and family therapist, refers to the law as the "counseling censorship law." Tingley sued the state, accusing the law of intervening and controlling his practice. He claimed that professionals should be allowed to continue practicing based on their differing interpretations of science. On August 30th, a federal judge dismissed Tingley's suit, citing that the bill's purpose is "not to infringe upon...practices because of their religious motivation," but to "protect the physical and psychological well-being of minors, including [LGBT] youth by protecting [them] against exposure to serious harm caused by conversion therapy." The state Attorney General, Robert Ferguson, called the ruling, "an important victory for LGBTQ+ civil rights."
Academic Conference about Hindu-Nationalism Harassed by Hindutva
https://www.atheistrepublic.com/news/academic-conference-about-hindu-nationalism-harassed-hindutva
Location: India
Religious extremism exists within almost all of the major ideologies on the planet, Hinduism is no different. The contemporary adaptions of the "Hindutva" political ideology have become increasingly nationalistic and militaristic. To address this, a number of academic institutions in the US have organized a conference to discuss the implications of Hindutva. The Dismantling Global Hindutva: Multidisciplinary Perspectives conference intends to discuss Hindutva within the frame of an "academic endeavor." Since the announcement of this conference, organizers and others involved have been targeted and harassed by Hindutva supporters. In a Twitter post, Dr. Meena Kandasamay shared screenshots where harassers responded to personal photographs she shared of her children, throwing obscene language at the woman, with one going so far as to say her "son will face a painful death." Organizers have faced threats of death, sexual violence, and violence against their families. The universities involved were also bombarded with hate mail from Hindutva spammers, who called the conference "Hinduphobic." Nonetheless, the conference organizers claim that support has grown, and the conference will go forward.
Wrongfully Fired Gay Teacher Wins Lawsuit Against Catholic School
https://www.atheistrepublic.com/news/wrongfully-fired-gay-teacher-wins-lawsuit-against-catholic-school
Location: Charlotte, NC, USA
In October 2014, Lonnie Billard announced online that he and his partner were getting married. Shortly thereafter, Mr. Billard, a substitute teacher at Charlotte Catholic High School, was terminated from his position. In January 2017, Billard filed suit against his school and the local Catholic Diocese. According to the suit, he was fired on Christmas Day in 2014. The Church commented, stating that allowing Billard to keep his post would mean "legitimizing [that] relationship." In 2021, a US District Court Judge ruled in favor of Billard, now 73. The ruling found that the school violated the Civil Rights Act. The judge also insisted that a trial be held to determine damages to be assessed to Billard. Billard spoke publicly about the ruling, saying that he felt "a sense of relief and… vindication" and that he "did nothing wrong by being a gay man." The Church responded to a local newspaper claiming that "[the law] should not compel religious schools to employ teachers who publicly contradict their teachings."
Atheist Republic hit with false DMCA Takedown Notice!
https://twitter.com/AtheistRepublic/status/1423444984393502721
Recently, Atheist Republic (AR) got a false DMCA takedown notice from Twitter. This notice said that a meme had been removed from the Atheist Republic Twitter account because there was a supposed infringement of copyrighted material. However, upon investigation, the AR team realized that this was a false copyright claim. The link provided to prove copyright ownership provided no such evidence. In fact, their website showed that they were reposting Atheist Republic fan signs, likely in an attempt to once again falsely claim ownership and file another DMCA takedown notice, with the intention of getting the AR Twitter account suspended. This is concerning because the notice received by Twitter states, "Please note that repeat violations of this policy may result in the suspension of your account." This is concerning because it puts the largest atheist-centered account on Twitter at risk of full suspension over false copyright claims. This incident highlights the importance of having personal contacts at large social media companies, as there is little hope of getting issues like this corrected otherwise. If you or anyone you know has connections to Twitter, please reach out to Atheist Republic's CEO at Susanna@AtheistRepublic.com.