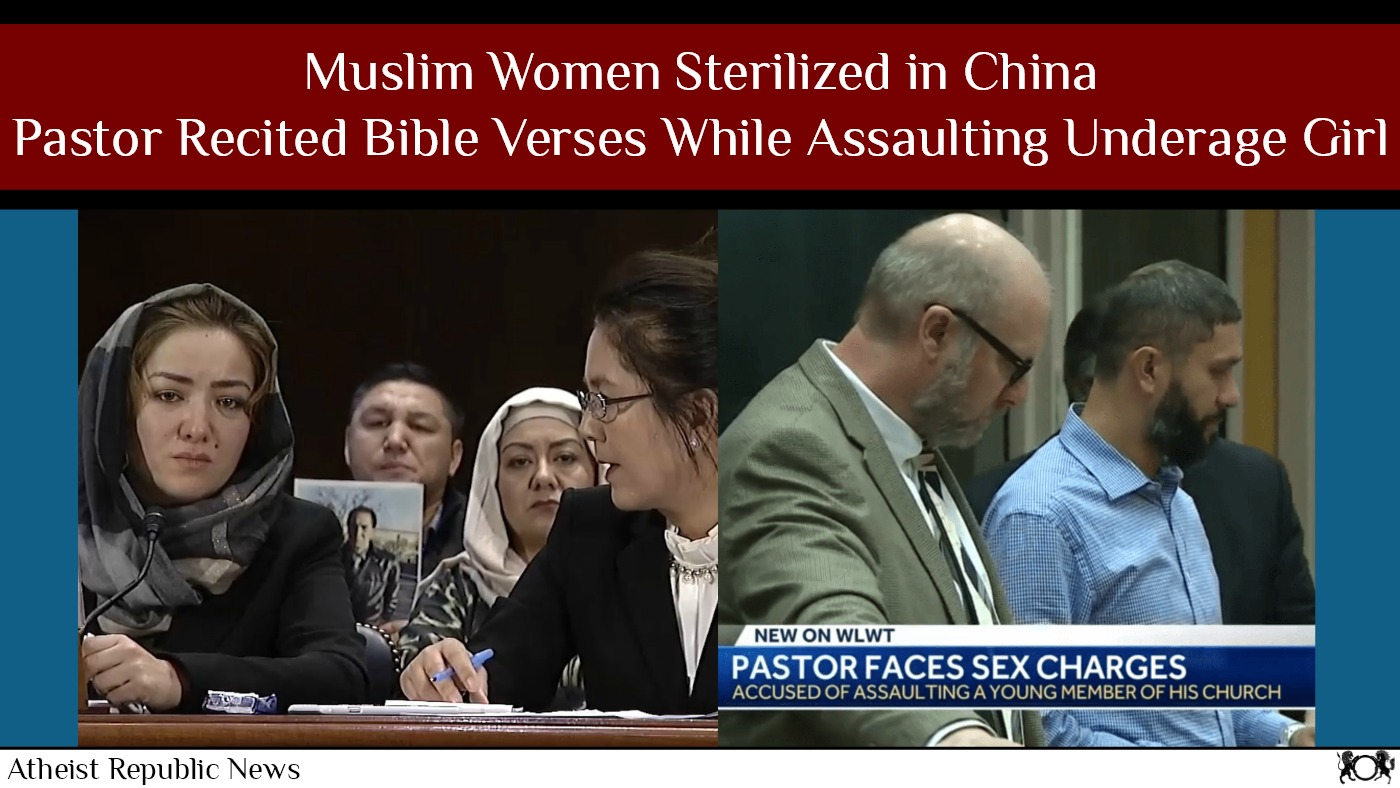 1. Oklahoma Youth Pastor Charged With Raping Underage Girls
https://www.facebook.com/130148817071986/posts/2589283917825118
Location: Oklahoma
2. Pastor Running for Colorado State House Says It's Wrong for Women to Wear Pants
https://www.facebook.com/130148817071986/posts/2590997914320385
Location: Colorado
3. Muslim discovers Pret sandwich he'd been eating for 12 years 'isn't halal'
https://www.facebook.com/130148817071986/posts/2587754017978108
Location: London
4. Norway mosque shooting suspect appears in court with two black eyes after being taken out by 65-year-old Muslim worshipper
https://www.facebook.com/130148817071986/posts/2585267051560138
Location: Norway
5. Muslim women 'sterilised' in China detention camps, say former detainees
https://www.facebook.com/130148817071986/posts/2585178651568978
Location: China
6. Young women flee Morocco after being threatened with BEHEADING for wearing shorts
https://www.facebook.com/130148817071986/posts/2585557698197740
Location: Morocco
7. Pastor Recited Bible Verses While Allegedly Sexually Assaulting Underage Girl
https://www.facebook.com/130148817071986/posts/2582842971802546
Location: Ohio
8. Soheil Arabi, an Iranian jailed blogger must be released immediately
https://www.facebook.com/130148817071986/posts/2583022641784579
Location: Iran and worldwide
9. Elizabeth Smart's Dad Comes Out as Gay, Blasts Mormon Church
https://www.facebook.com/130148817071986/posts/2591615187591991
Location: Utah
10. As Montréal Celebrates Pride, LGBTQ Groups See Rise in Hateful Messages Online
https://www.facebook.com/130148817071986/posts/2585068518246658
Location: Montréal
1. According to the Oklahoma State Bureau of Investigation (OSBI), 34-year-old Justin White, a former public school teacher and youth pastor at Spiro Baptist Church in LeFlore County, was arrested and charged with rape and lewd molestation. White was the baseball coach at Smithville Public School. During the 2013-2014 school year, "he allegedly had sexual intercourse with a female student several times at his residence located on school property," according to the OSBI's announcement. He has been arrested.
2. Corey Seulean, a pastor at Hopewell Baptist Church in Longmont and a graduate of the ultra-conservative Hyles–Anderson College in Indiana and also running for a seat in the Colorado State House, in District 63, said that women should not wear pants. Benjamin Seulean [Corey's son] told the Colorado Times Recorder that while the church doesn't enforce a dress code, Pastor Seulean has made it known that he believes that the Bible says it's immodest for women to wear pants.
3. Khalid Qadeer has been eating his lunch at Pret for the past 12 years, and his go-to sandwich is the tuna mayo baguette. He never imagined it was made with anything more than tuna, mayonnaise and some slices of cucumber, until he noticed a new ingredients label on the sandwich wrapper a few weeks ago. The tax adviser discovered white wine vinegar was a listed ingredient, which he believes is not halal and goes against his religious beliefs. He complained to the manager of his local store and the matter was eventually escalated to Pret's CEO, Clive Schlee.
4. The suspected gunman accused of an attempted terrorist attack at a mosque in Norway has appeared in court with two black eyes. Philip Manshaus, 21, is also alleged to have killed his teenage stepsister before targeting the Al-Noor Islamic Centre in the Oslo suburb of Baerum.
His facial bruising is said to have been sustained in the desperate fight inside the mosque in which 65-year-old worshipper Mohamed Rafiq managed to disarm the assailant as he began to fire his weapon. Police said Mr Manshaus had hoped to kill with reports suggesting he had entered the building with at least two rifles and wearing body armour.
5. Uighur Muslim women are being sterilised at internment camps for ethnic and religious minorities in China, according to former detainees.
"They injected us from time to time," claimed Gulbahar Jalilova, who was held for more than a year in government "re-education centres" in the far-west Xinjiang region. "We had to stick our arms out through a small opening in the door," the 54-year-old told France24. "We soon realised that after our injections that we didn't get our periods any more."
6. Three teenage girls have fled Morocco after a local schoolteacher said he wanted their "heads cut off" for wearing shorts. The girls were volunteering to help build a road in the village of Adar when the teacher, who has since been arrested, made the vile comments. He posted on social media that the young women were "not respecting the Muslim faith" and said he wanted to teach them a "lesson," before threatening them with beheading.
7. Cesar Guerrero, of Mision Cristiana El Calvario Church in Sharonville, was arrested after he was accused of assaulting a 17-year-old girl who came to him to talk about her previous abuse. He ultimately admitted that he used his position as a divine figure to further traumatize the child. An affidavit stated Guerrero is a "Prophet of God" and as the pastor of his church, used that information to influence a juvenile into believing she needed to be cleansed from being molested as a child. Guerrero then arranged to meet the juvenile alone in his office on July 30, according to court documents.
Guerrero used Bible scripture and prayers to "cleanse" the juvenile while he assaulted her, court documents stated.
8. Soheil is a jailed rights activist and a blogger who has been in prison in Iran since 2013. He has been physically and psychologically tortured solely for practising his freedom of speech through his blog and social media. Campaign to Free Political Prisoner in Iran (CFPPI) is inviting everyone to join us on 17th August 2019 to demand the release of Soheil and all political prisoners in Iran.
The organisation of the Atheist Republic, has organised an international day of protest on 17 August 2019 in different countries across the world, inviting everyone to join them to demand Soheil's release. We ask everyone to use the #FreeSoheil hashtag.
9. Ed Smart has come out as gay. The father of Elizabeth Smart stated he is "finally acknowledging a part of me that I have struggled with most of my life and never wanted to accept" in a letter sent to loved ones Thursday on Facebook Messenger, reports NBC News.
Ed's daughter, Elizabeth, made international headlines when she was kidnapped from her Salt Lake City home at age 14. She endured captivity for nine months, and after her rescue by police, cited to her Mormon faith as a factor in her survival. Ed's advocacy kept her plight in the media during her kidnapping. There have been mixed reports about whether Ed would stay in the Church of Jesus Christ of Latter-Day Saints. "As an openly gay man, the Church is not a place where I find solace any longer," he wrote in the letter.
10. As Montréal kicks off its 2019 Pride festival with music, performance art, and much celebration, the organization that built it all — Fierté Montréal — has expressed concern about the rising tide of online hate.
Jean-Sébastien Boudreault, the group's vice-president, told Radio-Canada (the francophone wing of the Canadian Broadcasting Corporation) that Fierté Montréal has received more than 1,000 homophobic and hate-filled comments.