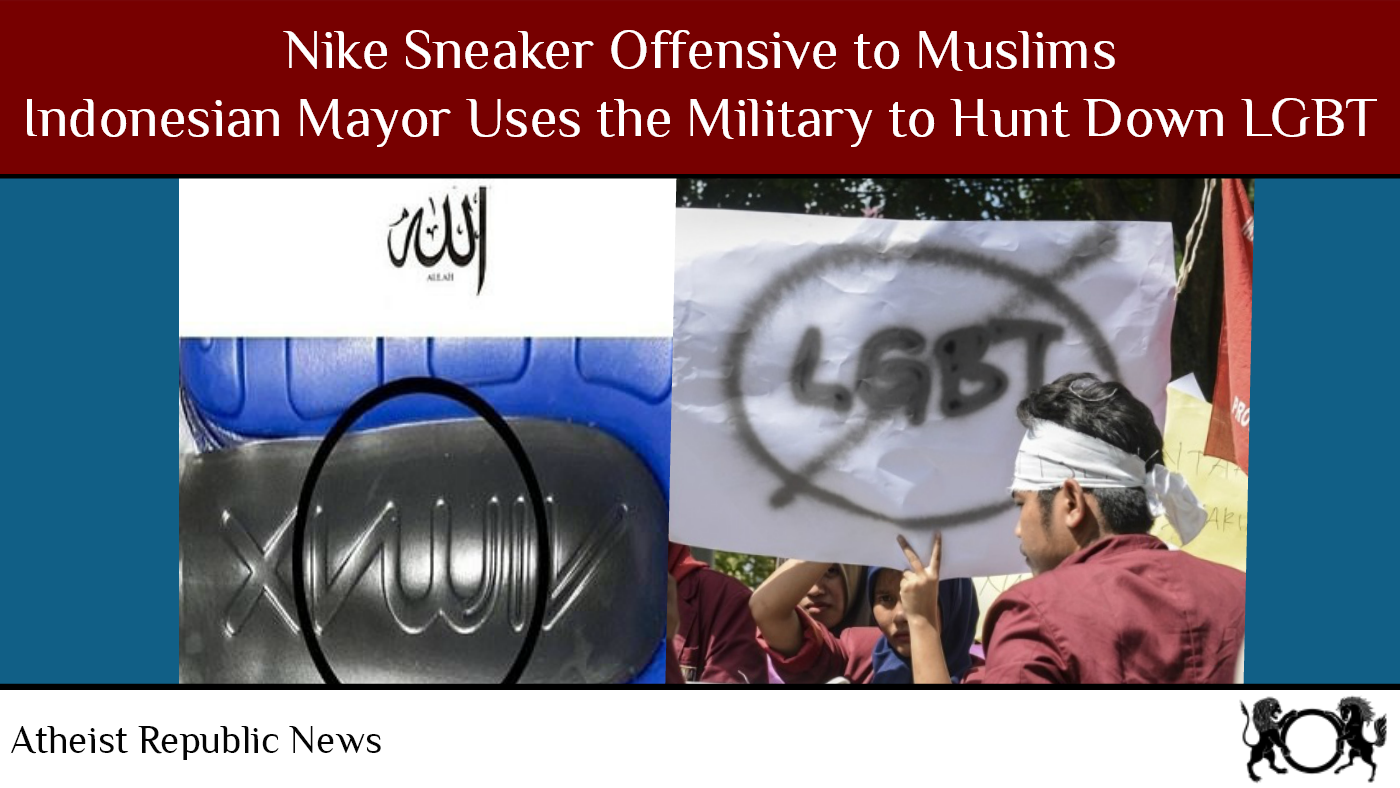 1. A Change.org petition created by a person named Saiqa Noreen in the U.K. says a logo stamped into the sole of Nike resembles the word Allah in Arabic and is "blasphemous". The petition asks Nike to recall its Nike Air Max 270 shoe. "This is disrespectful and extremely offensive to Muslims and insulting to Islam," Noreen writes in the petition. The Air Max 270 went on sale in new colors, retails for $150 and features "AIR MAX" stamped into the sole.
2. A grenade was thrown into a mosque in the Southern Philippines where Muslim teachers were sleeping. Two were killed and four people have been injured. The victims were from Basilan and nearby provinces at the mosque to teach Islam to children. It was the second explosion at a religious site in the southern Philippines, first one was the bombing of a Catholic cathedral.
3. Aaron Lucero who got engaged with his fiancé Jeff Cannon last summer, denounced The Venue at Waterstone in Celina for refusing to serve them for their wedding. The owner of the venue said that due to their religious beliefs, they did not host LGBT+ weddings or receptions. The couple posted on social media and according to them, the owner's beliefs and rejection of same-sex weddings was not clear from the venue's website or from its listing on TheKnot.com, a wedding planning website. The Venue is not the only place that has rejected them.
4. A bill was passed in the Virginia State Senate allowing citizens to bring their guns to church. The bill passed on a strict party-line vote, 21-19. The Senate engaged in a debate before the vote. Republicans argued that individual churches should decide if they want guns in their pews while Democrats warned that worshippers could wind up victimized with their own guns.
5. The Supreme Court of Japan has upheld a law which forces transgender people to get sterilised before they can legally change their gender. An appeal filed by Takakito Usui, a trans man who wants to change the gender on his official documents has been rejected by a panel of four justices. Usui was trying to overturn Law 111, which requires any person seeking to change their legal gender to have "no reproductive glands or reproductive glands that have permanently lost function." The justices said that Law 111 prevented "problems" in relationships between parents and children which could result in "confusion" and "abrupt changes" across Japanese society. The Japanese government announced it would subsidise gender affirming surgery for trans people as long as they are not receiving hormone treatment and do not have any other pre- existing conditions. Applicants are required to be sterile, single, without children under 20 and undergo a psychiatric evaluation to receive diagnosis of "Gender Identity Disorder".
6. All of the winners of an initiative designed to foster gender equality on the workplace were in the United Arab Emirates. Certificates and medals were awarded by Sheik Mohammed bin Rashid al-Maktoum, the vice-president of the United Arab Emirates and ruler of Dubai, in the categories of "best government entity supporting gender balance", "best federal authority supporting gender balance" and "best gender balance initiative" at a ceremony on Sunday. The tweet celebrating the awards was met with mockery.
7. Mahyeldi Ansharullah, mayor of Padang in the province of West Sumatra, says he is using the military to hunt down LGBTI people and subject them to conversion therapy and exorcism. When victims are found, they are then "coached" by the TNI (military). He claims he is using the help of ulema or Islamic scholars in order to perform 'ruqyah' - a form of exorcism on the individuals. This stems from the belief that the existence of LGBTI people is caused by 'jinns' (genies or demons).
8. On an episode of the show 'The Mc Files", Christopher McDonald's guest Shari Wassell asserted that white conservative Christian Trump supporters are now the targets of systematic discrimination. The two discussed about the arrest of Trump associate Roger Stone and the Covington Catholic high school kids. Wassell said, "Between that and Roger Stone, an associate of Trump's [who is white], it reminds me of all the things from the late 50's/early 60's, the way people were treated," she continued. "The left is taking us back to the counter at Woolworth's. I hate it. It's despicable and it's happening again."
9. Steve Campbell, a missionary linked to a Baptist Church in Maine, is being investigated by officials from FUNAI, the Brazilian government's Indigenous Affairs Department , amid reports that he could be tried for genocide. Last month, he allegedly entered an area occupied by the Hi-Merimã tribe while carrying out missionary work with natives from a neighboring tribe. The Hi- Merimã is one of the few dozen isolated communities in Brazil that have had almost no contact with the outside world.
10. Inside the Bahr Academy, an Islamic school, are scribbled swastika and overturned tables. Vandals broke in and graffitied 'moslem terrorists' on the walls, fire extinguishers and litter strewn on the floor. Northumbria Police said they are treating the incident as a hate crime.A fundraiser has now been set up online to try and help the academy and Madrasah recover from the attack.