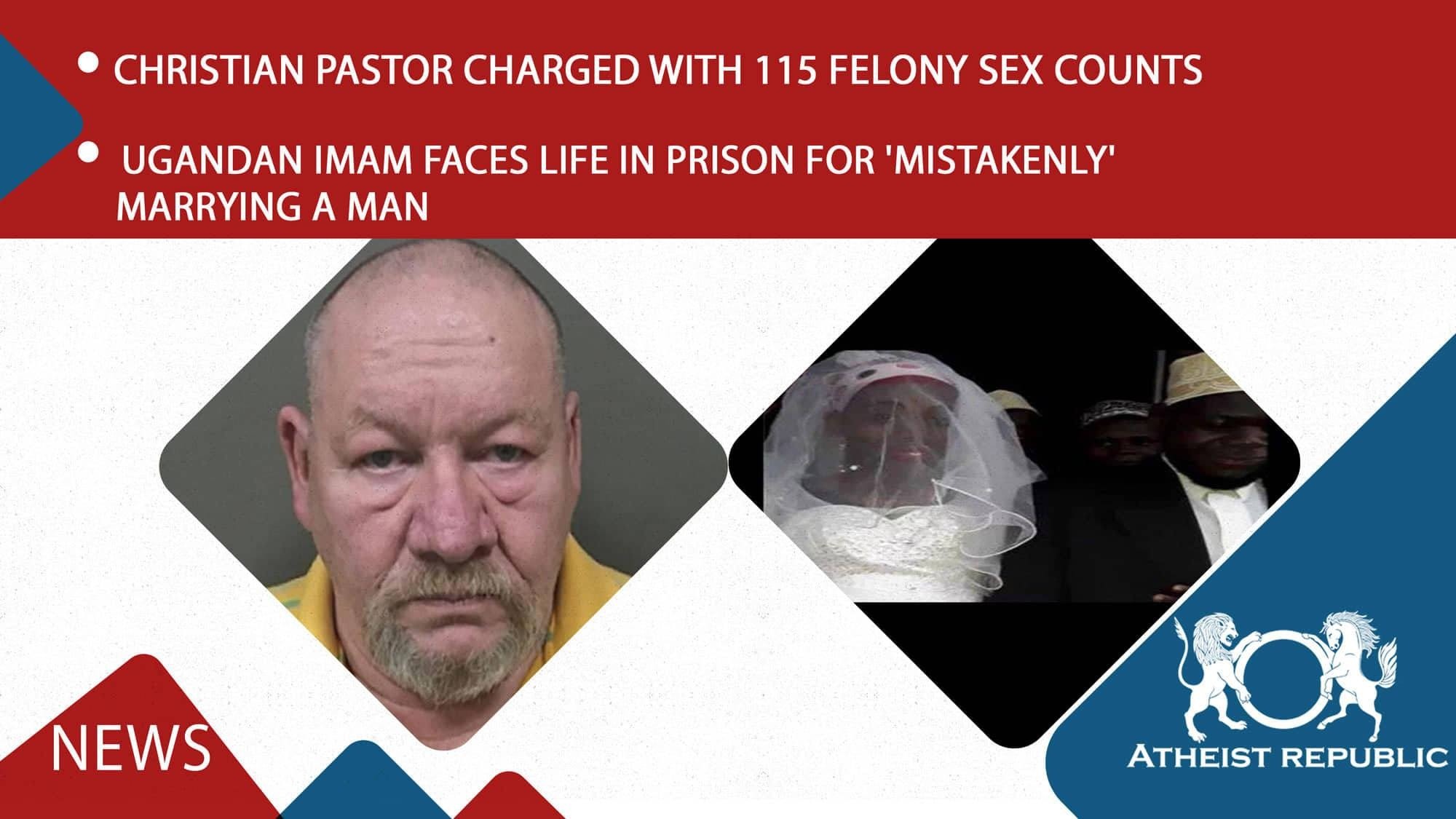 1. Christian Pastor Charged With 115 Felony Sex Counts; One Victim Was Only 4
https://www.facebook.com/130148817071986/posts/2955561184530721
Location: North Carolina, USA
2. Ugandan Muslim leader faces life in prison for accidentally marrying a man
https://www.facebook.com/130148817071986/posts/2956758061077700
Location: Uganda
3. Protesters at Kentucky Capitol tell Muslim children that 'Islam is a false religion'
https://www.facebook.com/130148817071986/posts/2952797274807112
Location: Kentucky, USA
4. Insta-bikie and convicted killer Moudi Tajjour says the deadly Wuhan coronavirus sweeping the world is 'Allah's revenge' for China's persecution of Muslims
https://www.facebook.com/130148817071986/posts/2954553601298146
Location: Australia
5. Paula White: Christians Must Pray That "Satanic Pregnancies" End in Miscarriage
https://www.facebook.com/130148817071986/posts/2955347487885424
Location: USA
6. FGM: Dublin couple jailed over genital mutilation of daughter
https://www.facebook.com/130148817071986/posts/2961179120635594
Location: Dublin, Ireland
7. Christian Website: The Bible Says an Asteroid Will Crash Into Earth in 2029
https://www.facebook.com/130148817071986/posts/2961410000612506
Location: USA
8. Aaron Rodgers: How Can Anyone Believe in a God Who Sends People to Hell?
https://www.facebook.com/130148817071986/posts/2955706727849500
Location: USA
9. Iran general says U.S. 'will definitely regret it' if threats continue
https://www.facebook.com/130148817071986/posts/2959580200795486
Location: Iran
10. Hate preachers filmed threatening to slaughter gay people on the streets of London in broad daylight
https://www.facebook.com/130148817071986/posts/2963862200367286
Location: London, England
1. 58-year-old Rodney Dean Luffman was arrested in North Carolina and charged with 115 felony sex counts. (80 for "indecent liberties" and 35 for "sexual offenses.) His victims range from the ages of 4 to 16. The criminal acts had allegedly occurred for a span of 15 years, between 2000 and 2015. He is a Christian pastor at Open Arms Outreach Ministries, a "Sin Condemning" church that believes in church/state separation.
2. A Ugandan imam is facing life in prison after he accidentally married a man. Sheikh Mohammed Mutumba exchanged vows with his 'bride', Swabullah Nabukeera, in an Islamic ceremony. He met Nabukeera at a mosque and only ever saw them wearing a hijab or a gomesi, a traditional Ugandan floor-length dress. Nabukeera was actually a cis man named Richard Tumushabe, who had duped Mutumba in a bid to get his money. Tumushabe was charged with unnatural offence, impersonation, theft and obtaining goods by false pretence – the latter charge referring to the dowry of two goats, two bags of sugar, three dresses, a carton of salt and a Koran. Although Mutumba committed no crime himself, and had actually sought counsel over his wife's refusal to consummate the marriage, he has been taken to court and charged with having "carnal knowledge with a person against the order of nature". The charge carries a potential penalty of life imprisonment.
3. The Council on American-Islamic Relations shared a video that shows a group of Muslim students boarding a bus outside the Kentucky Capitol in Frankfort while three men tell them that "Islam is a false religion" and "Jesus Christ is the only one who can save you." The students were in Frankfort for the first "Muslim Day at the State Capitol," which the group's Kentucky chapter organized as an opportunity to have members of the Muslim community meet with legislators and advocate for various issues. At the start of the roughly 3 1/2 minute video, students can be seen boarding a school bus while a man with a small microphone and speaker is heard saying, "The Muslim faith is a false religion. Islam is a false religion. You must repent of your sins and come to Jesus Christ, or you will go to hell."
4. An Instagram-famous bikie and convicted killer has claimed the Wuhan coronavirus sweeping across the world is 'Allah's revenge' for China's persecution of millions of Muslims. Retired Nomads president Moudi Tajjour took to Snapchat saying Allah 'created' the killer virus. He then goes on to cite a verse from the Quran, 'And you are unaware of what they going to do.' 'Allah is great, never forgot this.' (sic)
5. Around the same time White House spiritual advisor Paula White was telling lies about how prayer reduced crime after 9/11, she was also stepping up her calls for prayers for the president. Apparently Secret Service can't do much to shield Trump from the animal kingdom and so-called "Satanic pregnancies." We cancel every surprise, from the witchcraft… any spirit of control, any Jezebel… We come against the marine kingdom, we come against the animal kingdom… we break the power in the name of Jesus… We command any satanic pregnancies to miscarry right now."
6. A married couple have been sentenced at Dublin Circuit Criminal Court over the female genital mutilation (FGM) of their then 21-month-old daughter. A 37-year-old man and his 27-year-old wife were jailed for five-and-a-half years and four years and nine months respectively. In November the couple pleaded not guilty to procuring an act of FGM on 16 September 2016, RTÉ reported. Their conviction was the first of its kind in the Republic of Ireland. The couple cannot be named to protect the identity of the child, who is now five. Sentencing the couple, Judge Elma Sheahan said the offence had resulted in serious harm to the child, who may suffer psychological or psycho-sexual effects in the future.
7. Christian writer Thomas Horn would like you to know that an asteroid is going to crash into the Earth in 2029, and the Bible proves it. Revelation 8 and the first four trumpet judgments appear to describe the different stages of a singular event — a large asteroid impact on planet earth, which I predict is coming in 2029 in the form of the asteroid Apophis. I now believe, in fact, if you were to ask a scientist (as I did) to explain what these verses seem to depict, they would tell you that the details of Revelation 8 very much match the sequence of either a binary asteroid (two asteroids orbiting a common barycenter — the area of mass around which two or more bodies orbit) accompanied by smaller fragments — or the breakup of a larger asteroid into two main portions accompanied by tons of smaller debris as it enters Earth's atmosphere, followed by impacts.
8. About a month ago, Aaron Rodgers, an American quarterback, gave an interview to Danica Patrick for her "Pretty Intense" podcast and opened up about his religious skepticism. He spoke about joining a Christian group when he was younger, even going on memorable missionary trips, but his priorities changed once he got to college. He also learned about other religions, and realized a lot of religious claims are equally absurd. He added, "… I don't know how you can believe in a God who wants to condemn most of the planet, you know, to a fiery hell. Like, what type of loving, sensitive, omnipresent, omnipotent being wants to condemn most of his beautiful creation to a fiery hell at the end of all this?"
9. The chief of Iran's powerful Revolutionary Guard warned that it will retaliate against American and Israeli commanders if the U.S. continues to threaten top Iranian generals. "I warn them to withdraw from this field," Gen. Hossein Salami told state television, adding if they do not, they "will definitely regret it." The head of Iran's judiciary, Ebrahim Raisi, vowed to bring Soleimani's killers to "trial and punishment for this terrible crime."
10. Men identified as part of the fringe Church of Yahawashi, an offshoot of the Hebrew Black Israelites, uploaded footage of their preaching in Dalston, east London. As members of the public walk by, one of the preachers tells the camera: "We just come out of a restaurant, and we had two faggots in there that we had to keep eyes on, because certain brothers, all of the brothers, we don't like faggots. "Some brothers reserve their comment, because they want to be doing the slaying. Really, they want to put a sword to you." At the suggestion of slaughtering gay people, the other men shout "that's right!" and "preach".