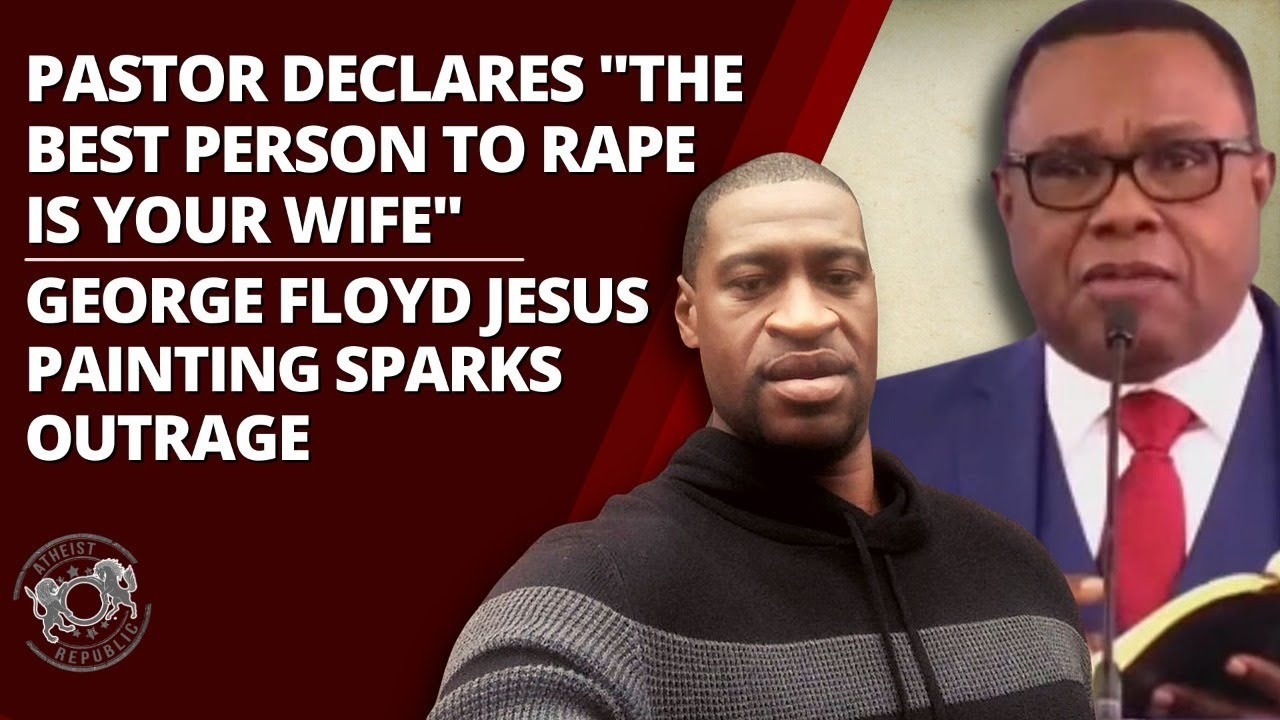 Pastor Preaches "The Best Person to Rape is Your Wife"
https://www.atheistrepublic.com/news/pastor-preaches-best-person-rape-your-wife
Location: New York
On November 13th, a senior pastor at the Grand Concourse Seventh-Day Adventist (SDA) Church, Burnett Robinson, told husbands in his sermon that "the best person to rape is your wife." Robinson preached from the Letters of the Apostle Paul to the Ephesians. The apostle blatantly declares that wives should submit themselves to their husbands. Robinson reminded the wives present in his sermon that they were no longer their own once married. "You are your husband's," Robinson declared. During his sermon, he mentioned that he saw a woman on television who sued her husband for rape. He then proceded to allude that rape does not count for legally married couples. Kevin Lampe, the communications consultant for the SDA, stated that Robinson is no longer allowed to serve at any SDA church. The Grand Concourse Seventh-Day Adventist Church also declared that "rape and sexual assault of women are crimes and should always be treated as such." As of November 24th, Robinson has resigned.
"Blasphemous" Painting of George Floyd as Jesus Stolen
https://www.atheistrepublic.com/news/blasphemous-painting-george-floyd-jesus-stolen
Location: USA
On November 24th, a controversial painting, titled "Mama" was stolen from the Mary Mirror of Justice Chapel in the Catholic University of America (CUA). The painting shows a black Mary cradling the body of Jesus after his crucifixion, similar to Michaelangelo's Pieta sculpture. The painting drew controversy for depicting Jesus in the likeness of George Floyd, who died on May 25, last year, while being restrained by the police officers. Kelly Latimore, the artist behind the painting, said he has received death threats over the painting that increased when the conservative website the Daily Signal published a story about it. Former Catholic University College Republicans President, Blayne Clegg, considered the comparison between George Floyd and Almighty God's sinless son is a "damning disservice to the vast majority of Catholics."
"All India Muslim Personal Law Board" Seeks New Blasphemy Law
https://www.atheistrepublic.com/news/all-india-muslim-personal-law-board-seeks-new-blasphemy-law
Location: India
The All India Muslim Personal Law Board (AIMPLB) is an NGO that works closely with the Indian government to promote the "retention and implementation of the Shariat Act." On November 21st, around 200 members of AIMPLB gathered in a 2-day convention in Kanpur, a city in Uttar Pradesh, India. During the convention, AIMPLB demanded that the Indian government enact a blasphemy law that exclusively covers "those who show disrespect to Prophet Mohammad." Indian Muslims for Secular Democracy (IMSD), a group of progressive Muslims, condemned AIMPLB's demands through a public statement endorsed by more than 400 individuals. IMSD stated that they support "the principle that there can be no place for a law criminalizing blasphemy in a secular State." Instead of demanding another blasphemy law, IMSD asked AIMPLB to "take recourse to the already existing law against hate speech in our country." The group also highlighted how the current blasphemy laws enforced in Pakistan and Bangladesh create an atmosphere of religious violence, saying "AIMPLB cannot be unaware of the notorious blasphemy law in neighboring Pakistan, which is frequently misused to hound individuals from religious minorities."
Survey Finds Few Americans Attribute Suffering to God
https://www.atheistrepublic.com/news/survey-finds-few-americans-attribute-suffering-god
Location: USA
A survey published by the Pew Research Center found that most American adults don't blame God, but rather people and society, when bad things happen.The survey asked the respondents, "in your own words, why do you think terrible things happen to people through no apparent fault of their own?" 35% of the respondents see terrible things as random events. 13% mentioned that bad things happen due to God's will. The survey also asked the respondents to choose who they blame for the suffering in the world from a list of options. 71% believe that suffering is mostly a consequence of people's own actions. 69% chose that suffering is mostly a result of the way society is structured. 80% of respondents who believe in God, think that the suffering in the world comes from the actions of people, not from God.
Indian Police tell Christians to Halt Prayer Meetings to Avoid Attacks
https://www.atheistrepublic.com/news/indian-police-tell-christians-halt-prayer-meetings-avoid-attacks
Location: India
The Indian publication, the News Minute reported that more than 25 pastors in the Belagavi city and nearby areas were approached by the police and were asked not to gather for prayers and to "avoid meetings until the end of the Winter Session of the Karnataka Assembly." Belagavi will be hosting the Karnataka legislative session in late December, during which a controversial anti-conversion bill will be discussed. Pastor Thomas explained to a local news outlet that the police told him to avoid gathering for prayers because right-wing groups might attack them, and the police will not be able to protect them. Earlier this month, Pastor Lema Cherian was accused by a right wing Hindutva group of performing forced conversions at the church during the Sunday prayers. Christians are the subject of animosity in Belagavi and have suffered increasing attacks from militant Hindutva groups. They are concerned with the police's inability to protect them. Aside from notifying pastors, the police also told building owners who rent their spaces to christian assemblies to not allow these congregations to gather.
Mass Harassment From Hindu Nationalists Forces Comedian to Quit
https://www.atheistrepublic.com/news/mass-harassment-hindu-nationalists-forces-comedian-quit
Location: India
Munawar Faruqui, an Indian stand-up comic, has been lately facing incessant trouble in finding a venue to host his shows. The owners of the venues where his shows are scheduled to be held have been frequently contacted by the police, advising them to cancel his performances due to threats they have received from right-wing extremists. Faruqui became a controversial figure at the beginning of 2021 when he was arrested for allegedly making jokes about Hindu deities. He has maintained his innocence, and the police were never able to produce any evidence of him "hurting religious sentiments" despite keeping him in jail for over 30 days. His performances have been canceled due to arson threats on the venues, threats of violence to audience members, pressure from local Hindutva groups, and even over 500 Hindus threatening to set themselves on fire if he was allowed to perform. Faruqui says he has been forced to cancel 12 shows within the past two months. After a recent show in Bangalore was canceled due to threats of venue vandalism, he announced his retirement via Twitter by saying, "My name is Manuwar Faruqui, and that has been my time. You guys were [a] wonderful audience. Goodbye! I'm done."
Rep. Ilhan Omar Demands GOP Leaders Address Anti-Muslim Rhetoric
https://www.atheistrepublic.com/news/rep-ilhan-omar-demands-gop-leaders-address-anti-muslim-rhetoric
Location: USA
Over the Thanksgiving holiday, Colorado Republican House Representative Lauren Boebert made incendiary statements where she likened Representative Ilhan Omar of Minnesota to a suicide bomber. Shortly before this incident, during a speech on the floors of congress, she called Rep. Omar a member of the "Jihad Squad." Omar quickly called for house leaders to take action against Lauren Boebert. To demonstrate the impact of Boebert's rhetoric, she played a recording of a death threat left on her voicemail during a news conference. She also asked House Republican leaders to address the anti-muslim sentiments held in their ranks. "When a sitting member of Congress calls a colleague a member of the 'jihad squad' and falsifies a story to suggest I will blow up the Capitol, it is not just an attack on me but millions of American Muslims across the country," Omar said. "We cannot pretend this hate speech from leading politicians doesn't have real consequences," she added. Boebert has apologized to the American Muslim community, has not yet apologized to Omar personally.
Mob Wrecks Police Station For Preventing Lynching of Blasphemer
https://www.atheistrepublic.com/news/mob-wrecks-police-station-preventing-lynching-blasphemer
Location: Peshawar, Pakistan 
On November 29th, a mob of violent Muslim protesters burned a police station, including four police posts in Peshawar, northeast Pakistan. The mob demanded that a mentally unstable man who was accused of desecrating the Quran, be handed to them for lynching. According to The Print, local Jamiat Ulema-i-Islam-Fazl, a Deobandi Sunni political party, initiated the protest. When the police officers refused their demands, they broke out into violence. A local police officer, Asif Khan, said no officers were hurt during the attack. However, they had to request troops to control the situation. He said police officers did not use force to avoid hurting anyone in the crowd, but they had to flee after "thousands of demonstrators" attacked the police office buildings. Reporter Zia Ur Rehman said, "Mobs can kill anyone and torch any building or entire neighborhood merely on allegations or rumors of blasphemy."
UAE Legalizes Pre-Marital Sex
https://www.atheistrepublic.com/news/uae-legalizes-pre-marital-sex
Location: UAE
On November 27th, the United Arab Emirates (UAE) announced the arrival of a new criminal code, effective January 2022. Sheikh Khalifa bin Zayed Al Nahyan, the president of the UAE, approved the wide-ranging legal reforms in what is called the "largest legislative reform in [UAE's] history. The announcement included a huge change towards laws on premarital relationships. According to the Emirates News Agency, the Federal Crime and Punishment Law changes will decriminalize consensual relationships out of wedlock. However, any child conceived due to the relationship needs to be acknowledged and cared for by any parent. The new changes will require the couple who has the child outside of marriage to either get married or acknowledge the child as theirs. Failure from both parties to do so and provide the necessary documentation will result in a criminal case. The reforms also impose harsher sentences for sexual assault crimes, decriminalize alcohol consumption, and end the leniecy towards "honor killings."
Atheist Republic's Glorious RETURN to Twitter!
On November 29th, Atheist Republic's Twitter account was reinstated! Originally suspended on November 14th after being targeted by a multitude of obviously false copyright claims, the largest atheist-centered Twitter account is back in action. Our account is likely to be targeted again, so please follow us on Twitter before we are removed once more: https://twitter.com/AtheistRepublic