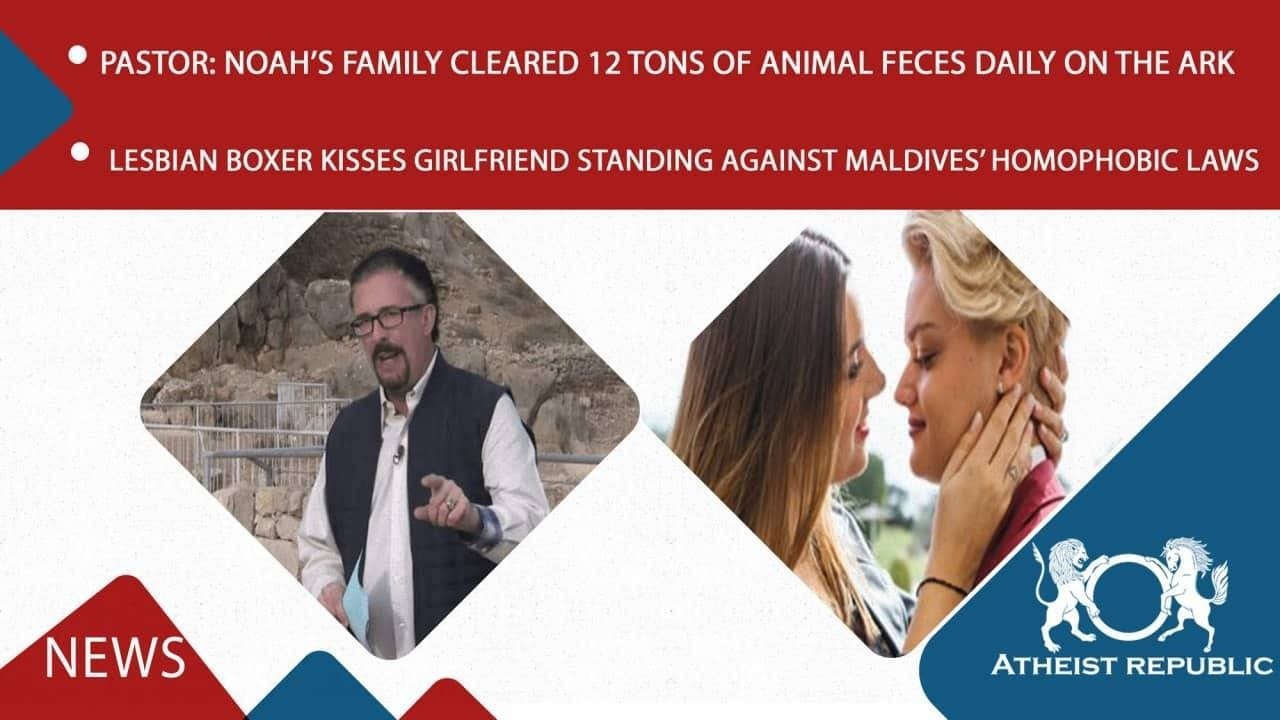 1. Pastor: Noah's Family Cleared Away 12 Tons of Animal Feces on the Ark Every Day
https://www.facebook.com/130148817071986/posts/2974501525970020
Location: Golan, Syria
2. Lesbian boxer risks jail and kisses her girlfriend in a defiant stand against Maldives' homophobic laws
https://www.facebook.com/130148817071986/posts/2976774292409410
Location: Maldives
3. Minnesota priest apologizes for calling Islam 'greatest threat' to America
https://www.facebook.com/130148817071986/posts/2965524956867677
Location: Minnesota, USA
4. Mila: 'No regrets' for French teen targeted for criticising Islam
https://www.facebook.com/130148817071986/posts/2976913219062184
Location: France
5. Yogi Adityanath: 'Muslims did no favour to India by staying here'
https://www.facebook.com/130148817071986/posts/2979262088827297
Location: India
6. How China's Xi Jinping destroyed religion and made himself God
https://www.facebook.com/130148817071986/posts/2970189096401263
Location: China
7. Christian Moms Complain About Lack of "Respect and Dignity" in Halftime Show
https://www.facebook.com/130148817071986/posts/2980255062061333
Location: USA
8. It's No Exaggeration: Sweeping South Dakota Bill Aims to Eliminate LGBTQ Rights
https://www.facebook.com/130148817071986/posts/2975006055919567
Location: South Dakota, USA
9. Tigers must be punished for eating cows, says Goa NCP MLA Churchill Alemao
https://www.facebook.com/130148817071986/posts/2979722955447877
Location: India
10. Cleric arrested for selling meth to students, saying 'it'll help study Quran better'
https://www.facebook.com/130148817071986/posts/2979635655456607
Location: Madura, Indonesia
1. Right-wing pastor Perry Stone, best known for checking his phone while speaking on tongues, made a rather unusual claim during a recent on-the-spot sermon in the Golan Heights. He was discussing why Noah's Ark is literally true and tried to explain how Noah's family handled all the animal waste. "… It is estimated that there was 5 to 12 tons of manure a day on the Ark. Now there was a window on top of that Ark that could be opened — it actually was on the side, not the top, it's on the side — where they could throw it out if they needed to, so it doesn't necessarily mean it piled piled piled, they had a way getting rid of it, no doubt."
2. A lesbian boxer has taken a stand for gay rights by sharing a photo of herself publicly kissing her girlfriend in the Maldives, where homosexuality is against the law. Same-sex sexual activity is strictly prohibited in the island nation and is punishable by up to eight years in prison for non-Muslims. April, 24, tweeted a picture of herself kissing her girlfriend in the ocean. The caption read: "Illegal to be gay in the Maldives and other Muslim countries still, in this day and age is mental, anyways this is our thought." April reportedly took the photo down at the request of friends and family, who feared she might face repercussions from Maldivian authorities. She later uploaded the image on her return to the UK, but it is no longer visible on her public Twitter or Instagram accounts.
3. A Roman Catholic priest in Minnesota has apologized for calling Islam the "greatest threat in the world" to the United States and Christianity. The Rev. Nick VanDenBroeke apologized in a statement posted on the website of the Archdiocese of St. Paul and Minnesota for the Jan. 5 comments during a 15-minute homily as pastor of the Church of the Immaculate Conception in Lonsdale. "My homily on immigration contained words that were hurtful to Muslims," the statement read. "I'm sorry for this. I realize now that my comments were not fully reflective of the Catholic Church's teaching on Islam."
4. A teenager has sparked a national debate about blasphemy in France after an Instagram post calling Islam a "religion of hate". Mila, 16, posted her comments online after receiving homophobic abuse from a Muslim commenter. She received death threats and has not attended school since. But Mila has refused to back down, saying in her first television interview that she "wanted to blaspheme". The country has no national blasphemy laws and has a rigidly secular constitution. Police initially opened two investigations: the first into whether Mila was guilty of hate speech, and the second into her online attackers. They have since dropped the hate speech case as Mila was expressing a personal opinion on religion and not targeting individuals. On Tuesday, Interior Minister Christophe Castaner told the National Assembly that Mila and her family were under police protection.
5. Muslims who chose to stay in India when it was partitioned following independence from Britain did the country "no favours", Yogi Adityanath, one of India's most controversial right-wing politicians, has said. "They should have opposed partition, which led to the formation of Pakistan," he told BBC Hindi's Nitin Srivastava in an exclusive interview. Mr Adityanath is the chief minister of the northern state of Uttar Pradesh, India's most populous state and home to nearly a quarter of India's 200 million Muslims. His government has recently been accused of using excessive force against protesters, especially Muslims, opposing a contentious new citizenship law.
6. Catholic churches torn down or denuded of their crosses and statues. Images of the Madonna and Child replaced with pictures of "People's Leader" Xi Jinping. These are just some of the ways that the Chinese Communist Party is persecuting Christians in China. But it's not just Christians. In China's Far West, over a million Muslims languish in concentration camps. Buddhist temples are being turned into shrines celebrating Xi Jinping, China's President For Life. On Feb. 1, 2020, new restrictions on all forms of religious activity came into force. The "Control Measures for Religious Groups," as the 41 new rules are called, deal with everything from the holding of rites and rituals, to the selection of leaders and annual meetings, to the hiring of staff and the handling of funds. All of these must be reported — in advance, no less — to the comrades at the "Religious Affairs" office for their approval.
7. The evangelical Christian hate group One Million Moms (Twitter count: 4,731), which never has a critical thing to say about Donald Trump, can't believe two women danced onstage during halftime of the Super Bowl. Jennifer Lopez basically danced while wearing a "glitter maxi pad," they claim. These Christians are more upset at J-Lo for featuring kids in imaginary cages than they are at Republicans for putting kids in actual ones. They'll whine about a less-than-"family-friendly" halftime show while saying nothing about a president who pays hush money to women he has affairs with when he's not talking about "shithole" countries.
8. South Dakota's legislature introduced HB 1215 — the most comprehensive, retrogressive anti-LGBTQ bill in recent memory. The bill covers nearly every aspect of LGBTQ life, from the obvious — marriage equality and protection from discrimination — to the surprisingly specific: The law addresses schools and libraries hosting Drag Queen Story Hour events. It even contains a rather nebulous catch-all clause that says the state may not approve policies that "condone or affirm" LGBTQ communities. The bill  prohibits policies that make any part of LGBTQ people's lives safer or more just. It sanctions bigotry by refusing to recognize that anti-LGBTQ discrimination should be against the law, then goes on to prohibit nearly every form of legislation that might decrease that discrimination in any way.
9. Nationalist Congress Party (NCP) MLA Churchill Alemao said that tigers should be "punished" for eating cows when humans are punished for the same. A tigress and three of her cubs were killed by five locals in Mahadayi Wildlife Sanctuary last month. The issue was raised by Leader of Opposition Digambar Kamat through a calling attention motion on the floor of the House during the Assembly session on Wednesday. "What is the punishment for a tiger when he eats a cow? When a human being eats cow, he is punished," Churchill Alemao said.
10. A cleric has been arrested for selling meth to his students, claiming it would "help them study and recite the Quran better". According to The Star, the religious leader from Madura, Northeast Java in Indonesia had been selling the drug to his students at an Islamic boarding school and reasoned that it was permissible under Islamic law. Being an avid drug user himself, Ahmad Marzuki managed to avoid the police for two months after they learned of his actions. Despite being a fugitive, the religious leader still taught at other Islamic boarding schools in Surabaya and Mojokerto cities.