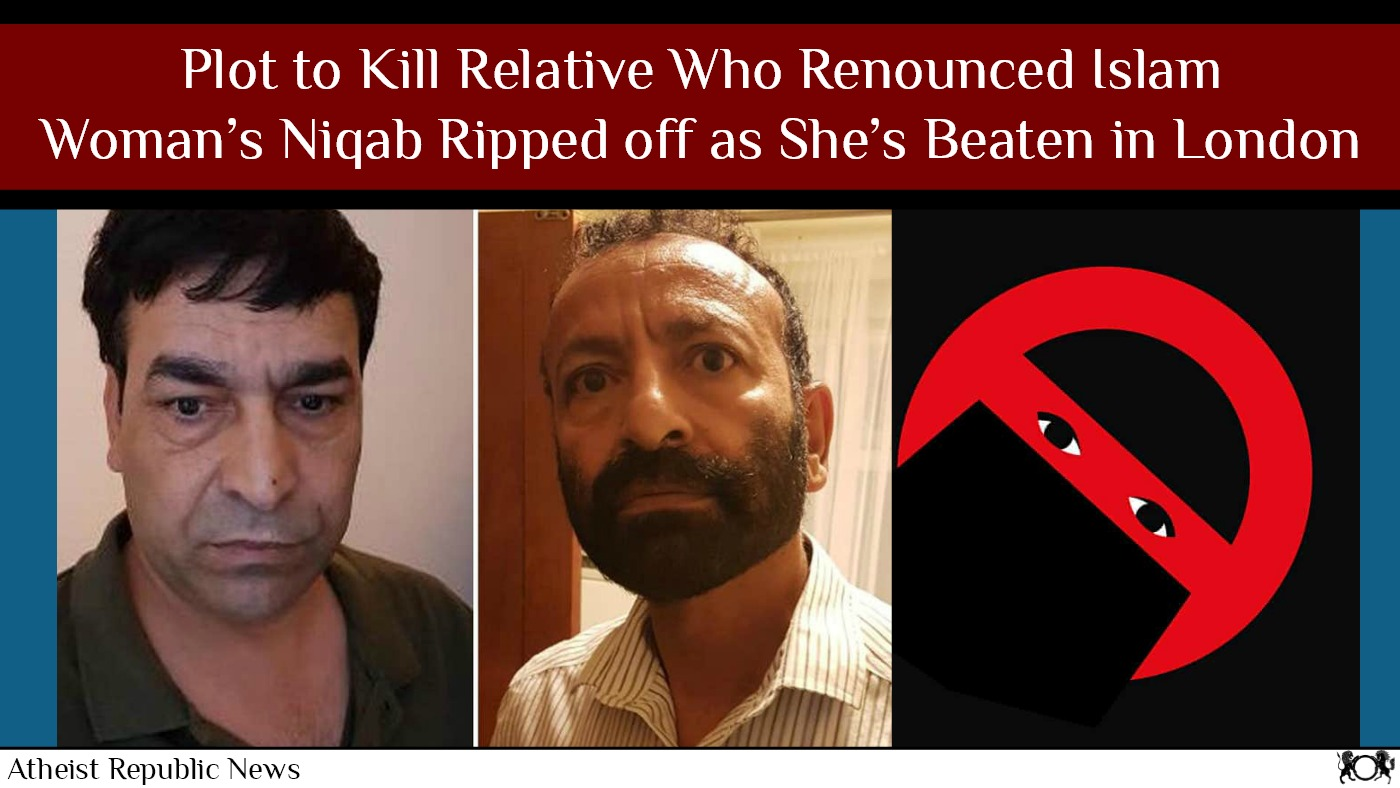 1. Pair arrested over 'plot to kill female relative who renounced Islam'
https://www.facebook.com/130148817071986/posts/2633345373418972
Location: Britain
2. Sikh MP slams Boris Johnson over 'racist remarks' against Muslim women
https://www.facebook.com/130148817071986/posts/2631003506986492
Location: UK
3. Christian Pastor: Abortion Gives Demons a "Blood Right" to School Shootings
https://www.facebook.com/130148817071986/posts/2631388686947974
Location: Nebraska
4. North Indians protest against serving of beef in Germany, police say this is not your country to hold protest
https://www.facebook.com/130148817071986/posts/2629000560520120
Location: Germany
5. Muslim woman's niqab is ripped off as she's 'beaten in London street in front of her horrified children'
https://www.facebook.com/130148817071986/posts/2628699923883517
Location: London
6. Christian-Owned Wedding Venue Refuses to Host Mixed Race Wedding Because Jesus
https://www.facebook.com/130148817071986/posts/2626763130743863
Location: Mississippi
7. These Florida Christians Think Their Prayers Will Stop Hurricane Dorian
https://www.facebook.com/130148817071986/posts/2624917810928395
Location: Florida
8. These Jehovah's Witnesses Let Their Son Die By Denying Him a Blood Transfusion
https://www.facebook.com/130148817071986/posts/2622996624453847
Location: USA
9. Iranian Woman Sentenced to 24 Years Behind Bars for Removing Compulsory Hijab
https://www.facebook.com/130148817071986/posts/2622664034487106
Location: Iran
10. Woman Reportedly Fell 80 Feet While Practicing "Extreme Yoga" on Balcony
https://www.facebook.com/130148817071986/posts/2617637528323090
Location: Mexico
1. Two men accused of plotting to kill a female relative who left Britain and renounced Islam have been arrested by armed law enforcers. Mohammed Patman, 53, from Ilford, and Darya Khan Safi, 49, from Coventry, were detained by National Crime Agency (NCA) firearms officers at their homes in the capital and the West Midlands. The pair, who are both originally from Afghanistan, are wanted by the authorities in Slovakia over allegations that they have been conspiring to murder a 25-year-old female relative working there. Phone and internet records were also obtained which officers allege show the men discussing the potential murder plot, including planning events both at home and abroad.
2. A British Labour MP has passionately condemned UK Prime Minister Boris Johnson for comments he made describing Muslim women as looking like "bank robbers" and "letterboxes" in an article. Tanmanjeet Singh Dhesi, who was the first turbaned Sikh MP in the House of Commons, elicited applause from Parliament's House of Commons on Thursday when he questioned the PM on when he would apologise for the statements, which he made in a 2018 Daily Telegraph article. In response to the question, Mr Johnson defended his party as having the "most diverse cabinet in the history of this country" and turned the table on Labour, who he said should apologise for anti-semitism within their party.
3. Nebraska pastor Hank Kunneman of One Voice Ministries said that the practice of legal abortion in the United States gives demons a "blood right" to bring violence into public schools. Last week One Voice Ministries hosted an online event they called the "Prophetic Pulse Conference Call," in which Hank and his wife Brenda Kunneman warned of the nation's accountability when voting for pro-choice legislators. Hank went one step further, though, likening abortion to human sacrifices that invite Satan's minions to wreak havoc on the nation.
4. The Indian Consulate in Germany holds an Indian Festival annually. This year's festival stirred up a controversy as people began to show up to protest against a food stall that was serving beef. A stall set-up by Kerela Samajam offering Kerala style food had Beef Porotta on the menu. This sent a few North Indian visitors in an uproar since the consumption of beef is prohibited in many Hindu subcultures. Some event-goers took the case to the police who reported stated that it isn't their country to protest in. German authorities made it clear that they don't have any qualms about food choices and don't mind what people eat. The protest was then wrapped up. News source: https://bit.ly/2lB7OwO
5. A Muslim woman had her niqab ripped off and was repeatedly punched in the face by a female thug in front of her children on Sunday. The incident happened on Sunday on Edison Close as the woman walked with her young children, who witnessed the brutal attack. The attacker was shouting: 'go back to your country', Why are you wearing this'. Waltham Forest Police tweeted: "Police are aware of an incident in Walthamstow on Sunday where a lady was assaulted and her headscarf pulled off. "The female believed responsible has been arrested & police (& health services) are investigating. Additional patrols are in place."
6. When LaKambria Welch heard that Boone's Camp Event Hall in Booneville, Mississippi was refusing to host her brother's wedding, she wanted them to explain why to her face, so she went there with a video camera. A woman who works for the venue told Welch that, since the owners are Christian, they don't host same-sex weddings or mixed-race ones. Because Jesus.
Link to the video: https://bit.ly/2kzMdof (41 seconds long)
7. A bunch of Christians who seem to think their magical words will keep Hurricane Dorian away from Florida gathered at Jacksonville Beach Pier to tell the storm to "calm down." We're coming out here as a group of believers like we did 2 years ago for Hurricane Irma," Mary [Parker] said. "We came and got in a circle and prayed and we sang."
8. One of the most pernicious beliefs of the Jehovah's Witnesses is that they refuse blood transfusions, even if they're necessary to save their lives, because it's considered a violation of biblical law. It's a policy that was introduced in 1945 and, according to JW watchdog Lloyd Evans, has resulted in the deaths of tens of thousands of Witnesses. A recent video published by the Watchtower Society tells an emotional story of a devout couple that lost their son, Jerod Septer, in 1992 due to lymphoma, a type of cancer. A blood transfusion could have saved his life, but the family refused it.
9. An Iranian women's rights activist was just sentenced to 24 years in jail, including 15 for removing her required hijab as part of an equality protest. 20-year-old Saba Kord Afshari was sentenced after being charged with "spreading corruption and prostitution by taking off her hijab and walking without a veil," "spreading propaganda against the state," and "assembly and collusion," according to the Iran Human Rights Monitor. The verdict was issued by the branch 26 of Tehran's Revolutionary Court and the lawyer of Ms Kordafshari was informed about it on August 27. Her sentences were increased by one-half because of "numerous charges and previous records." Saba Kord Afshari was repeatedly pressured to make video confessions, something that she strongly resisted and refused to do. The Intelligence Ministry even arrested her mother, Raheleh Ahmadi, to bring further pressure and force her to force her to make false confessions.
10. A young woman reportedly fell 80 feet from a sixth-floor balcony in Mexico while performing so-called "extreme yoga," resulting in 110 broken bones and 11 hours of surgery. The 23-year-old college student, identified by local media as Alexa Terrazas, decided to get a picture of herself doing some free yoga on the elevated terrace. A photo seemingly snapped prior to the fall has gone viral on Twitter. Yoga is linked to and derived from Hindu spiritual practices, while this appears to have been a like-trap for Instagram.