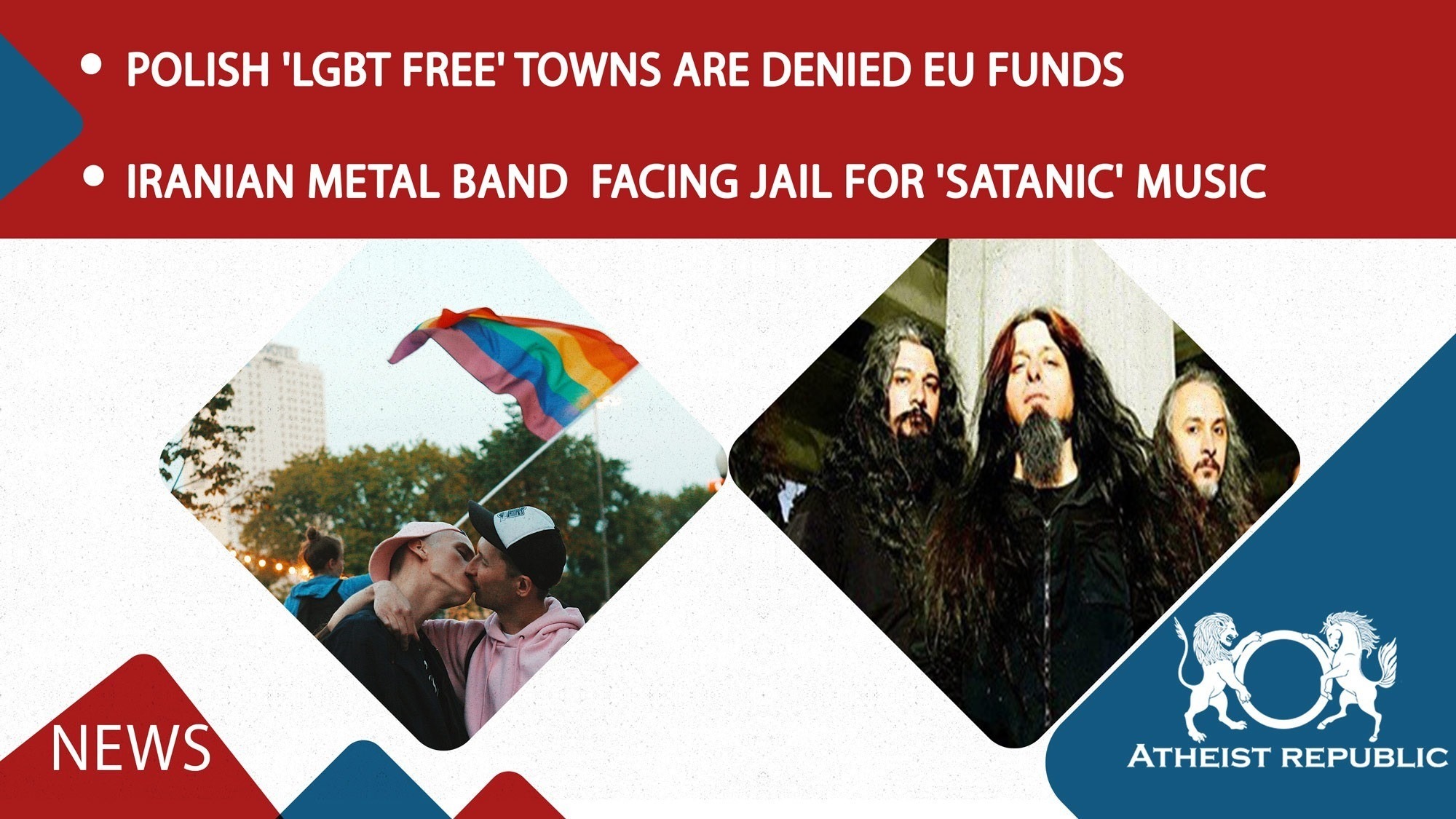 1. Polish 'L.G.B.T. Free' Towns Are Denied E.U. Funds
https://www.facebook.com/130148817071986/posts/3441052469314921
Location: Poland
2. Iranian Metal Band Sentenced To Prison For "Playing Satanic Music"
https://www.facebook.com/130148817071986/posts/3444404102313091
Location: Iran
3. Indian Man Accused Of Carrying Beef Attacked With Hammer
https://www.facebook.com/130148817071986/posts/3444169482336553
Location: Gurgaon, India
4. The Satanic Temple says Abortions are Protected by Religious Liberty Laws
https://www.facebook.com/130148817071986/posts/3456454334441401
Location: Missouri, USA
5. Indian politician says people should sacrifice their children on Eid
https://www.facebook.com/130148817071986/posts/3441199949300173
Location: Ghaziabad, India
6. California churches find ways around coronavirus lockdown orders
https://www.facebook.com/130148817071986/posts/3448654291888072
Location: California, USA
7. Saudi Arabia sentenced a blogger for a post supporting LGBT equal rights
https://www.facebook.com/130148817071986/posts/3438279916258843
Location: Saudi Arabia
8. Homosexuality Convictions Upheld in Tunisia
https://www.facebook.com/130148817071986/posts/3456094491144052
Location: Beirut, Tunisia
9. Turkey Considering Quitting Treaty on Violence Against Women
https://www.facebook.com/130148817071986/posts/3456950437725124
Location: Turkey
10. Historic Bill To End Female Genital Mutilation!
https://www.facebook.com/130148817071986/posts/3441274219292746
Location: New Zealand
VIDEO DESCRIPTIONS:
1. The European Union will not provide funding to six Polish towns that have declared themselves "L.G.B.T.-free zones," a rare financial sanction of a member nation for issues related to the equal treatment of its citizens. "E.U. values and fundamental rights must be respected by Member States and state authorities," Helena Dalli, the European Union commissioner for equality, wrote on Twitter. The Polish authorities that adopted "L.G.B.T.-free zones" or "family rights" resolutions failed to protect those rights, she wrote, and their funding applications had therefore been rejected.
2. The government of Iran is continuing its crusade against heavy metal music in the country, trying to censor and imprison bands for the crime of playing heavy metal. The latest band is notable Iranian death metal band Arsames. Earlier this month, members of the band was arrested. Official document of the arrest which reads in part, "The band…was arrested and charged with 15 years in jail for being in satanic metal band and being against the Islamic government." The band members have paid bail and are currently safe and not being held in prison, as they await the start of their trial.
3. A group of cow vigilantes chased a pick-up truck, pulled out the driver, and brutally assaulted him on the suspicion that he was smuggling cow meat.The unarmed man was beaten with a hammer and kicked to pulp while the police and dozens of people do little more than watch, shows the video evidence, demonstrating the horrific collapse of law near the country's capital. The police were faster at sending the meat to a lab for testing than catching any one of the suspects. One of the assailants has been arrested. The owner of the vehicle said that the driver was transporting buffalo meat.
4. The Satanic Temple is announcing that all first trimester abortions must be "exempt from state regulations that hinder access" to the procedure because such hurdles violate two of their Seven Fundamental Tenets regarding bodily autonomy and adherence to best scientific practices.The Satanists say the Religious Freedom Restoration Act (RFRA) prohibits the government from interfering with someone's religious practices. By saying abortions in the first trimester are a religious ritual for their members, any states that have their own RFRA laws — and most anti-abortion states have them — would theoretically have to show why their restrictions should override the Satanists' religious freedom.
5. A BJP legislator from Ghaziabad, Nand Kishore Gurjar stirred up controversy when he asked people celebrating Eid ul Adha to "sacrifice their children instead of animals". He stated, "People who want to sacrifice on Eid should sacrifice their children. I will not let people consume meat and alcohol in Loni. We will not let people sacrifice innocent animals because meat spreads coronavirus." "The way people have followed the guidelines of the government by not offering prayers and namaz at temples and mosques to contain COVID-19, in the same way, they must not offer the sacrifice of animals on this Eid," he said.
6. Churches across California have been whipsawed by state closure and reopening orders, as church events have been tied to coronavirus outbreaks.  In parts of the state's  so-called Bible Belt, the controversy over rising cases of infection and deaths related to the coronavirus has not stopped residents from packing in-person services. "They didn't like being apart at all," Bundy Canyon Christian Church Pastor Michael Khan said. "We have trust in God that nothing will happen. Since the start of the pandemic, not one of our members got sick or lost their job. The church will always be victorious." When Governor Gavin Newsom called for the suspension of indoor in-person services the second time around, some ignored it while others moved their worship outdoors.
7. A court in Saudi Arabia has sentenced a blogger to deportation and ten months in prison for a post supporting equal rights for gay people. Blogger Mohamad al-Bokari is originally from Yemen, but fled in June 2019 to Saudi Arabia, where he was living as an undocumented migrant. On April 8, Bokari was arrested because of a video he posted on Twitter, in which he mentioned gay rights. After his arrest, according to Human Rights Watch, he was subjected to a forced anal exam by police to determine whether he is gay – a practice which has no basis in science or medicine and is condemned internationally as a form of torture and sexual assault.
8. A Tunisian appeals court on July 28, 2020 upheld the conviction of two men accused of sodomy but reduced their sentence to one year in prison. This conviction contradicts the rights to privacy and nondiscrimination under international law, which are also enshrined in Tunisia's 2014 constitution. Article 230 of the Tunisian penal code punishes consensual same-sex conduct with up to three years in prison. The lawyer who represented the men before the appeals court, said she brought to the court's attention the defendants' statements that the police bullied, insulted, and threatened them to get them to confess to being gay, and attempted to persuade them to undergo an anal exam, purportedly to test for sodomy, which they refused.
9. President Erdogan's AK Party is considering whether to pull Turkey out of an international accord designed to protect women, party officials said, alarming campaigners who see the pact as key to combating rising domestic violence. Despite signing the Council of Europe accord in 2011, pledging to prevent, prosecute and eliminate domestic violence and promote equality, Turkey saw 474 femicides last year, double the number seen in 2011, according to a group which monitors murders of women. Many conservatives in Turkey say the pact, ironically forged in Istanbul, encourages violence by undermining family structures.
10. New Zealand First welcomes the passage of the Crimes (Definition of Female Genital Mutilation) Amendment Bill today, which protects women and girls from abhorrent abuse. New Zealand First Spokesperson for Human Rights Jenny Marcroft MP is delighted the bill passed all remaining stages today, signalling that FGM is unacceptable in New Zealand. "No matter how rare the practice of FGM may be in our country it is our duty to protect women and girls from this emotional and physical abuse," she said.