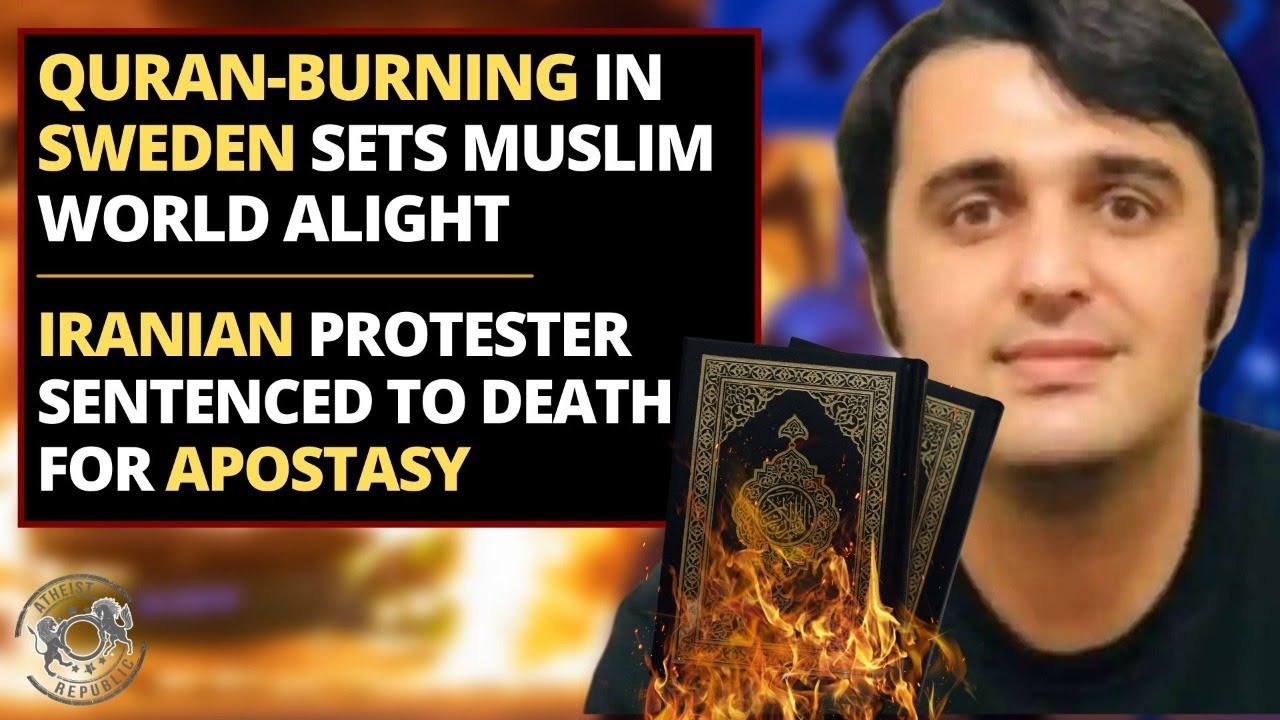 Quran-burning in Sweden Sets Muslim World Alight With Rage
https://www.atheistrepublic.com/news/quran-burning-sweden-sets-muslim-world-alight-rage
Location: Sweden
Recently, a far-right Danish-Swedish politician and activist, Rasmus Paludan, held a demonstration and burned the Quran in front of the Turkish Embassy in the Swedish capital of Stockholm. Several Muslim countries have condemned Sweden over this incident, including Saudi Arabia, Somalia, Kuwait, and many others. During the demonstration, Rasmus made derogatory comments about Islam and immigrants before proceeding to burn a Quran. He has held many such demonstrations before. Sweden is seeking to apply to be a new member of NATO along with Finland amidst Russia's continuing aggression towards Ukraine. The recent Quran burning incident affects the process to gain membership, since all 30 member-states must ratify their application to join NATO, including Muslim majority Turkey. Paludan's protest was followed by a separate demonstration held by pro-Kurdish activists. The demonstrators stepped on a photo of Turkish president Recep Tayyip Erdogan. In response to these protests, Turkish defense minister Hulusi Akar canceled a meeting with his Swedish counterpart Pål Jonson. Protests broke out in Istanbul and Ankara due to Paludan's act. Demonstrators held the Quran, shouted slogans and chants, and burned a photo of Paludan at the Swedish Embassy in Turkey.
Iranian Protester Tortured & Sentenced to Death for "Apostasy"
https://www.atheistrepublic.com/news/iranian-protester-tortured-sentenced-death-apostasy
Location: Iran
Since the death in custody of Mahsa Amini, the Iranian government has been arrestinging and torturing many protestors. On January 3rd the authorities handed three death sentences to Javad Rouhi, a 35-year-old mentally ill man, for allegedly committing apostasy, "corruption on earth," and "insulting holy things" amidst the early stages of protests that began in mid-September 2023. Javad Rouhi, along with two teenagers Arshia Takdastan and Mehdi Mohammadifard, was accused of breaking into the traffic police headquarters in the city of Nowshahr in northern Iran, and setting it on fire in late September. According to Amnesty International, Iranian authorities forced Rouhi to confess during his first days of imprisonment. Rouhi was tortured so severely in a detention center run by the Islamic Revolutionary Gaurd Corps (IRGC) that he lost his ability to talk, walk, and control urination or defecation. He was also deprived of the right to choose his lawyer to defend him. Human rights groups have reported that roughly 100 people are facing execution for their participation in the Iranian uprising.
Indian Judge: Ceasing Cow Slaughter Will End All Woes Because Cow is Mother
https://www.atheistrepublic.com/news/indian-judge-ceasing-cow-slaughter-will-end-all-woes-because-cow-mother
Location: India
Recently, a court in the Tapi district of the Indian state of Gujarat said that peace would prevail in this world the day cow slaughter ends. The court noted that killing cows is unlawful and recited sanskrit verses, roughly translated to, "Where cows remain happy, all wealth and property is gained. Where cows remain unhappy, wealth and property remains unhappy and disappear...Cow is the mother of Rudra, daughter of Vasu, sister of Aditiputras, and treasure of Dhrutroop Amrit." The court also claimed that it is scientifically proven that houses built from cow dung are immune to atomic radiation, and cow urine is used as a cure for many incurable diseases. These statements were made while dealing with the case of Mohammed Aameen Arif Anjum, who was detained three years ago in July 2020 for unlawful transportation of 16 cows along with their calves. The prosecution proved that the Anjum did not possess any certificate of a competent authority or written permission for the transportation of cattle. He was sentenced to life imprisonment, alongside a fine of Rs. 500,000.
Pakistan's Blasphemy Laws Just Became Even Harsher
https://www.atheistrepublic.com/news/pakistans-blasphemy-laws-just-became-even-harsher
Location: Pakistan
On January 17th, The National Assembly of Pakistan unanimously passed the Criminal Laws (Amendment) Bill to increase punishment for the disrespect of "sacred personalities," such as the family of the Prophet Muhammad, the companions and wives of Muhammad, and the four Caliphs that succeeded him. The bill was pioneered by Maulana Abdul Akbar Chitrali of the Jamaat-e-Islami party. He stated, "The punishment for insulting a member of parliament is five years, while the punishment for insulting the sacred personalities is three years. This is an insult in itself." The House passed the Criminal Laws (Amendment) Bill stating that disparaging the companion of the Holy Prophet and other pious personalities disrupts the country, promotes terrorism, and hurts the sentiment of people all around the globe, as stated in the bill's objectives. The amendment bill increased the minimum punishment for disrespecting pious personalities from three to ten years of imprisonment and can also result in a fine of one million Pakistani rupees. Rights groups warn that this broadened and increased punishment will be misused to settle scores and persecute already vulnerable religious minorities.
Christian Nationalists' 2023 Political Strategy Revealed
https://www.atheistrepublic.com/news/christian-nationalists-2023-political-strategy-revealed
Location: US
Recently, the non-profit organization American Atheists (AA) warned about the likely strategy of white Christian nationalists in 2023 after the midterm elections. The warning is based on the findings of the organization's 2022 State of the Secular States report. Alison Gill, the Vice President for Legal and Policy at AA, explained that White Christian Nationalism is unpopular among most Americans. This is demonstrated in the defeat of Republican candidates in Pennsylvania and Arizona, respectively, as well as notorious lawmaker Lauren Boebert almost losing in a Republican-leaning district in Colorado. The 2022 State of the Secular States report also provided detailed research and analysis of abortion rights and access across the United States. American Atheists also foresee more Christian nationalist attacks on healthcare, including bills allowing hospitals and insurance companies to deny healthcare services based on religious belief. They predict that the Christian nationalist Right will utilize three primary tactics: attacking reproductive rights through legislation, creating legislation that allows denying health care on religious grounds, and pushing bills that enable proselytizing in public schools.
Atheist Society of India Leader Arrested for Blasphemy Against Hindu Gods
https://www.atheistrepublic.com/news/atheist-society-india-leader-arrested-blasphemy-against-hindu-gods
Location: India
On December 31st, Bhairi Naresh, a Dalit activist and president of Atheist Society of India for the state of Telangana, was detained for making blasphemous comments on the birth of Hindu god Lord Ayyappa and allegedly mocking Lord Shiva and Lord Vishnu. After a video of Naresh's speech went viral on social media platforms, chaos ensued at Kosigi town, where one of Naresh's followers, was assaulted by a large mob of devotees of Lord Ayyappa. Dolu Hanumanthu, another activist and organizer of the group was also detained. Cases were booked against Naresh by various religious groups in different places of Telangana, which includes Kodangal, Hyderabad, and Warangal, all claiming that he hurt the religious sentiments of the Hindu community. Naresh is booked under several sections of the Indian Penal Code pertaining to blasphemy which include "promoting enmity between different groups on the grounds of religion, and uttering, words, etc., with deliberate intent to wound the religious feelings of any person."
Israeli Minister Admits to Being "Fascist Homophobe" but "Won't Stone Gays"
https://www.atheistrepublic.com/news/israeli-minister-admits-being-fascist-homophobe-wont-stone-gays
Location: Israel
Israel's far-right finance minister and deputy speaker of Israel's parliament Bezalel Smotrich recently outed himself as a fascist homophobe but said he "won't stone gay people" to death or "eat shrimp." The country's public broadcaster, Kan, published a conversation between Smotrich and a businessman on January 16th, where the politician was heard saying that his voters would still support him, even if he works against the LGBT community. Smotrich stated, in the recording, "I'm a fascist homophobe, but I'm a man of my word," and added, "I won't stone gays, and you won't feed me shrimp." He is heard saying that the voters supported him because he was "the only one who didn't cooperate with the United Arab List and is safeguarding the Land of Israel for [their] grandchildren." Since his comments went viral, critics have said that Smotrich's beliefs contradict Israel's reputation as the most LGBTQ-friendly country in the Middle Eastern and North African region. Israel's former prime minister and current leader of the opposition, Yair Lapid, tweeted, "This reminds us how weak Netanyahu is and how dangerous it is that he's kept captive by extremists," referencing Prime Minister Benjamin Netanyahu's comeback made possible only by aligning with the extreme far-right.
Interfaith Leaders & Secularists Sue to Stop Missouri's Abortion Ban
https://www.atheistrepublic.com/news/interfaith-leaders-secularists-sue-stop-missouri-s-abortion-ban
Location: Missouri
On January 19th, a lawsuit was filed by Americans United for Separation of Church & State and the National Women's Law Center in St.Louis, Missouri, challenging the state's ban on abortion. The 13 Christian, Jewish, and Unitarian Universalist leaders who filed the lawsuit argued that lawmakers used their religious beliefs to pass the law and imposed those beliefs on others. The lead attorney of the lawsuit, Michelle Banker of the National Women's Law Center, stated, "What the lawsuit says is that when you legislate your religious beliefs into law, you impose your beliefs on everyone else and force all of us to live by your own narrow beliefs." The Attorney General of Missouri, was named in the lawsuit and said in a Twitter post that he would "defend the right to life with every tool at my disposal." The lawsuit also quoted Nick Schroer, a Republican representative for the MO State House of Representatives and the bill's sponsor, saying, "as a Catholic, I do believe life begins at conception, and that is built into our legislative findings." The lawsuit also noted that another Republican and co-sponsor, Rep. Barry Hovis, was motivated "from the Biblical side of it." Caleb Rowden, a Republican and the Senate President Pro Tempore for Missouri's Senate, argued, "We were acting on the belief that life is precious and should be treated as such. I don't think that's a religious belief."
Saudi Arabia Appoints 34 Women to Leadership Roles in Mecca, Medina Mosques
https://www.atheistrepublic.com/news/saudi-arabia-appoints-34-women-leadership-roles-mecca-medina-mosques
Location: Saudi Arabia
Recently, thirty four women were appointed in leadership positions in the mosques of Mecca and Medina, widely considered to be the two holiest mosques in Saudi Arabia and in Islam as a whole. The General Presidency for the Affairs of the Two Mosques, stated that the move was aimed at "developing services for visitors to the two holy mosques." Lately, Saudi Arabia has gradually relaxed restrictions against women in public life and granted women some rights, such as the right to enter military service, apply for a passport, and travel without a male guardian for women above 21 years old. The statement from the government agency mentioned that this move "is part of the qualitative changes the Kingdom is seeking for qualified Saudi women to serve female visitors to the two holy mosques."
Join the Fight for Freedom: Iranian Atheist Soheil Arabi's Letter-Writing Campaign
https://tinyurl.com/SoheilArabilLetterCampaign
Location: Canada
Support Soheil Arabi, an imprisoned Iranian atheist facing punishment for dissenting against the Islamic Republic Regime. Write a letter to Canadian MPs, urging them to raise awareness of Arabi's case, publicly express outrage at his treatment and call for his prompt release, and advocate for the protection of human rights in Iran through international bodies such as the United Nations Human Rights Council. Your voice can make a difference. Take action now and stand in solidarity with Soheil and all those fighting for basic human dignity. Your support can make a difference in Soheil's life!
Get a simple 3-step guide to send letters of support for Soheil Arabi in just 3 minutes by clicking here: https://tinyurl.com/SoheilArabilLetterCampaign
Note: This campaign is for Canadian citizens and residents only.