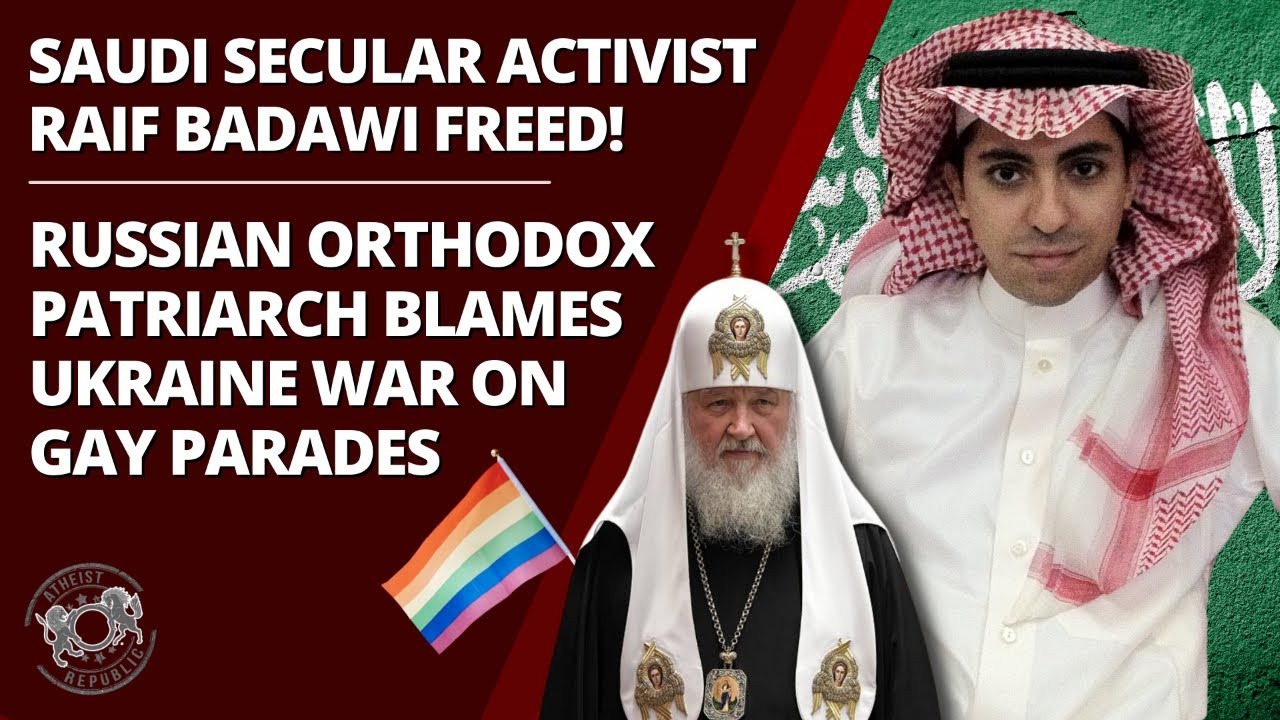 Secular Activist Raif Badawi Freed from Saudi Prison After 10 Years!
https://www.atheistrepublic.com/news/secular-activist-raif-badawi-freed-saudi-prison
Location: Saudi Arabia
After ten long years, Raif Badawi, a prominent human rights advocate and founder of Saudi Free Liberals Forum is finally free after being arrested in 2012. In 2008, Badawi started the Saudi Free Liberals Forum, an online blog where members debated the political and religious affairs in Saudi Arabia. In 2012, Badawi was arrested in Jeddah and was charged with "insulting Islam through electronic channels." He was initially punished with 1,000 lashes. In 2013, the punishment was extended to 7 years of imprisonment and 600 more lashes. However, in 2014, the Saudi Supreme Court upheld the initial sentence of 1,000 lashes and extended Badawi's sentence to 10 years in prison. He was also fined more than $260,000 and a 10-year long travel ban was imposed on him. Ensaf Haidar, Raif's wife, has been living in Quebec, Canada, along with their three children since Raif's arrest. Ensaf told Agence France-Presse (AFP) that her husband called her about his release. Reporters Without Borders (RFS) tweeted that they will ensure that he will be able to rejoin his family in Canada despite his 10-year travel ban.
Patriarch of Russian Orthodox Church Blames Liberal Values for Ukraine War
https://www.atheistrepublic.com/news/patriarch-russian-orthodox-church-blames-liberal-values-ukraine-war
Location: Russia
On March 6th, during a Forgiveness Sunday sermon, Patriarch Kirill, the head of the Russian Orthodox Church, hinted that the pride parades may have played a role the conflict that escalated into the invasion of Ukraine. Kiril implied that the expanding adoption of liberal "Western" values justified Putin's war. According to Kirill, the war in Ukraine is a test of "which side of God humanity will be on." He also described the war as a conflict between supporters of gay pride events, including the western governments and Russia. "In order to join the club of those countries, you have to have a gay pride parade," he said. Kirill accused Ukraine of warming up to the western powers by allowing LGBTQ communities and gay pride parades to flourish. He claimed that "if humanity accepts that sin is a variation of human behavior, the human civilization will end there." He seemed to imply that Putin is protecting the values of the Russian-speaking and heavily contested Donbas region of eastern Ukraine stating, "In Donbas, there is a rejection, a fundamental rejection, of the so-called values that are offered today by those who claim world power." Kirill explained, "We know that if people or countries reject these demands, they are not part of that world; they become strangers to it." His comments have led to a schism within many Russian Orthodox communities and public calls for him to amend his statements.
Bombing at Shia Mosque in Pakistan kills over 60, Claimed by ISIS
https://www.atheistrepublic.com/news/bombing-shia-mosque-pakistan-kills-over-60-claimed-isis
Location: Pakistan
On March 4th, a Shia mosque in Peshawar in northwestern Pakistan, was attacked during Friday prayers by a suicide bomber leaving at least 63 dead and 196 injured. The Islamic State (ISIS) claimed responsibility for the attack. The Chief of the Peshawar Police stated that the police guarding the mosque had an encounter with two attackers. One of the attackers and one of the police officers were killed during the ensuing crossfire. A senior police official added that the remaining attacker "entered the mosque and started firing on the worshippers" before detonating the bomb. Officials have said that the bomb was packed with 5kg of explosives as well as ball bearings, which caused massive casualties. Imran Khan, Pakistan's Prime Minister, in a tweet called the incident a "cowardly terrorist attack." Reuters reported that even though the Pakistani Taliban is known for attacking the minority Shia community, they have distanced themselves from this particular attack.
Another Indian State Proposes Anti-Interfaith "Love Jihad" Law
https://www.atheistrepublic.com/news/another-indian-state-proposes-anti-interfaith-love-jihad-law
Location: India
On March 4th, Anil Vij, Haryana Home Minister, sponsored The Prevention of Unlawful Conversion of Religion Bill. The proposed bill will prohibit "religious conversions which are effected through misrepresentation, force, undue influence, coercion, and allurement." The bill also aims to stop conversions through "any fraudulent means or by marriage or for marriage." The bill effectively criminalizes interfaith marriage and interfaith relationships, making Haryana the 11th Indian state planning to adopt this law. In Uttar Pradesh, since this law was enacted in December 2020, over 50 individuals have been arrested. Those convicted face up to ten-year jail sentences. "Love Jihad" is a religious conspiracy theory which claims that Muslims across India are plotting to convert Hindu women through marriage. Raghuvir Singh Kadian, an MP of the Indian National Congress (INC) party, accused Vij and the ruling BJP of advancing a hidden agenda in their anti-conversion bill, and even tore up a copy of the bill in the state assembly. Many members expressed strong opposition to the proposed bill, calling it unconstitutional and accused BJP of creating a "divide in the society on the basis of religion."
Supreme Court Rules in Favor of FBI in Case of Spying On Muslims
https://www.atheistrepublic.com/news/supreme-court-rules-favor-fbi-case-spying-muslims
Location: USA
From 2006 to 2007, in the wake of the September 11th attacks, the FBI's Los Angeles division hired an informant, who claimed to want to convert to Islam, with the hidden intention of infiltrating several mosques in Orange County, California. In 2019, the 9th US Circuit Court of Appeals ruled in favor of three Muslim plaintiffs who accused the FBI of targeting them for surveillance on the basis of their religion. Yassir Fazaga, Ali Uddin Malik, and Yasser Abdel Rahim claimed that the FBI's spying had violated their constitutional rights, as protected under the First and Fourth Amendment. Recently, on March 4th, the Supreme Court overturned a ruling from an appellate court in favor of siding with the FBI. The Supreme Court unanimously ruled that the Foreign Intelligence Surveillance Act (FISA) has lesser precedence over "state secrets privilege." State secrets privilege allows the federal government to "block the release of any information in a lawsuit" if its release can lead to a breach of national security.The American Civil Liberties Union (ACLU), who represented the plaintiffs, denounced the Supreme Court's ruling, calling it "a dangerous sign for religious freedom and government accountability." The ACLU plans to submit an appeal for further litigation.
Gay Author's Book Signing Event at School Banned by Catholic Church
https://www.atheistrepublic.com/news/gay-authors-book-signing-event-school-banned-catholic-church
Location: UK
Recently, the Catholic Church in the United Kingdom has banned a book signing event at a London school because of the sexuality of the acclaimed author, Simon James Green. The cancellation was announced in a letter dated March 3rd by Simon Hughes, the Director of Education and Diocesan Schools Commissioner. In an interview with The Guardian, Green stated that "I didn't think a school today would go down that route." Green was supposed to visit John Fisher Boys' school in Purley, south London as well as St. John's Primary in Gravesend, but both events were canceled. However, school administrators and governors attempted to proceed with the event despite the announcement. In response, Father James Clark, the school chaplain, threatened the school administrators, saying their actions will have "serious consequences in the weeks ahead." The diocese's decision to cancel the events shocked the community. A parent told The Guardian that the cancelation "sends a terrible message to the children" adding, "who would want to come and teach here or send their children here after this?"
"Atheist Pirates:" Clearing Illegal Religious Signage from Public Life
https://www.atheistrepublic.com/news/atheist-pirates-clearing-illegal-religious-signage-public-life
Location: Los Angeles
"Atheist Street Pirates," a sub-group of the Los Angeles-based group Atheists United, has been actively clearing out religious signage illegally posted in public places since 2021. The Street Pirates began as a joke at an Atheists United meeting when members complained about religious signage all over the city. The idea started as a "religious rubbish removal," which eventually became the Atheist Street Pirates. The group is not removing any signage from any church property, as those signs maintain the separation of church and state. Evan Clark, the executive director of Atheists United said he understands that people "put a lot of passion behind these signs and their messages …I just wanted to do this as a casual thing to keep our streets secular." The group has already tracked more than 70 signs across LA County on their Google Map database. They have an online inventory with photos and locations of the signage they encountered. To maintain consistency, Clark also said that if his team encountered atheist signage in a public place, they would take it down as well.
South Africa's Draconian Internet Censorship Laws: A Danger to Atheists?
https://www.atheistrepublic.com/news/south-africas-draconian-internet-censorship-laws-danger-atheists
Location: South Africa
On February 11th, South African President Cyril Ramaphosa and Communications Minister Khumbudzo Nthsavheni signed a proclamation enacting the Internet Censorship Act of 2019, giving extensive censorship power to the Film and Publications Board (FPB). The bill was intended to "protect children from disturbing and harmful content" and "regulate the online distribution of content." However, civil rights watchdogs warn of the chilling effect this law could have on free expression. Dominic Cull, the founder of Ellipsis Regulatory Solutions, a legal advisory firm specializing in telecommunications law, criticized the law stating that the bill is "extremely badly written," adding "If I upload something which someone else finds objectionable, and they think it hates speech, they will be able to complain to the FPB." Dean Kruger, a leader of Atheist Republic's Cape Town Consulate, fears that the law could be used against secular online content, stating to the Atheist Republic News Team, "the troubling aspect of the act is the vague definition of what amounts to hate speech." Dean added, "We understand this restriction and have been especially aware of directing our criticism of religion at the religions, per se, and not the followers of any religion."
New Study: Women, Republicans, & Southerners More Likely to Hide Atheism
https://www.atheistrepublic.com/news/new-study-women-republicans-southerners-more-likely-hide-atheism
Location: USA
A new study published in Social Forces, shows that female atheists and those from Republican, Southern, or religious backgrounds are more likely to hide their nonbelief. The authors found out that "atheists in some social locations report higher levels of identity concealment." Using new survey data from a nationally representative sample of US adults, the study revealed that "atheists who feel like social or institutional outsiders are more likely to conceal their identity." In an interview with Religion News (RNS), Frost, the study's lead author, explained that due to being a member of a marginalized group, individuals "are less likely to take on the additional stigma of being an 'out' atheist." Ecklund, one of the authors, said the study "suggests that openness about one's atheist identity may help combat some of the effects of the stigma they face." Scheitle, also one of the authors, added that "the ability to gather with fellow atheists may help encourage this openness and provide individuals with a safe place." Atheist organizations can help make it "easier for atheists to choose identity affirmation over concealment, even in the face of perceived hostility."
YouTube Rejects Atheist Republic's Monetization Application?!
https://twitter.com/TeamYouTube/status/1502040517378551813?s=20&t=KK8Fpgp5DEUpOxUxKl9CGg
Atheist Republic has struggled with YouTube ever since the Atheist Republic YouTube channel got demonetized for "hate speech" last year. For a year, we have been trying to address the issue of so-called hate speech. Since YouTube does not detail which videos violate their community standards, we have been left guessing, leaving us to delete hundreds of videos in an attempt to comply with their policies. Even so, our application for remonetization is in corporate purgatory. We have been tweeting at YouTube about our issues (one of the few ways to get in contact with the platform), and recently got a response telling us that "upon checking," our channel doesn't comply with their terms and that our application was rejected and that we can reapply in 30 days. However, upon checking the application on our end, we discovered that we were not rejected; the only thing that appeared was the prompt saying that we would hear from YouTube about their decision one month after our application… Except we applied nearly six months ago. This saga demonstrates the difficulty of working with YouTube: it is nearly impossible to get problems addressed without human involvement. If you have any contacts who work at YouTube, please reach out to Atheist Republic's CEO at susanna@atheistrepublic.com. Thank you to all those who support us on our Patreon; without that support, it would not have been possible to continue our work while YouTube has stripped us from this stream of revenue.