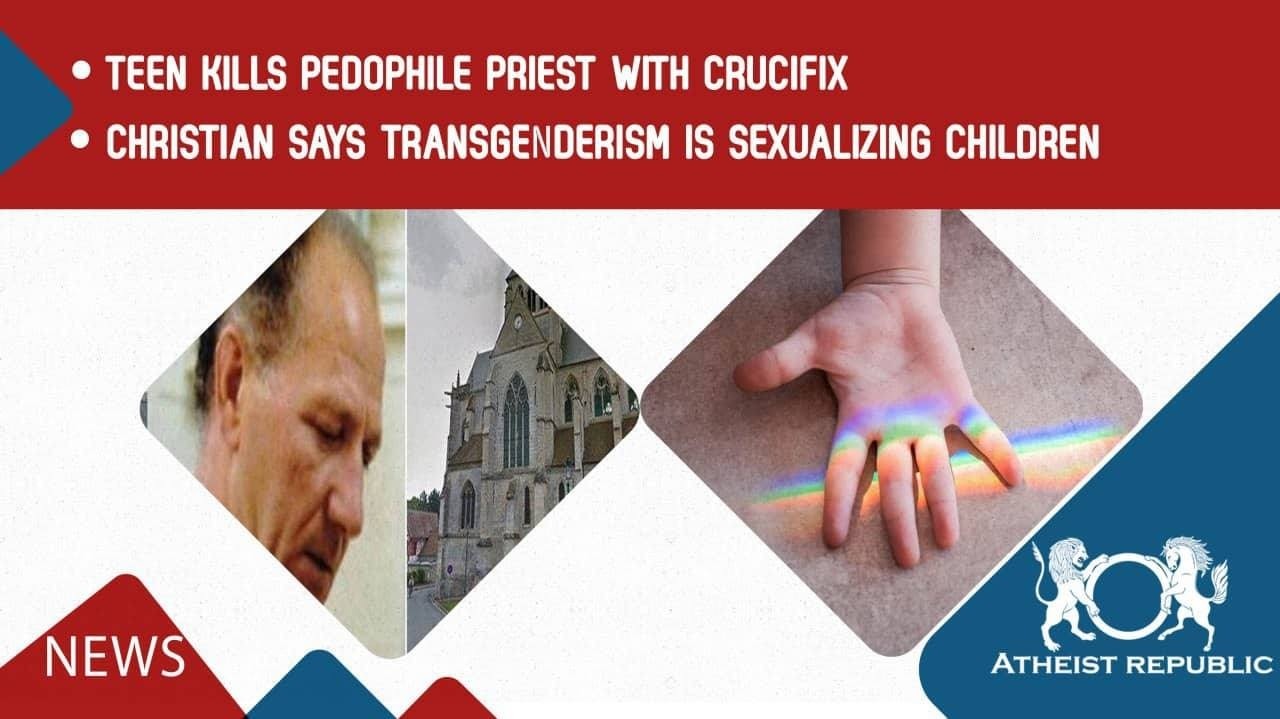 1. Teen 'kills paedophile priest by ramming crucifix down his throat'
https://www.facebook.com/130148817071986/posts/2890313757722131
Location: Agnetz, France
2. Christian Writer: We Are "Sexualizing" Children By Letting Them Be Transgender
https://www.facebook.com/130148817071986/posts/2900215506731956
Location: USA
3. U.S. airstrike kills top Iran general, Qassim Suleimani, at Baghdad airport
https://www.facebook.com/130148817071986/posts/2902190439867796
Location: Baghdad
4. Pope: Sorry I lost patience with hand-shaker who yanked me
https://www.facebook.com/130148817071986/posts/2898765673543606
Location: Vatican City
5. Dutch anti-Islam politician revives controversial 'draw Muhammad' cartoon contest
https://www.facebook.com/130148817071986/posts/2892958454124328
Location: Netherlands
6. 2,000 Unvaccinated Kids in Seattle May Not Be Allowed Back to Class
https://www.facebook.com/130148817071986/posts/2899922013427972
Location: Seattle, USA
7. China Wants to Rewrite the Bible to Conform to Communist Standards
https://www.facebook.com/130148817071986/posts/2888870407866466
Location: China
8. Christian Man Stabs Five Hasidic Jews As They Celebrate Hanukkah
https://www.facebook.com/130148817071986/posts/2895025173917656
Location: New York, USA
9. Vegan man files discrimination case claiming veganism is a 'religious belief'
https://www.facebook.com/130148817071986/posts/2901466146606892
Location: United Kingdom
10. Creators of gay Jesus Netflix special bombed in Christmas Eve terrorist attack: report
https://www.facebook.com/130148817071986/posts/2888956624524511
Location: Brazil
1. A teenager has been arrested on suspicion of torturing and killing a priest by ramming a crucifix down his throat and suffocating him. The youth, 19, is alleged to have been abused by the Catholic priest, Roger Matassoli, as was his father before him. The religious leader, 91, had been accused of sexually assaulting at least four boys between the years 1960 and 2000 but there are fears he may have had dozens of victims. Matassoli was found dead at home last month with a crucifix rammed down his throat and signs of torture on his corpse. The suspect was formally charged with murder on December 26, 2019.
2. Christian Post writer John Stonestreet said, "It's been just four years since so-called same-sex marriage was instituted by the Supreme Court, and it's now clear that the slope was a lot slipperier than advertised. Normalizing the gender dysphoria of little boys and girls, and by that I mean imposing our radical new experimental ideas about sex and gender on children who had no say in the matter, has proven to be the means for sexualizing them. "They're just expressing themselves," we're told, ignoring the fact that children have no business participating in any kind of sexual expression, least of all for the entertainment of adults.
3. The Defense Department said that the United States killed a high-profile commander of Iran's secretive Quds Force with a drone strike in Iraq early Friday. "At the direction of the President, the U.S. military has taken decisive defensive action to protect U.S. personnel abroad," the department said in a statement announcing the death of Gen. Qassem Soleimani, the commander of Iran's military forces in Iraq, Syria, Lebanon and elsewhere throughout the Middle East. It will raise tensions between U.S. and Iran.
4. Pope Francis has apologized for hitting the hand of a well-wisher who grabbed him and yanked him toward her. In his new year's wishes to the public in St. Peter's Square on Wednesday, Francis confessed to losing his patience with the woman while he was strolling in the square Tuesday night to admire the Vatican's Nativity scene. Cameras captured the scene when the woman, from behind a barrier, reached out and grabbed the pope's hand, pulling him violently toward her. Francis reacted sharply, exclaimed something and then slapped her hand so she would let him go. Frowning in anger, he turned and strode away.
5. Dutch anti-Islam politician Geert Wilders has revived a controversial competition to draw cartoons caricaturing Islam's Prophet Muhammad. "Freedom of speech must prevail over violence and Islamic fatwas," he tweeted on Saturday night, as he called on people to send in their Muhammad cartoons. On Sunday morning, he said international attention of the contest had allowed him to make a point about the importance of freedom of speech. "Mission accomplished. End of contest", he wrote in a caption for a picture of what he said was the winning drawing, depicting an angry-looking man with a beard dressed in black.
6. Parents were informed by the state government that they have until January 8 to get their kids vaccinated so that they can return to class, and that there would be shots given at free clinics for those who are interested. The letters were the result of a bill that eliminated all religious and philosophical exemptions to the measles, mumps, and rubella (MMR) vaccine. The bill, which was passed amid a massive measles outbreak that led to a public health emergency, could lead to thousands of kids having unexcused absences, according to USA Today.
7. China is rewriting the Bible along with other holy books so that they fit more closely with its leader's philosophies. Xi Jinping, President of the People's Republic of China, said in 2017 that its members must be "firm Marxist atheists." Now he is taking that logic to the next level, urging religious groups to rewrite their sacred texts to fit in with Communist standards or risk them being redacted or removed from any public availability. It's a risky decision that is intended to reduce the influence of religions that directly compete with the God-like government. China's government is making the move under the guise of updating the books to "the requirements of the new era."
8.  A Christian man brought a machete to a rabbi's house in New York and stabbed five people as they celebrated the seventh night of Hanukkah. His pastor has already defended him in court. Grafton Thomas was found with a bloody machete in his car, and blood and bleach on his clothes, after he stabbed the victims, two of whom are currently in critical condition. The stabbings represent "the latest and most violent in a string of anti-Semitic attacks" in the area, according to a report from Chabad.org. New York Gov. Andrew Cuomo termed the attack an act of "domestic terrorism," noting it was at least the 13th anti-Semitic incident in the New York area since Dec. 8.
9. A man who claims he was fired for being a vegan has now filed a lawsuit that will force a judge to determine if veganism is considered a "philosophical or religious belief." Jordi Casamitjana, who lives in the United Kingdom, claims he was fired from his job at the League Against Cruel Sports over his "ethical vegan" beliefs, the BBC reports. He later filed a discrimination lawsuit against the organization, which is a charity group focused on animal welfare, that will be decided in front of an employment tribunal starting on Thursday. If the panel rules in Casamitjana's favor, it will officially establish veganism as a "philosophical or religious belief" under the U.K.'s Equality Act 2010.
10. The offices of Porta dos Fundos, the production company behind the Netflix satire suggesting Jesus was gay, was bombed on Christmas Eve, according to a report. The company's Rio de Janeiro headquarters was "hit by a Molotov cocktail attack" on Tuesday morning, Variety reported. According to the outlet, a fire broke out after "two petrol bombs" were thrown at the building. Porta dos Fundos released a statement following the incident, confirming no injuries had been reported. However, the company stated the attack "endangered several innocent lives" of staffers and civilians on the street, Variety said.