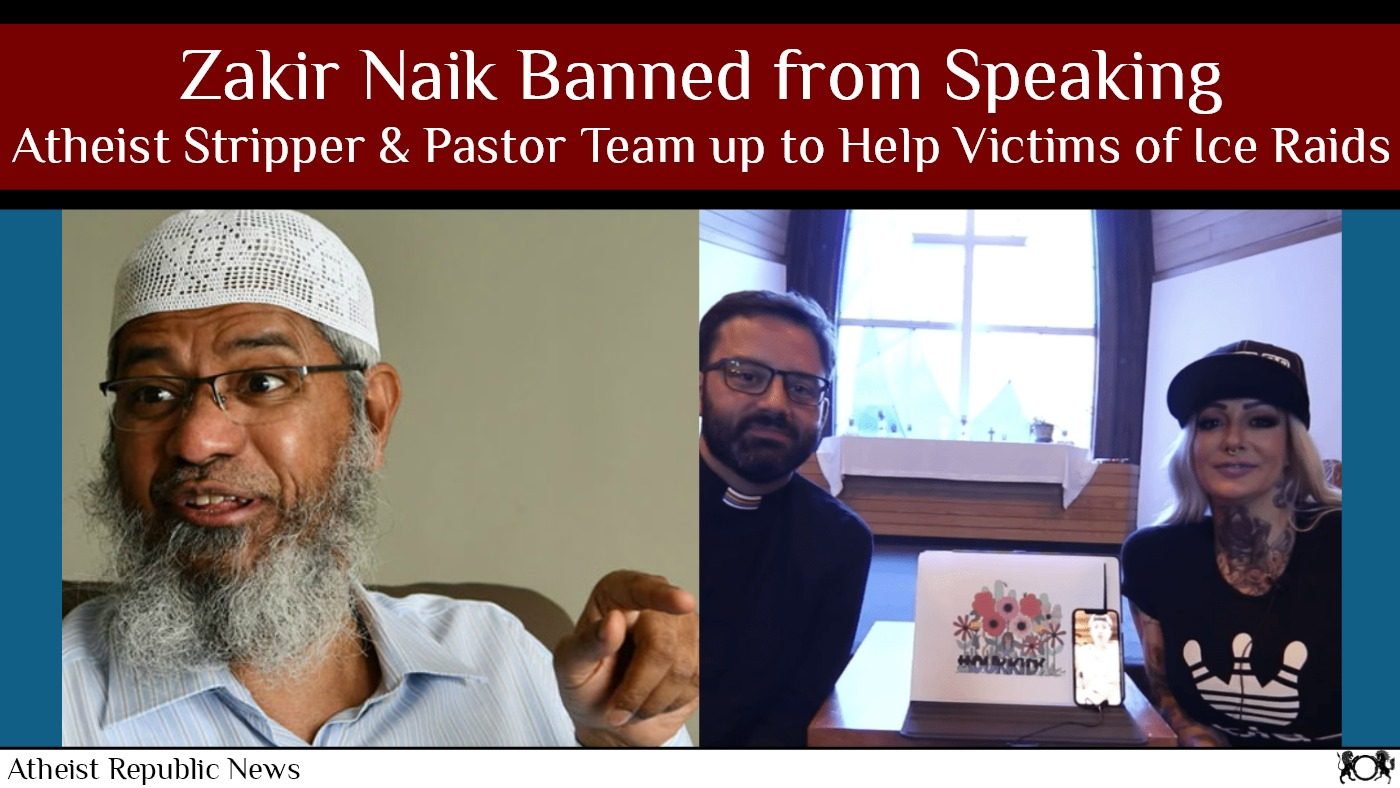 1. Body Of Dalit Man 'Air Dropped' From A Bridge After Upper Caste Community Deny Permission For Funeral Procession
https://www.facebook.com/130148817071986/posts/2605306292889547
Location: Vellore, Tamil Nadu
2. Young Muslims travelling across rural Australia to challenge misconceptions about Islam
https://www.facebook.com/130148817071986/posts/2602533046500205
Location: Australia
3. Indian Muslim preacher Zakir Naik banned from public speaking in Malaysia
https://www.facebook.com/130148817071986/posts/2601059683314208
Location: Malaysia
4. Pastor: I Asked God if Trump Was Racist, and God Said No, So It's Settled
https://www.facebook.com/130148817071986/posts/2601432003276976
Location: USA
5. Vegetarian student disqualified from GCSE paper for 'obscene racial comments' after she criticised halal meat
https://www.facebook.com/130148817071986/posts/2596750200411823
Location: Eastbourne, England
6. Youth Pastor at Anti-Gay Church Accused of Sexually Exploiting Several Teen Boys
https://www.facebook.com/130148817071986/posts/2598538400233003
Location: Illinois
7. Lesbian Gets Nasty Letter from MS Pastor, Kicking Her Out of His Baptist Church
https://www.facebook.com/130148817071986/posts/2597071040379739
Location: Mississippi
8. Atheist Stripper and Progressive Pastor Team Up to Help Victims of ICE Raids
https://www.facebook.com/130148817071986/posts/2600651966688313
Location: Oregon
9. A Duggar Daughter Appears to Have Photoshopped Skirts on Girls in a Photo
https://www.facebook.com/130148817071986/posts/2603361913083985
Location: Arkansas
10. Pastor: Bernie Sanders Is "Completely Illiterate" About the Bible and Israel
https://www.facebook.com/130148817071986/posts/2603757659711077
Location: USA
1. The body of a Dalit man had to be lowered from a bridge using ropes after members of the upper caste community allegedly refused to allow the funeral procession to pass through their land. The incident happened in Vellore in Tamil Nadu last week. It came to light only this week after the video of the body being lowered from the 20-feet-high bridge went viral on social media.
N Kuppam, a resident of the Narayanapuram Dalit Colony had died in a road accident of Friday and his relatives were on their way to the crematorium on Saturday, for his last rites, when the incident happened. The route to the crematorium pass through the land of some upper-caste Hindus so Kuppam's relatives had no option but to lower his body from the bridge.
2. More than 60 young men from the Ahmadiyya Muslim Youth Association (AYMA) will travel from six cities this weekend on a seven-day 'Discover Islam road trip', culminating in a gathering at Uluru.
The group, made up of several high school and university students, will cover more than 30,000km and stop at more than 50 towns along the way in an effort to promote social cohesion. Out of respect for the traditional owners, the group will not climb Uluru, but instead will spend time praying at the site. Research published in the Journal of Muslim Minority Affairs suggests about 70 per cent of Australians know "little to nothing" about Muslims or what they stand for.
3. Police said on Tuesday that an Indian Muslim preacher, wanted in India for alleged money laundering and hate speech, has been banned from public activities after racial slurs in his recent speeches sparked outrage in Malaysia.
Zakir Naik was grilled a second time by police on Monday for 10 hours after they received more than 100 complaints over remarks he made questioning the loyalty of minority Hindus and saying that ethnic Chinese are guests in Malaysia. Naik, 53, is an Islamic evangelist who has lived in Malaysia since he was granted permanent residency status in 2016. He has previously been banned from speaking in Britain, Canada and Bangladesh for his hard-line religious views.
4. Pastor Francis Myles (who believes you can "supernaturally change your DNA") explained that Donald Trump wasn't racist.
How does he know? Because he asked God. He said: I asked God about that. And I said, I said, "God" — and, you know… it's good to know God where you can talk to him… because He really wants to talk to us about these day-to-day issues. And I said to the Lord, "You know, Lord, is Trump a racist?"
And God said to me — it was the fastest "No" God has ever given me. He says, "No, he's not."
5. Abigail Ward, 16, a strict vegetarian, wrote during a Religious Studies exam in June that she found the idea of halal meat "absolutely disgusting".
The exam board OCR later disqualified Miss Ward from the exam, accusing her of making "obscene racial comments".
The decision was only overturned when her school, Gildredge House in Eastbourne, appealed the decision, insisting Miss Ward had been expressing her distaste for halal butchers and was not making any comment about Muslims. The exam board upheld the appeal and later apologised for the "upset and stress" they caused Miss Ward.
6. Paxton Singer, an anti-gay youth pastor, is facing child exploitation charges. He served at Harvest Bible Chapel. Singer was originally charged with sexually exploiting a 16-year-old boy via text message in 2018, but it turns out there are multiple other accusers with allegations for which he hasn't yet been charged. A judge recently allowed one of those boys to testify while denying a similar request from another boy who was 17 and therefore a legal adult in the state.
7. Mary Catherine Trollinger met her partner Olivia Jennings in, of all places, the conservative Baptist church they belonged to in Mississippi. Trollinger was the college director there.
Their same-sex relationship wasn't permitted at Gracewood Baptist Church, so when they were told to leave, that's what they did. They had no plans to return. The decision cost them a church community. Trollinger's mom also kicked her out of their house. She said the exclusion resulted in a "deep depression for a few months." The couple eventually found a more accepting church community in a different city. But Trollinger received a formal letter in the mail saying her membership in the church had officially been revoked. It was as if the church refused to let her walk away without getting in one last word.
8. An atheist stripper and a Christian pastor, both from Oregon, are joining forces to raise money for children affected by the recent ICE raids in Mississippi. Rev. Adam Ericksen of Clackamas United Church of Christ and Dawn McCall, who dances at a "vegan strip club" said they decided to link up and start an initiative called the "Our Kids Charity Campaign."
9. Jana Duggar, one of the 19 Kids and Counting, is accused of photoshopping skirts on girls in a photo. She posted a photo on Instagram and many commenters have pointed out that the two girls in the background are wearing "skirts" that seem to be nothing more than really bad attempts at Photoshop. Perhaps they were wearing something that was Duggar-inappropriate and Jana hastily tried "coloring" some clothes onto them without covering her tracks.
One person wrote, "If Jana doesn't want to share a photo that shows people whom she considers to be dressed immodestly then that's absolutely fine, it is her page and she is allowed to share what she sees fit, but what is not acceptable is imposing her own personal standards on other people without their consent by editing their appearance in such a way."
10. FOX News' Todd Starnes and Pastor Robert Jeffress had a conversation all about how Trump doesn't really have a Messiah Complex even though he called himself "the Chosen One," and how Democrats hate Israel, and how Jewish people who vote for Democrats are somehow "disloyal."
They also brought up Sen. Bernie Sanders, who said this to an Iowa crowd in response to Trump's statements:
I am a proud Jewish person, and I have no concerns about voting Democratic. And in fact, I intend to vote for a Jewish man to become the next president of the United States. Jeffress insisted Sanders just doesn't understand Judaism as well as he does.