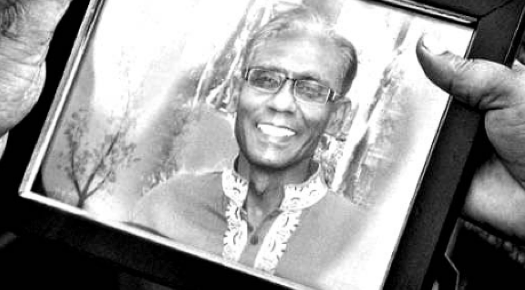 Police recently arrested as many as four members from a banned militant group, who are suspected of having hacked to death a professor of English in northwestern Bangladesh last month. Rezaul Karim Siddique was killed on April 23 as he was going to work at the state-run university in Rajshahi.
Even though the killers used sharp weapons to carry out the attack and fled the scene immediately after, police succeeded in tracking down the regional commander of Jumatul Mujahedeen Bangladesh in the northern district of Bogra on May 15. Maskawath Hasan Sakib, the suspect, admitted to being involved in Siddique's murder before a magistrate and his confession led to the arrests of three other suspects the following night.
"Of the arrested four, three directly took part in the killing while the fourth man was waiting with a motorbike they used," said Rajshahi Metropolitan Police Commissioner Mohammed Shamsuddin.
Shamsuddin refused to disclose the identities of the three other suspects for the sake of investigation but confirmed that the motorbike used by the attackers had been recovered as well.
During his investigation, Sakib told police neither he nor the remaining suspects knew why Siddique was being targeted as they were merely following the orders of their superiors. While Islamic State did claim responsibility for Siddique's murder, accusing him of promoting atheism, according to the intelligence group SITE, which monitors jihadi websites, Bangladeshi authorities have dismissed those claims, saying the terrorist organization has absolutely no presence in the country. Earlier, they also denied claims of Al-Qaeda militants being present in the country.
Family members of Siddique described him as a quiet man, who edited a literary magazine and led a cultural group in the city. His killing was reminiscent of the many others that have taken place over the last two years by suspected Islamist militants, who continue to target atheists, rights activists and intellectuals in the Muslim-majority nation. Radical Islamists have killed at least three other professors at Rajshahi University.
More recently, in the same spate of killings of secular activists and religious minorities in Bangladesh, an elderly Buddhist monk was brutally hacked to death. Mong Shwe U Chak, 75,  was reportedly slaughtered near Uppar Chak Para in the isolated district of Bandarban in southeastern Bangladesh.
Even though no group has claimed responsibility for this killing so far, there seems to be a striking resemblance to the dozens of other murders that have been carried out by Islamist militants in the country. Interestingly, Bandarban lies just across the border from Myanmar's Rakhine Region, where the country's Buddhist majority is vilely persecuting the Muslim minority, namely Rohingyas.
Jashim Uddin, deputy police chief of Bandarban, said, "Villagers found Bhante (monk) Maung Shue U Chak's dead body in a pool of blood inside the Buddhist temple this morning. He was hacked to death."
According to Uddin's statement, the monk was assaulted by at least four people on May 14 at a Buddhist temple in Vaishari Bihar, located 220 miles away from the national capital of Dhaka.
"We saw human footprints in the temple and found that four to five people entered the compound," he said.
Chak used to work as a farmer until he decided to change his name from Udai Ma Oaisa, when he adopted a monk's life only two years ago.
Since April this year, as many as seven murders have already taken place across Bangladesh. Chak's murder adds to a grim toll, with one atheist student, one liberal professor, one Hindu tailor, one Sufi Muslim leader and two gay rights activists being hacked to death in a rather short duration.
Prime Minister Sheikh Hasina's administration may have cracked down on a few domestic militant groups as it continues to accuse the political opposition of supporting religious radicals in the country in retaliation to its prosecution of people, who have been convicted for committing various war crimes during Bangladesh's War of Independence in 1971. The government's main opposition, Bangladesh National Party and its ally Jamaat-e-Islami, have both denied being involved. However, it must be mentioned that Jamaat-e-Islami president Motiur Rahman Nizami was hanged earlier this month after being convicted for orchestrating several war crimes during Bangladesh's freedom struggle from Pakistan in 1971.
Photo Credits: British Broadcasting Company