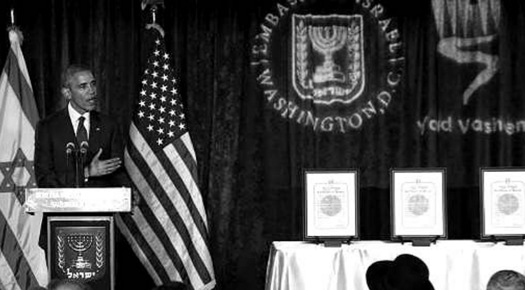 United States President Barack Obama recently issued a warning of growing anti-Semitism in the country, as he honored two Poles and two Americans for helping save Jewish lives during the Second World War.
"Here, tonight, we must confront the reality that around the world, anti-Semitism is on the rise. We cannot deny it," Obama said while speaking at a Holocaust remembrance ceremony at the Israeli embassy last month.
He condemned several recent trends, including Jews feeling compelled to leave European cities, attacks being carried out at Jewish centers and swastikas being spray-painted around college campuses.
"When we see all that and more, we must not be silent," Obama said.
Obama was speaking at a Righteous Among the Nations awards ceremony that is observed annually on International Holocaust Remembrance Day. The same day marked the 71st anniversary of the liberation of the Auschwitz concentration camp, honoring those who rescued Jews during the Holocaust.
Introduced by noted filmmaker Steven Spielberg, who directed the movie "Schindler's List" in 1993, Obama was the first president to speak at the Israeli embassy on January 27. Spielberg's film recounts the story of Oskar Schindler, a German industrialist, who was honored as Righteous Among the Nations decades ago, for having saved over 1,000 Jews employed in his factories.
"This president has a Jewish soul," Spielberg said while introducing the President of the United States.
During the ceremony, Obama also honored four individuals who had helped save Jewish lives during World War II.
Sergeant Roddie Edmonds, who was once held at a German prison camp with 1,000 other American soldiers, had ordered all his men to step forward when a Nazi commander asked for only Jews to be identified.
"We are all Jews here," Edmonds had said.
As the Geneva Convention requires prisoners to offer only their name, serial number and rank, not their religion, Edmonds had apparently warned his German counterpart about having to face war crimes charges if he chose to shoot them all. Edmonds' act of defiance in January 1945 spared the lives of as many as 200 Jews and on January 27 this year, Obama echoed veteran's words to show solidarity with Jews around the world. Edmonds was recognized posthumously as the first American serviceman to become Righteous Among the Nations, a designation handed down to non-Jews who at some point risked their own lives to save those of Jews.
"I cannot imagine a greater expression of Christianity than to say, 'I, too, am a Jew,'" Obama said. "An attack on any faith is an attack on all of our faiths. It is an attack on that golden rule at the heart of so many faiths — that we ought to do unto others as we would have done to us."
A 26-year-old French language teacher from Indiana, Lois Gunden, was also honored the same night for having saved Jewish children while serving at a Mennonite school in the south of France during the same period.
Gunden's niece, Mary Jean said that her aunt had travelled to France in 1941 where she ran a children's home.
"She was later detained in Baden-Baden, Germany, by the Nazis, and she went home in a prisoner exchange in 1944. … Unfortunately, none of us really asked a whole lot more than that," Mary Jean said. "I'm not convinced that she ever actually realized the magnitude of what she had done. … Nobody talked about what happened during the war — it's just now that people are trying to unearth what really was done and to find the stories of the people who tried to do good during these very dark times."
The two Poles honored alongside Edmonds and Gunden were Maryla and Walery Zbijewski, who during the Holocaust offered shelter to a girl from a ghetto in Warsaw.
Obama's sentiments were all the more important, as they surfaced only months after he clashed openly with Israeli Prime Minister Benjamin Netanyahu over Iran's nuclear deal. On Wednesday though, there was little to no sign of their rift.
"We are all Jews, because anti-Semitism is a distillation, an expression of an evil that runs through so much of human history, and if we do not answer that, we do not answer any other form of evil," Obama said. "America's commitment to Israel's security remains now and forever unshakable, and, I've said this before, it would be a fundamental moral failure if America broke that bond."
While Ron Dermer, Israel's ambassador to the United States, received Obama at last month's event, Netanyahu sent a video message addressing the American president.
"We know we have no better friend than the United States of America," Netanyahu said, adding, "Your being here reflects the unbreakable bond of friendship between Israel and the United States."
The Righteous Among the Nations awards are granted by Yad Vashem, the official Holocaust remembrance and educational board in Israel. Over 25,000 individuals have been bestowed with this honor, of which only five are Americans.
Photo Credits: The Jerusalem Post