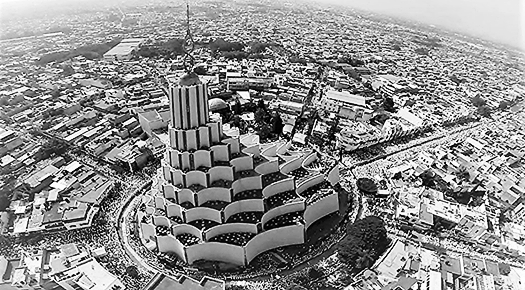 Photo Credits: Noticieros Televisa
La Luz del Mundo, a major religious group with followers all around the world, describes itself as the restoration of primitive Christianity. It does not use crosses or religious images in its worship services. Female members follow a dress code that includes long skirts and the use of head coverings during religious services. Although the church does not allow women to hold leadership positions in its religious hierarchy, women do hold leadership positions in church public relations and in the various church operated civil organizations. La Luz del Mundo has more than 15,000 churches in 58 countries, according to its website.
The current leader of La Luz Del Mundo, Naasón Joaquín García, was arrested for a slew of crimes that occurred between 2015 and 2018 according to California's Attorney General Xavier Becerra.
"Crimes like those alleged in this complaint have no place in our society. Period," said Attorney General Becerra. "We must not turn a blind eye to sexual violence and trafficking in our state. At the California Department of Justice, we will do everything we can to prevent and combat these heinous crimes so that our communities are safe. If you see something, report it and we will vigorously pursue justice."
David Correa, a spokesman from the church's headquarters, said in a phone call that they learned about the charges from the media. "We categorically deny those false accusations," Correa said. "We know him personally and he is an honorable and honest man." About 1,000 worshippers gathered at the headquarters of La Luz del Mundo in Guadalajara, Jalisco, on Tuesday evening to pray for García as he was held in Los Angeles on $25 million bail.
As the Guardian reports, García, 50, faces 26 counts of felony charges that range from human trafficking and production of child abuse images to rape of a minor. The charges detail a series of disturbing allegations involving three girls and one woman between 2015 and 2018 in Los Angeles county.
State of California Department of Justice released a statement that says:
Joaquín García and his co-defendants allegedly coerced victims into performing sexual acts by telling them that if they went against any of his desires or wishes as "the Apostle," that they were going against God. The other individuals named in the complaint are Alondra Ocampo, Azalea Rangel Melendez, and Susana Medina Oaxaca, all of whom are affiliated with La Luz Del Mundo. In addition to Joaquín García, Alondra Ocampo and Susana Medina Oaxaca were also arrested. An arrest warrant has also been issued for Azalea Rangel Melendez, who is currently at large.