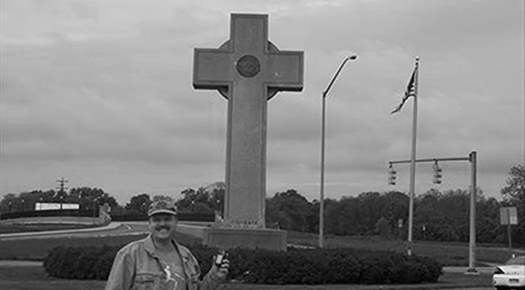 Photo Credits:Waymarking
A World War I memorial from 1925 in the shape of a 40-foot-tall cross can continue to stand on public land in Maryland. According to the US Supreme Court ruling, cross-shaped war memorial standing on public land in Maryland does not represent an impermissible government endorsement of religion.
The justices ruled 7-2 in favor of the backers of the cross and concluded that the nearly 100-year-old memorial's presence on a grassy highway median doesn't violate the First Amendment's establishment clause. The Supreme Court overturned the lower court ruling who declared the so-called Peace Cross in Bladensburg unconstitutional in a legal challenge mounted by the American Humanist Association, a group that advocates for secular governance.
"The cross is undoubtedly a Christian symbol, but that fact should not blind us to everything else that the Bladensburg Cross has come to represent," Justice Samuel Alito wrote.
"For some, that monument is a symbolic resting place for ancestors who never returned home. For others, it is a place for the community to gather and honor all veterans and their sacrifices to our Nation. For others still, it is a historical landmark. For many of these people, destroying or defacing the Cross that has stood undisturbed for nearly a century would not be neutral and would not further the ideals of respect and tolerance embodied in the First Amendment. For all these reasons, the Cross does not offend the Constitution," he wrote.
Alito wrote that "retaining established, religiously expressive monuments, symbols, and practices is quite different from erecting or adopting new ones. The passage of time gives rise to a strong presumption of constitutionality." That reason is not that convincing because, in the past, constitutionality was not often questioned.
The Bladensburg Peace Cross, erected in 1925, was paid by local families, businesses and the American Legion to honor 49 World War I veterans from Prince George's County. But the 40-foot cross sits on a now-busy highway median owned since 1961 by a state commission that pays for its maintenance and upkeep. That's why Justice Ruth Bader Ginsburg and Justice Sonia Sotomayor dissented. They argued that the cross, in a suburb near the nation's capital, should be moved to private property or modified into a nonreligious monument such as a slab or obelisk.
Sonia Sotomayor said the court's decision to maintain the cross-shaped monument on public land "erodes" the constitutional principle that "demands governmental neutrality."