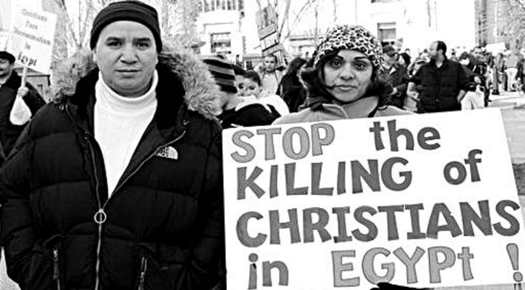 A Muslim mob constituting at least 1,000 Islamists looted and set ablaze Christian homes and other properties in the Egyptian village of Qaryat Al Beida on June 17 after rumors spread that a privately owned building was being turned into a local church. Over 80 Christian families were affected by the vandalism last month, which instilled fear in hundreds of people who were left without a place of worship.
"On Friday afternoon following Friday noon prayer, a great deal of fanatic Muslims gathered in the front of the new house of my cousin, Naim Aziz, during its construction because of a rumor spread in the village that this building would be turned into a church," recollected a Christian resident, Mousa Zarif. "They were chanting slogans against us. Among these slogans were 'By no means shall there be a church here.'"
Evidently, Christian residents of Qaryat Al Beida do not have access to a local church and are thus compelled to pray at the Holy Virgin and the Archangel Michael Coptic Orthodox Church that is located at least seven kilometers away from the village. The rumored church construction of Aziz's property actually stemmed from the fact that he wanted to construct a home for his son to live in.
After destroying the building and all available construction materials, the Muslim mob went on to attack Aziz and his brother Zarif, leaving both men critically injured. Following this, the mob decided to channelize its fury towards the Christian homes lying adjacent to Aziz's property, throwing rocks, looting residences and setting fire to all properties in its sight. International Christian Concern estimated that the damages were worth approximately 500,000 Egyptian pounds.
"They also intercepted the car of Fr. Karas Naser, the priest of Holy Virgin and the Archangel Michael Coptic Church when he arrived at the village," Zarif continued. "They attacked him but some moderate Muslims intervened, rescuing him from their hands and getting him out of the car."
Reportedly, police officials took a long time to arrive at the scene and even after they reached it, they were not able to protect the Christians from the ongoing assault. As the mob continued to set fire to nearby homes and vehicles in the presence of police forces, certain miscreants terrorized Christian residents by assembling outside their houses and performing their afternoon prayers on loudspeakers.
By the end of the day, only six Muslim men had been arrested, all of whom were released within the next few of hours while another six Coptic Christians, who were taken into custody, were released on bail the following day. The police eventually charged the six Christian men for constructing a building without permission and conducting prayers over there.
William Stark, ICC's Regional Manager for South Asia, said, "We are heartbroken and frustrated for the Christian community in Al-Beida and the terror they have endured. The police and government authorities in Egypt cannot allow these attacks to go unpunished because the victims come from a minority faith. It is unspeakable that the victims of these attacks were charged with crimes while the perpetrators continue to enjoy total impunity. It continues to show how Christians in Egypt are treated like second-class citizens. We call on the Egyptian authorities to ensure that justice is served and that Christian communities like this be protected from further assault in Egypt."
Coptic activist Mina Abdelmalak told the media that this is typically how things work in Egypt, with the government tackling sectarian violence in a bias manner. He explained how the police in the country force Coptic Christians to reconcile with their perpetrators, thereby compelling them to also surrender their basic rights.
"I don't think President Abdel Fateh al-Sisi is personally pushing to marginalize Copts, but he's not helping the situation either. He is living in denial about there even being a sectarian problem," he said.
Such attacks against Coptic Christians, a religious minority in Egypt, are not rare. In May for example, another Muslim mob stripped naked a 70-year-old Christian woman before parading her through the streets and ransacking at least seven Coptic homes in the village of Karama; because once again, rumors had spread that her son was having an affair with a Muslim woman, which is considered a taboo in socially conservative Egypt. Since that incident, police have arrested only six men as they continue to search for 12 others.
Speaking to the media, Minya province's top Christian cleric, Anba Makarios, detailed how the elderly woman had been dragged out of her residence by the mob, which not only insulted and beat her but also stripped her and forced her to walk naked through the streets while chanting 'Allah ho Akbar' that translates to 'God is the greatest'. 
Reportedly, it was not before five days that the woman decided to file a complaint with the police, as she battled the memories of how she had been humiliated less than a week earlier.
Both Muslims and Christians in Egypt consider extramarital affairs as well as premarital sex to be social taboos. Such cases often lead to violence in rural areas, where the idea of family honor has frequently ended in deadly feuds or complete banishment of those involved.
Additionally, even though Muslim men are allowed to marry Christian women, Christian men cannot marry Muslim women unless they first convert to Islam.
Makarios revealed that the police had already been notified about brewing sectarian threats a day earlier and it still took them more than two hours to arrive at the scene on May 20.
"No one did anything and the police took no pre-emptive or security measures in anticipation of the attacks," the cleric said. "We are not living in a jungle or a tribal society. It's incorrect for anyone to declare himself judge, police and ruler."
Christians, who constitute roughly 10 percent of Egypt's 90 million population, have long complained about religious discrimination in the Muslim-majority nation. While al-Sisi—who came into office in 2014—has tried to address some of the grievances by relaxing restrictions on the building of new churches and renovating old ones, and also changing election rules to accommodate more Christians in the national legislature, most Copts say they continue to face discrimination when caught in a dispute with Muslims.
Reacting to this barbaric incident, al-Sisi said those Muslims who had attacked Karama and stripped naked the elderly Christian woman would surely be punished.
"We are all one and the law must take its course," he asserted.
Photo Credits: The Christian Post