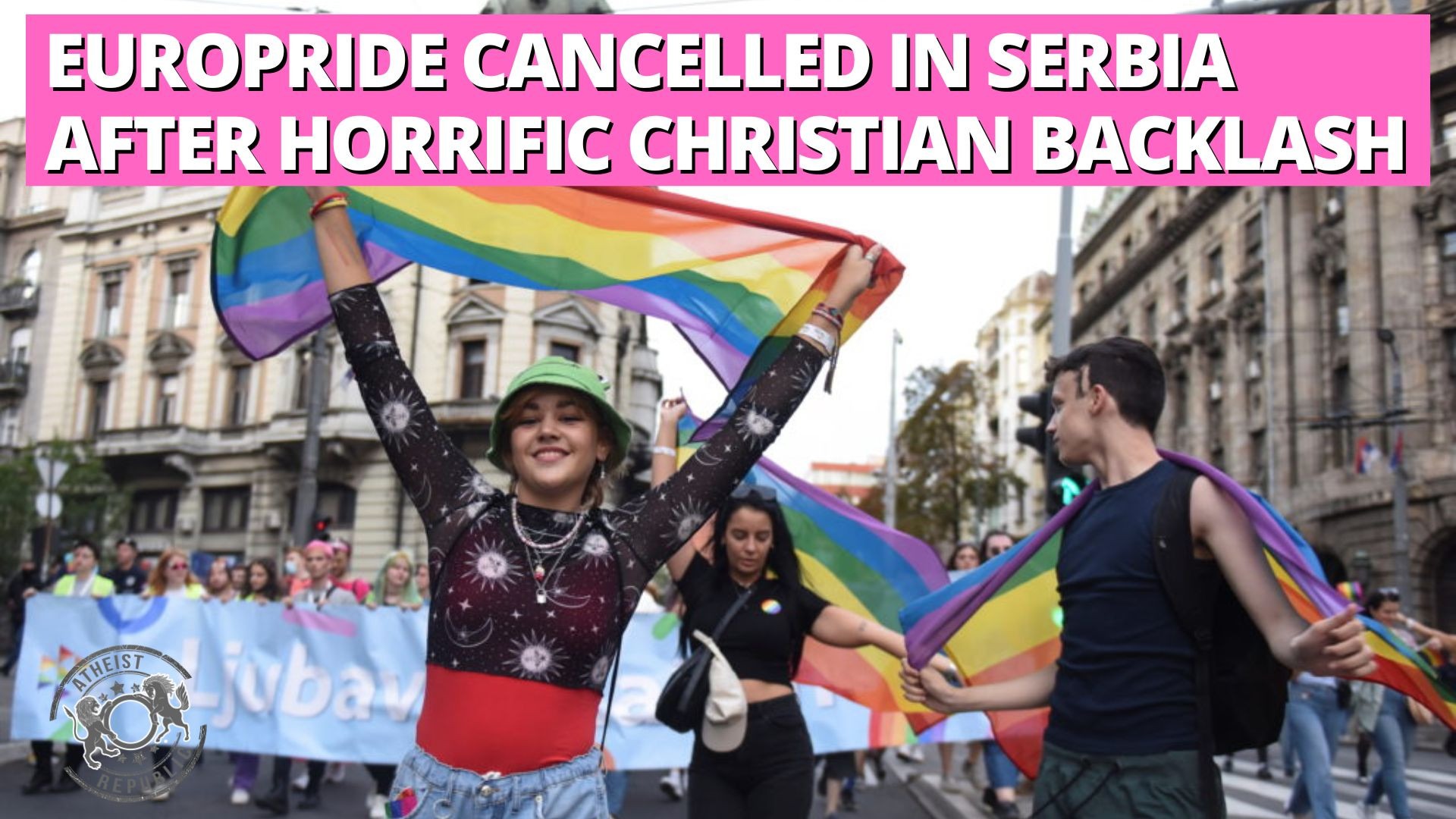 In Serbia, the tensions between the LGBTQ community and Orthodox Conservative groups have increased in recent weeks. Europride organizers were determined to organize a Pride Parade on September 17. After the outcry of right-wing groups, the Serbian government announced that the parade would be "postponed or canceled."
Thousands of protesters marched in Belgrade on August 28 to "save Serbia" in opposition to planned LGBT celebrations.

Despite the Serbian authorities' decision to cancel the events, organizers have vowed to press on, stoking fears of possible violence.https://t.co/PWbAUIHySW

— Radio Free Europe/Radio Liberty (@RFERL) August 29, 2022
Europride was scheduled to take place in the capital city of Belgrade but was heavily protested. The Serbian Orthodox Church played a considerable part in the protests. The traditionalist church is known to spread anti-LGBTQ propaganda. The church's clergy has tried to bar many pride walks and even "blessed" the violent counter-demonstrations.
Bishop Nikanor of Banat had threatened both the organizers and participants of Europride. He urged the orthodox groups in the country to help stop the ones who were "desecrating the holy city of Belgrade." In a country like Serbia which is predominantly conservative, such threats hold immense concern.
In a YouTube video, Nikanor said, "I will curse all those who organize and participate in something like that," He added. "I can do that much. If I had a weapon, I would use it, I would use that force if only I had it, but I do not."
For the Bishop, the people belonging to the queer community are an "Abnormality." The Bishop wishes that the community should be treated as in Russia. Russia introduced an anti-LGBTQ "propaganda" law in 2013, which can result in fines or imprisonment. Nikanor praises the Russian president, Vladimir Putin, as an idol and refers to him as "the tsar of the planet."
Yesterday in #Belgrade , a rally was held against #EuroPride ! The rally organized by pro-Russian groups, the #Serbian Orthodox Church was actually more of a pro-#Russian rally with Z symbols and flags! Is this what a candidate country for #EU membership looks like? pic.twitter.com/daOum85sv6

— Daniel Smith (@DanielS18352008) September 12, 2022
Sofija Todorovic, the program director of the Youth Initiative for Human Rights, considers the preaching of Bishop Nikanor as a "direct threat" against a whole community. She said, "Once again, we are witnessing that the bishops and heads of the church are dealing with things that are not within their authority, but in a way that actually directly threatens a certain group, in which there is probably a larger number, among others, of believers," Todorovic added, "In this way, officials of the Serbian Orthodox Church are abusing the position and legitimacy they have among citizens of Serbia who are believers, in order to spread ideas that are discriminatory and that, ultimately, completely dehumanize a group of people,"
Many believers of the Serbian Orthodox Church gathered to counter Europride. Traditionalist, extreme right-wing groups marched through the center of Belgrade holding religious flags, icons, crosses, and images of controversial leaders while praying and chanting their way to the Cathedral of Saint Sava.
The Serbian government announced that the pride celebration would be canceled or postponed. President Aleksandar Vucic said, with the rising tensions and the concerns of the former province of Kosovo, Serbia is "pressured with all kinds of problems" and that it is impossible to "handle everything."
Beleaguered EuroPride march banned by Serbian police amid mass anti-LGBTQ+ protestshttps://t.co/tlR8RgAO8v

— PinkNews (@PinkNews) September 13, 2022
All the pride marches in the country's past were heavily protested. The first two marches in Belgrade were met with violence. Most of these events were forced to be canceled.
Discrimination against the LGBTQ community is nothing new in the Balkan nation. Some may believe that country of Serbia is queer-friendly, as the current prime minister, Ana Brnavic, is openly lesbian. Still, according to a poll, half of the Serbian citizens would be appalled to have homosexual neighbors, and three-quarters believe that queer people should not be accepted by society.