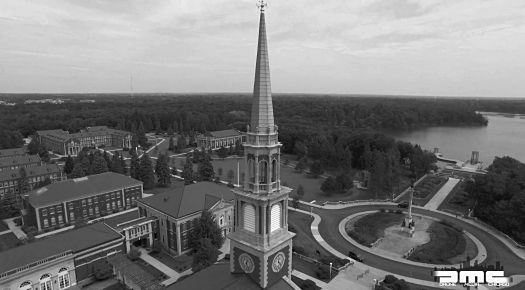 Photo Credit: YouTube (Drone Media Chicago)
In the depth of the crisis the Catholic church is facing because of the sexual abuse scandal and the long-standing divisions within it, US Catholic bishops announced that they are going to meet for a weeklong retreat in Chicago in January next year. This is the unprecedented move provoked by many sexual abuse scandals which are shaking the Church to its core; Bishops are going to meet in order to reflect upon the current situation facing the Church in America.
The Rev. Raniero Cantalamessa, who holds the title of Preacher of the Papal Household, is going to lead the retreat as per the Pope's instructions. Cantalamessa, who is 84-years-old and rarely travels abroad, has the same role each year at Lent for the pontiff and the Roman Curia. 
According to Catholic Herald, in a statement issued by the US bishops' conference Oct. 23, Cardinal Daniel DiNardo, U.S. Conference of Catholic Bishops president and Archbishop of Galveston-Houston, said that Pope Francis offered the services of his personal preacher to direct the retreat. "The Holy Father has kindly offered the preacher to the Papal Household, Reverend Raniero Cantalamessa, O.F.M. Cap., to serve as the retreat director as we come together to pray on the intense matters before us. For this, I am grateful," DiNardo said. The bishops will gather at the University of St. Mary of the Lake in Mundelein, Illinois from January 2-8. The university houses the primary seminary for the Archdiocese of Chicago, often referred to simply as the Mundelein Seminary. DiNardo also expressed his gratitude to Cardinal Blase Cupich of Chicago for offering to host the event.
Blasé Cupich has plans for this year's annual administrative meeting in Baltimore in November, which is usually a fairly routine three-day almost informal conversation. This year, however, the meeting may have a wide impact on the current crisis because of the topics that are going to be discussed. Cardinal Cupich is going to require that all dioceses publicly list priests and bishops credibly accused of abuse. "I think we have to take action," the cardinal said, according to Religionnews.com. "We are at a watershed moment. We have to deal with the issue of accountability, accountability of bishops, that has to happen. … We have to do everything possible to understand that this is a watershed moment, that accountability is key, that nobody is exempt."
It looks like those meetings and initiatives are taking place a little late, a huge damage has already been done to the victims of sexual abuse and the Church was obligated to prevent that from happening. But if those actions are not just empty talk and if they lead to some results that are going to help protect future possible victims and stop sexual abuse in the Church, then it was about time that those measures are taken. As the saying goes "better late than never."