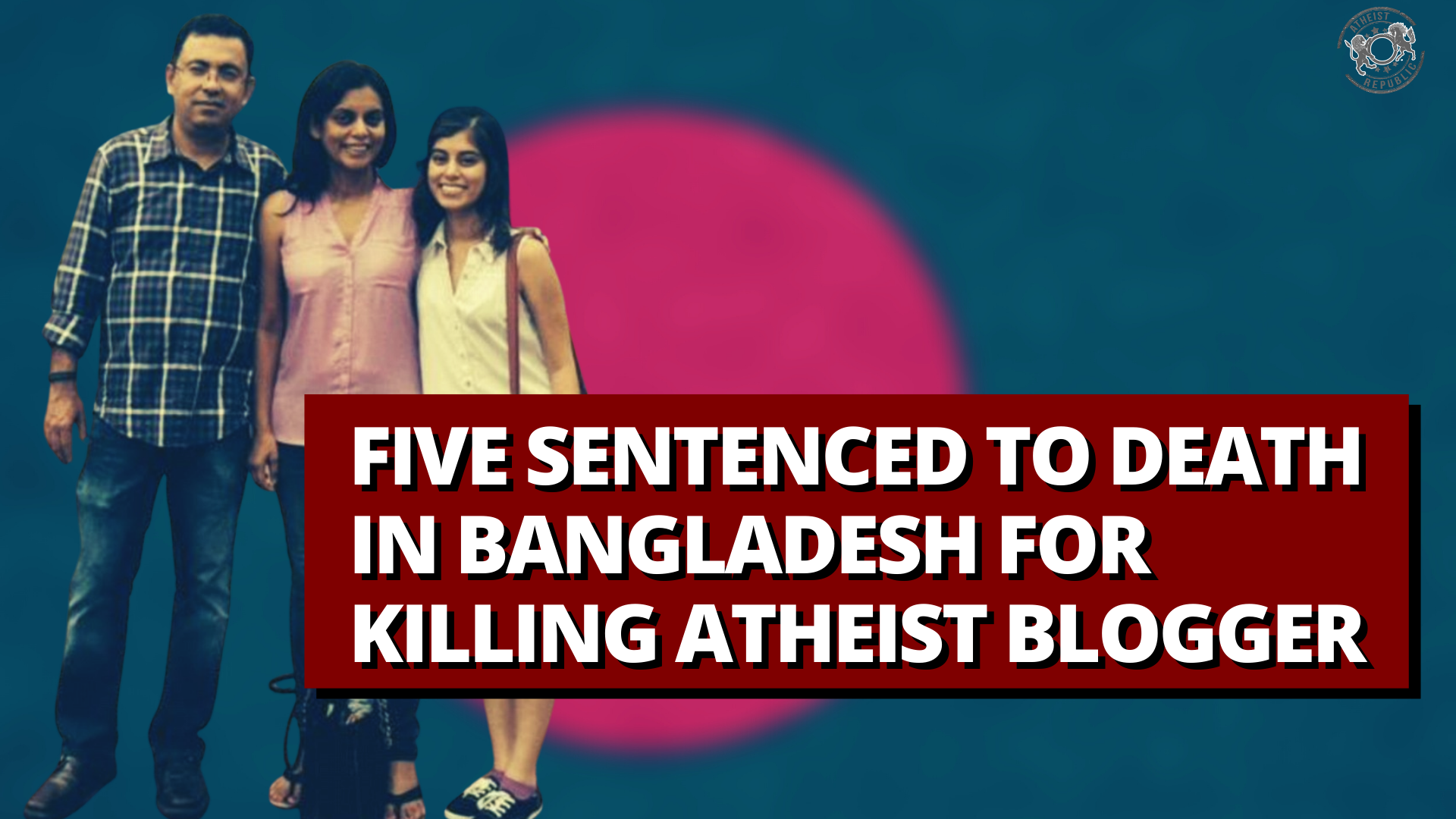 In February 2015, a renowned Bangladeshi-American blogger and published author, Avijit Roy, was gruesomely murdered in Dhaka at age 42. Roy was a notableadvocate of the free-thought movement, particularly in Bangladesh,
Roy was an American citizen of Bangladeshi provenance and a critic of religious extremism. He was publicly assaulted by machete-wielding assassins who butchered him to death as he and his wife were leaving a Dhaka book fair in February 2015. His wife, Rafida Ahmed, suffered head injuries and lost a finger.
Avijit Roy's Killers Sentenced https://t.co/hCKMf8M51k

— Richard Dawkins Foundation for Reason & Science (@rdfrs) February 17, 2021
 A court in Dhaka, Bangladesh sentenced five members of a Islamist group to death on Tuesday February 16th, for killing Roy six years ago. According to the prosecutor, Golam Sarwar Khan, another one of the attackers was sentenced to life in prison.
"Charges against them were proved beyond any doubt. The court gave them the highest punishment," Khan stated after the sentencing. 
Khan advised that the six men convicted are part of the al Qaeda-inspired militant faction, Ansar Allah Bangla Team. Police say the Ansar faction was responsible for the murders of at least a dozen secular activists.
A discharged army major, Syed Ziaul Haq, who is allegedly the group leader and mastermind behind the killing, along with another terrorist member of the group, were tried in their absence and sentenced to death, Mr. Khan said. 
Avijit Roy's widow, Rafida Ahmed,said the verdict will never bring peace to her family, especially since Haq still has not been apprehended. "Simply prosecuting a few foot-soldiers — and ignoring the rise and roots of extremism — does not mean justice for Avi's death," she stated.
"In six years, not one person investigating the case in Bangladesh reached out to me — though I am a direct witness and victim of the attack," Rafida Ahmed wrote in a Facebook post. 
The defense attorney for the six men, Nazrul Islam, said they will appeal the sentences in a higher court.
Bangladesh, a Muslim-majority country, witnessed several deadly attacks between 2013 and 2016 against secular activists, bloggers, and religious minorities, claimed by the Islamic State or al-Qaeda-inspired groups.
The deadliest of those attacks occurred on July 1st, 2016, when 20 people were killed by armed assailants who invaded the Holey Artisan Bakery in Dhaka. Wealthy locals and ex-patriots frequented the café. Many of those killed were foreigners.
Avijit Roy authored ten books and founded the renowned Bengali-language blog Mukto-Mona, meaning "Freemind," which condemns extremism and highlights humanist and rationalist ideas. Because of his writings, Roy was terrorized by death threats from the Islamist militants.
His subject matter was frequently contentious and covered topics such as homosexuality, which he argues is inherent in nature.
One of the last books written by Mr. Roy was "The Virus of Faith," he argues "faith-based terrorism will wreak havoc on society in epidemic proportions" and was internationally well-received.
He said of a book he published before his death that it "hit the cranial nerve of Islamic fundamentalists"and raised ire among militant Islamists and terrorists who began to target him. 
It also led to a man openly posting death threats against him on Facebook. 
"Avijit Roy lives in America, and so it is not possible to kill him right now," one of the man's threats as quoted by Mr. Roy, "but he will be murdered when he gets back."