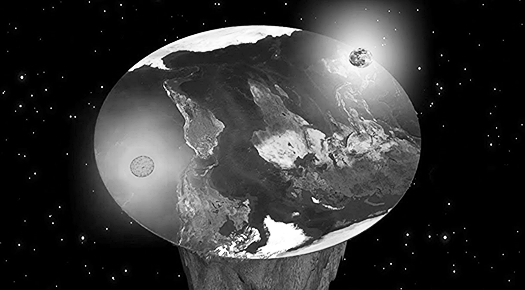 Photo Credits: YouTube
When someone believes the Earth is flat, that is not his only problem. Flat Earthers also worry about how they might lose friends who are still convinced (silly them) the world is round.
CNN reports about one flat Earther:
"I don't want to be a flat Earther," David Weiss says, his voice weary as he reflects on his personal awakening. "Would you wake up in the morning and want everyone to think you're an idiot?"
But Weiss is a flat Earther. Ever since he tried and failed to find proof of the Earth's curve four years ago, he's believed with an evident passion that our planet is both flat and stationary -- and it's turned his world upside down.
"I absolutely freaked out," Weiss tells CNN in a phone interview. "It literally whips the rug out from underneath you."
Now, Weiss finds it tedious to associate with the majority of people, though he "unfortunately" still has some friends who believe in a round Earth. "I have no problem with anybody that wants to believe we live on a ball. That's their choice," he says. "It's just not something I resonate with."
"We've all been communicating online (but) this brings us together so we can shake hands and give each other hugs," says Weiss. "We can collaborate, we can make new friends. Because guess what, our old friends... we lost a lot of friends."
A YouGov survey of more than 8,000 American adults suggested last year that as many as one in six Americans are not entirely certain the world is round, while a 2019 Datafolha Institute survey of more than 2,000 Brazilian adults indicated that 7% of people in that country reject that concept, according to local media.
Each year, more flat-Earth events fill the calendar, organizers say.
"I've never seen anything grow this fast," says Robbie Davidson, the founder of the Dallas conference. "I would say that within 10 years, the numbers are going to be astounding... next year, there's going to be a conference in every major country in the world."
Davidson says that when he first heard that people really do believe in a flat Earth, he just laughed and said: 'they've got to be the stupidest people ever.' Who in their right mind could believe something so dumb?" Just a few years were enough for Davidson, who was setting up the first international flat Earth conference. Like most of the speakers at the event CNN spoke to, he was convinced after he decided he couldn't prove the Earth's roundness.