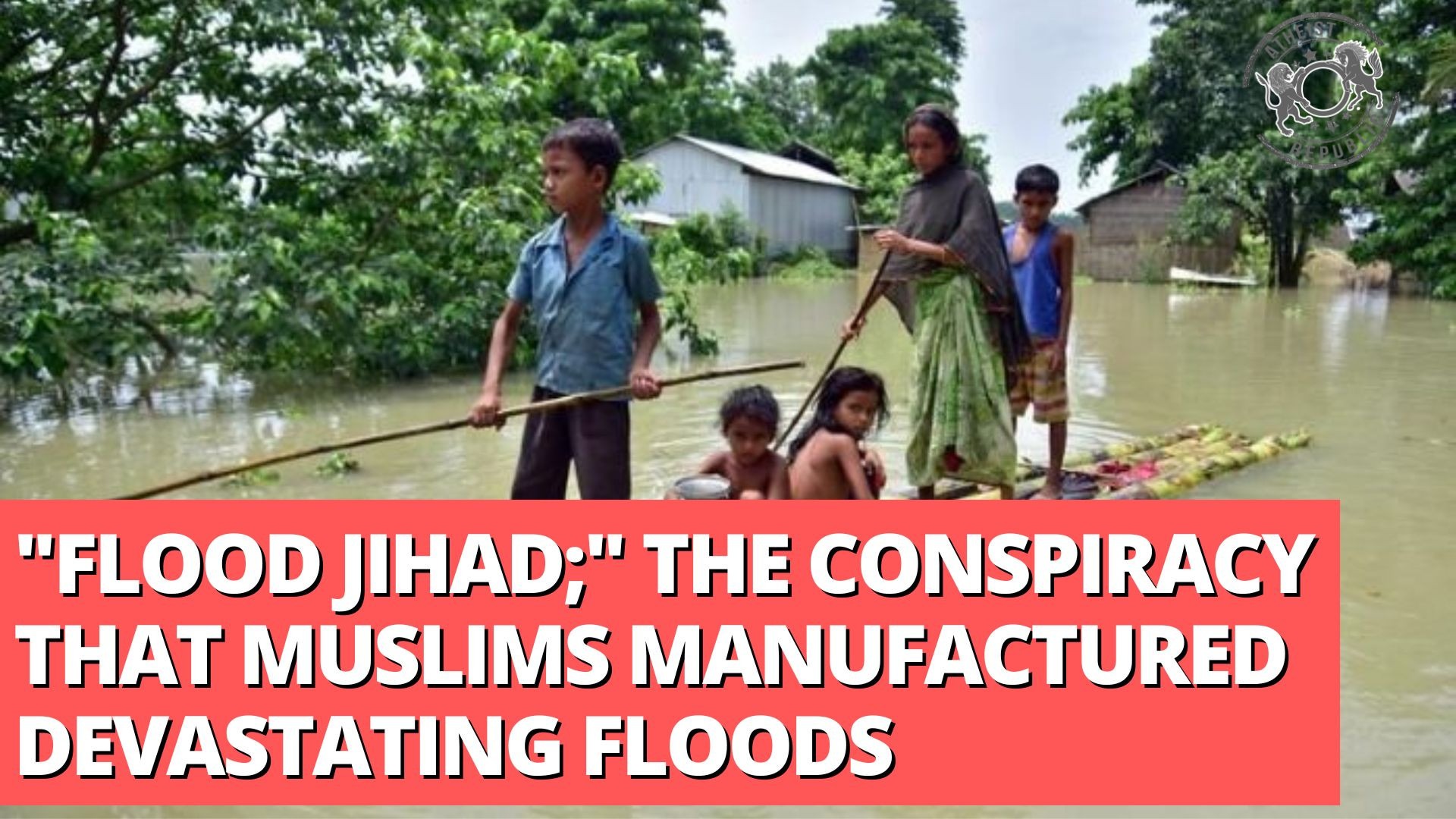 As tensions rose between the religious communities of India, yet another anti-Muslim conspiracy theory became a heated topic of discussion. The "Flood Jihad" conspiracy claims that the Muslim community of Assam is responsible for the disastrous floods the state has seen in the past months. At least five Muslim men were accused and arrested as the conspiracy theory became viral on social media platforms.
FLOOD JIHAD in ASSAM
Silchar Assam is 85% Hindu Population

The Mu$lims decided to attack by breaching a Embankment or "BAAANDH" (In Hindi) which flooded Silchar , Assam leading to deaths of 173+ people

These are the Arrested Muslims who breached a dyke pic.twitter.com/yq3HUMcVQG

— Naren Mukherjee (@narendra52) July 12, 2022
The north-eastern state of Assam is prone to floods during the season of Monsoon. This year, the rains and storms were heavier than usual as two massive waves of floods hit the state in May and June. With an estimated death toll of 192, the flood wreaked havoc and caused significant damage.
For the general population, these floods were a natural disaster that nobody expected. For some social media users, these were more than just that. These users made several posts on sites like Twitter claiming that the disaster was manufactured, particularly orchestrated by the Muslim community. They accused the Muslims of deliberately causing the floods in the Hindu majority city of Silchar by sabotaging the state's flood defenses.
On July 3, Nazir Hussain Laskar, a construction worker that had worked for more than a decade on the state's anti-flood projects, was arrested by police. Laskar was accused of "damaging public property." The authorities claimed an embankment constructed on the Barak river to protect the nearby cities from floods was tampered with by Laskar. The confused state worker said, "I have spent 16 years working for the government to build embankments. Why would I damage one?"
Laskar was detained for nearly 20 days on suspicion before being released on bail. The investigation had no evidence supporting the claim that Laskar was the culprit. Many still believe he was responsible, as dozens of posts were shared thousands of times on social media aimed at the Muslim man. Many of these posts were shared by celebrities and influencers. Right-wing media outlets also covered the story.
Jihad is a very respectable word, I wish people would understand.

— Fatma zahra (@FatimaI52259715) July 25, 2022
While in prison, Laskar was terrified of his alleged charges. His name was all over the local media. He said, "I was afraid and could not sleep that night. The other inmates were talking about it. I thought I might get attacked."
Even after his release, Laskar has to maintain a low profile. "My family and I are still afraid to leave the house. My children have been skipping school. If I must leave the house, I sometimes wear a helmet to hide my face. I am afraid of being lynched by an angry mob," said Laskar, "I was accused of 'flood jihad' because I am a Muslim. This is false. Those who are spreading this are doing something very wrong."
During the heavy rainfall, there was a breach in Bethukandi, a Muslim-dominated area. This was one of the many reasons that caused severe floods in Silchar. Silchar is a Hindu majority city. This occurrence led to the conspiracy theory that the Muslims are trying to pressure the Hindus by using natural disasters.
The reality of floods is quite different from the public perception. In the 1950s, Assam started constructing barriers to prevent floods. Many of these barriers have eroded over time, making them weak and prone to breakage.
Silchar's superintendent of police Ramandeep Kaur stated, "The cut was one of the causes, but it wasn't the only point from where water entered the town." He added, "There is no such thing as 'flood jihad,'" "In earlier years, the administration would cut the embankment themselves to drain the water out. This year it wasn't done, and some people took it into their own hands."
Nirmalya Choudhary, associate professor at the Jamsetji Tata Institute of Disaster Studies in Mumbai, stated, "A lot of these breaches take place because of the lack of repair and maintenance of the embankments," "Some of it could also be human-induced. It could be that there were instances where people deliberately breached the embankment so that the water would move out and would not flood their area."