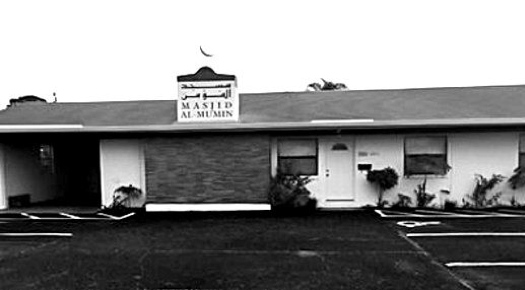 Police detectives in Titusville recently arrested a man in connection with the New Year's Eve vandalism of Al-Munin Mosque, which belongs to The Islamic Society of Central Florida Masjid network. Michael Scott Wolfe (35 years old) was arrested on January 4 and charged with criminal mischief to a mosque, which happens to be a third degree felony.
According to evidence, Wolfe had entered the mosque premises at 11 pm, before starting to destroy the property with a machete and placing raw bacon around the entrance. Wolfe was taken to Brevard County Jail where he is being held on a $2,000 bail.
"You can't help but feel this is a hateful act. All of the negative media, the politicians who want to ban Muslims, close mosques...messages like that motivate people who have an illness in their heart," said Muhammad Musri, who is based in the Orlando area and in-charge of overseeing a network of 10 mosques as part of the Islamic Society of Central Brevard.
Musri, who has in the past called on Muslims to build deeper ties with the communities they live in, was at the mosque in Titusville overseeing the cleanup of the vandalism that took place on New Year's Eve.
"We've been in this community for so many years. This is a great community and this act is not typical of the good people or the city," he said. "So I am hopeful. Over 40 years that we've been here, we've never seen anything like this. But this city, they have been our neighbors. We don't even know if the person who did this is from here."
Musri said that the physical damage of the mosque's vandalism would be repaired but the psychological damage may be lasting.
Police in Titusville have been attempting to find out who broke into the mosque, ripped down the lights, smashed the windows and left behind pork at the doorway. All pig meat, including ham, bacon and pork, happens to be prohibited in Islam, which is followed by as many as 1.6 billion people across the world.
Soon after this case of vandalism, civil rights advocates demanded that state and federal authorities investigate and take necessary action at the earliest.
"People are afraid to take their children back to the mosque...a machete was used," said Rasha Mubarak, Orlando Regional Coordinator for advocacy group Council on American-Islamic Relations (CAIR).  "They know we don't consume pork. This is something that those who are Islamophobic tend to bring up or use."
While CAIR was convinced that the perpetrator had a religious bias and Islam was being attacked, it is still not clear if police detectives would be looking at the incident as a hate crime, a categorization of charges that require increased penalties if the suspect is convicted.
The Titusville mosque is one of the four houses of worship in Brevard County that caters to approximately 30 or 40 Muslims in the vicinity. It belongs to a larger network of mosques that was launched in 1999 to offer worship services to more than 40,000 Muslims across Central Florida.
According to video footage captured by surveillance cameras, an unidentified man was seen lurking at the mosque's entrance on New Year's Eve. He then pulled out a machete from his bag before slashing his way through the mosque, tearing down cameras, lights and windows along the way.
Pastor Glenn Dames from St. James AME, Titusville, condemned the attack.
"I was very surprised but also disheartened that this happened here. This was mean-spirited...we're above that." said Dames, president of North Brevard Ministerial Alliance, a group comprising of the area's faith leaders. "I call on our leadership to stand and say that we are above this in Titusville. We should all disdain this type of act. We'll also be reaching out to see what we can do."
According to CAIR, there have been over 70 incidents of mosques being vandalized nationwide since the civil rights groups started collecting data in 2009. No arrests have been made in connection to these incidents so far.
Photo Credits: Alwaght News & Analysis