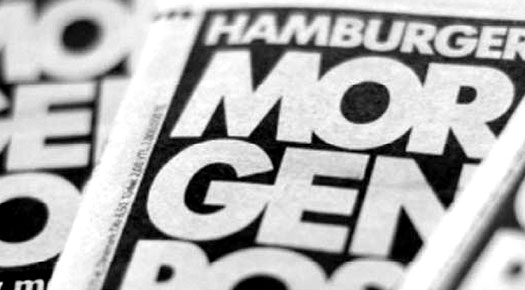 Less than a week after the Charlie Hebdo killings claimed the lives of 12 people in Paris, a German newspaper fell victim to an arson attack for reprinting the controversial French cartoons on its front page. An inflammable device and several stones were thrown into the archive of the regional daily tabloid Hamburger Morgenpost during the early hours of January 11.
Hamburger Morgenpost had published three Charlie Hebdo cartoons alongside the headline "This much freedom must be possible!" in an attempt to condemn the January 7 massacre that took place inside the Charlie Hebdo organization's headquarters in Paris.
"Rocks and then a burning object were thrown through the window," a police spokesperson told the media. "Two rooms on lower floors were damaged but the fire was put out quickly."
According to police officials, nobody was hurt in Sunday's attack, which took place in the northern port city of Hamburg. Reportedly, two suspects have been detained and an investigation has been launched. The police are not sure as yet, if there is a definite connection between the two attacks that have taken place in Paris and Hamburg less than a week apart.
On its website, Hamburger Morgenpost published pictures showing stacks of fire-damaged newspapers and files collected by the fire brigade outside the publication's building.
"Thick smoke is still hanging in the air, the police are looking for clues," the newspaper said in its online edition.
According to local media reports, publishers of Hamburger Morgenpost had sought private security protection for the building, before the attack was launched from its courtyard Sunday morning. Apparently, the attackers succeeded in damaging some records in the archive.
Yet, a police spokesperson clarified that the editorial team of Hamburger Morgenpost could continue to work in the same building, as the damage was quite insignificant.
Earlier this month, Charlie Hebdo, a French satirical weekly newspaper, featuring reports, polemics, jokes and cartoons and describing itself as left wing and strongly anti-racist, while publishing critical content on religion, culture and politics, experienced a gruesome massacre at its headquarters in Paris.
Critics look down upon Charlie Hebdo as irreverent, often condemning its stridently non-conformist tone. After first appearing in 1970 as a successor of Hara Kiri magazine, which was banned for ridiculing the death of former French president Charles de Gaulle, Charlie Hebdo's publication was ceased in 1981 but started once again in 1992. The controversial newspaper is published every Wednesday, with special editions published on an unscheduled basis.
Before the January 7 attack, Charlie Hebdo had been attacked in 2011 as well. In the latest attack however, two Islamic militants of Algerian descent, Cherif Kouachi and Said Kouachi, barged into the publication's headquarters in Paris, killing 12 people, including editor Stephane "Charb"
Charbonnier, as well as some of France's most renowned satirists. Both militants, who were brothers, were killed in a standoff with the police on Friday.
A day after the brutal attack, the remaining staff at Charlie Hebdo announced that the publication would continue, with the next week's edition scheduled to be released on January 14. They estimated a print run of one million copies, which is a noticeable rise from its usual 60,000. The same day that the militant brothers were killed, Charlie Hebdo's editor, Gerard Biard, and his small team of six cartoonists and journalists, gathered to begin work on the magazine's upcoming issue.
Many newspapers across the world published Charlie Hebdo's controversial Mohammad cartoons on their respective front pages on Thursday to show solidarity with friends and family of those who had been killed in the attack as well as to defend people's right to freedom of speech and expression.
The aftermath of the attack saw the growing popularity of the French phrase "Je Suis Charlie," which translates into "I am Charlie" in English.
Advocates of free speech and expression took up the phrase, while rallying against armed threats in the realm of self-expression. Even though the phrase was first used on Twitter, it spread like wildfire across the internet and beyond, as protesters met at different venues to mourn for those who lost their lives on January 7.
Photo Credits: Cyprus Mail