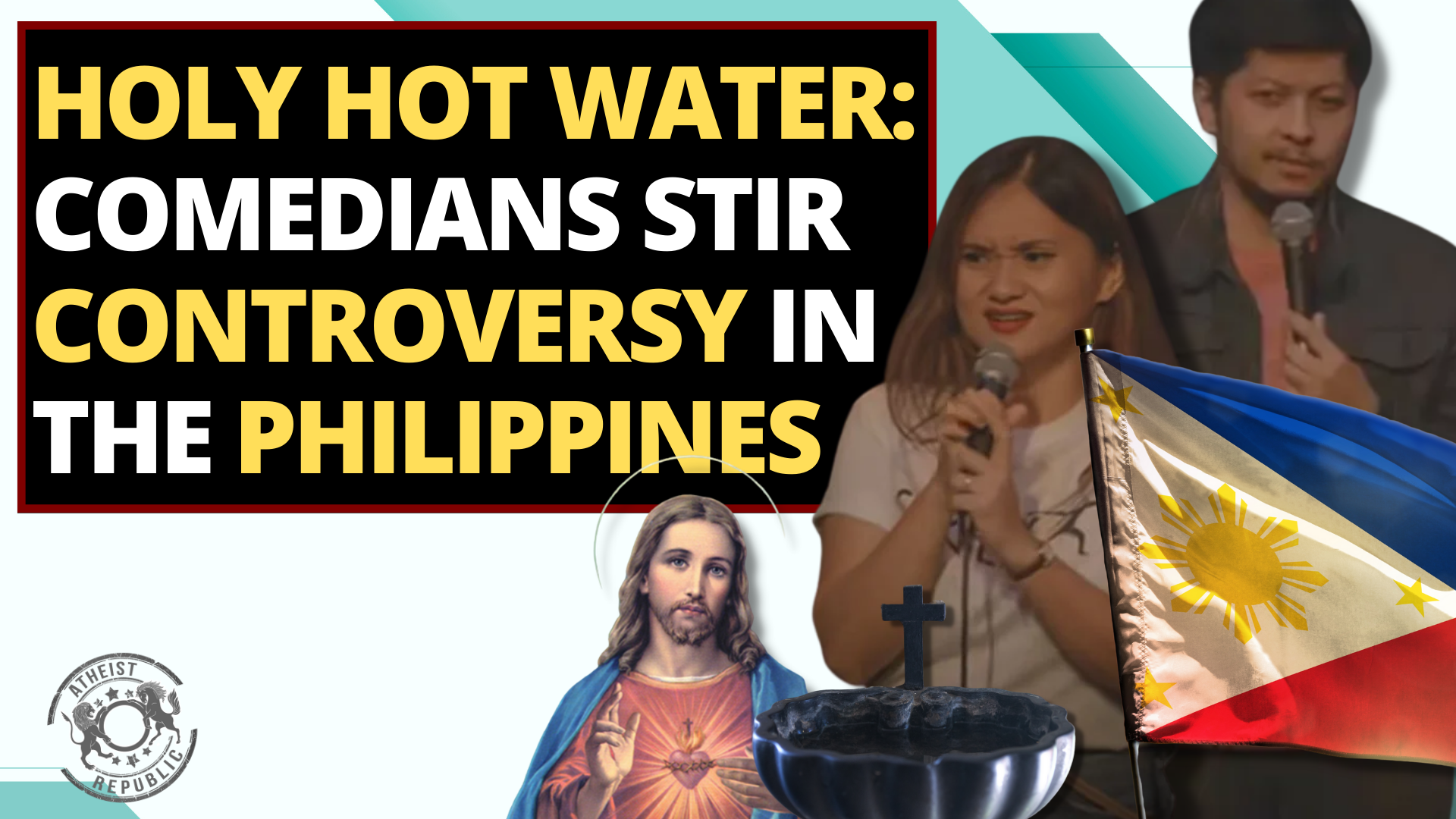 Two Filipino stand-up comedians are facing blowback from religious believers after making jokes about their beliefs and faith. 
Gold Dagal and Jeleen Cubillas of the Comedy Manila group are constantly being chastised online by members of the famed Iglesia ni Cristo (or Church of Christ) and the Catholic Church, respectively, after their stand-up comedy performance videos went viral on Philippine social media.
Sign of the cross sa Robinsons Cinema.
by u/KairitaMabuhay in Philippines
During her stand-up performance at the Cine Adarna of the University of the Philippines-Diliman, Cubillas described the Catholic Church as the only religion with a "gang sign" referring to the sign of the cross. Her performance video, uploaded on her Facebook account on May 21st, garnered over 108,000 Angry and over 8,500 Sad reactions.
Gold Dagal Stand-up Showcase (INC Topic)
by u/Alchemist_06 in exIglesiaNiCristo
Dagal incorporated jokes about the Iglesia ni Cristo (also called INC in the Philippines) during his stand-up performance, describing the Church as "cool 'to" (English for It's cool or this is cool and a play on the word "kulto," which means cult in Tagalog) because they have air-conditioned chapels.
He also made jokes about Eduardo Manalo, the current Executive Minister of the Iglesia ni Cristo and grandson of Felix Manalo, the church's founder. Dagal joked about how easy it was for INC members to sin because Eduardo looked like an unsuccessful lawyer, pertaining to how he looks in the photos of him in a member's household.
After their stand-up comedy videos went viral on social media, Dagal received multiple threats from Iglesia ni Cristo members, even exposing his personal information, including his mobile number, address, and whereabouts. Cubillas also received flak for her jokes against the Catholic Church and even received threats against her life.
The original video of Dagal's stand-up performance got deleted, although copies of his comedy act were uploaded on Facebook and other social media sites. A quick search on Facebook determined that his account was removed. Two Facebook accounts say "Gold Dagal II" and "Gold C Dagal," although it's difficult to assess whether these accounts belong to him. His Instagram account, @evil.dogg, is still up and private.
As for Cubillas, she released a short video on Facebook on May 29th titled "Apology video," where she doubled down on her jokes about the Catholic Church and said, "baka gang nga yung kinalaban ko" (which meant "maybe I fought against a gang" in Tagalog) while doing the Sign of the Cross, a reference to the viral joke she made. She also uploaded screenshots of her bashers sending her threats and other negative comments three days before she uploaded her so-called "apology video."
The backlash against Dagal and Cubillas' stand-up performances came at a time when calls to repeal the Philippines' law against "offending religious feelings" are renewed after a Catholic priest, Fr. Winston Cabading, is facing accusations of violating Section 133 of the country's Revised Penal Code after rejecting an alleged apparition of the Virgin Mary in 1948 while in a 2020 online show.
About the Iglesia ni Cristo
Iglesia ni Cristo (INC) is a Christian denomination founded in the Philippines in 1914. It is the largest non-catholic Christian organization in the Philippines, with over 2.5 million members. INC members are known for their bloc voting during elections, and the church has been accused of using its political power to further its interests.
The church was instrumental in the victories of former President Rodrigo Duterte and incumbent President Ferdinand "Bongbong" Marcos, Jr. in the 2016 and 2022 presidential elections. The INC also endorsed former President Joseph Estrada, who was later ousted in the 2001 EDSA II Revolution after failure to impeach him on graft and corruption charges.
In 2015, several INC members and ministers went missing after an internal conflict. Some of these people were later found murdered. The INC has denied any involvement in the disappearances and murders, but the case remains unsolved.
The Philippines is a very religious country, with over 80% of the population identifying as Christian. However, religious conflict is also common in the Philippines. In recent years, several violent clashes have occurred between different religious groups.
A clash between INC members and members of the Members Church of God International (MCGI) injured several people in 2005. Three years later, Marcos Mataro, a leader of the MCGI, was gunned down during that confrontation.
It is important to note that not all members of INC are violent or intolerant. However, the church's history of bloc voting and its involvement in the 2015 disappearances and murders have raised concerns about its influence and power.
Pushing Back Against Eroding Secularism in the Philippines
In 2020, Atheist Republic joined the call to junk the proposed Magna Carta of Religious Freedom filed in the Philippine Congress, as it will further enhance the existing blasphemy laws in the Philippines and will prohibit a vague definition of offending religious feelings. We affirm our commitment to freedom of speech and expression and to exposing religious atrocities and ridiculousness by any means, including stand-up comedy.
Christian Monsod, a Filipino lawyer, husband of former Socioeconomic Planning secretary and economist Solita "Winnie" Monsod, and one of the framers of the 1987 Constitution, renewed the calls to repeal Section 133 of the country's Revised Penal Code after Fr. Cabading's case received media attention nationwide, even describing the law as "unconstitutional."
Under this provision, it's illegal to perform acts that are "notoriously offensive to the feelings of the faithful," provided that it was done "in a place devoted to religious worship or during the celebration of any religious ceremony."
Various LGBTQIA+ groups have also been calling for the passage of the SOGIE Equality Bill, which had been filed and refiled numerous times during the 17th, 18th, and 19th Congress in the Philippines. While the proposal received support from various organizations and individuals, including some religious leaders, conservative politicians such as former Senate President Vicente "Tito" Sotto III and current Senate Majority Leader Joel Villanueva have pushed back against the bill.