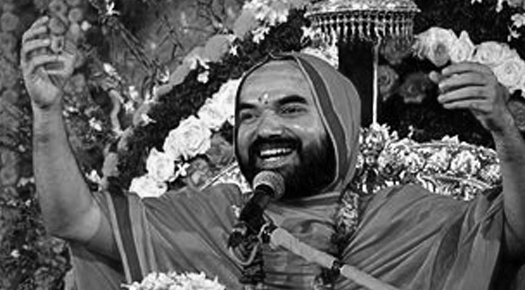 Police officials in the Indian state of Karnataka recently registered a case of abduction and rape against Hindu seer Ramachandrapura, also known as Raghaveshwara Bharathi. The seer is already being probed by the country's Criminal Investigation Department after another devotee made similar allegations of rape against him last year.
Recently, a 25-year-old artiste lodged a criminal complaint against Ramachandrapura, accusing him of having raped her twice – once in 2006, when she was a tenth grade student at a school in the same district where the seer has his headquarters and again in 2012, when she was visiting a second district where the seer has an ashram.
The woman, now married, said on September 13, 2014, a group of five men abducted her from her house in Bangalore and took her to the district that houses Ramachandrapura's headquarters. There, they allegedly threatened to kill her if she decided to divulge any details about her abduction or rape, since the CID was already investigating the seer for having sexually assaulted his devotees in the past; her confession would only worsen the current situation for Ramachandrapura. Upon returning home, the woman sought help from Janawadi Mahila Sanghatane, a women's rights organization, before going on to lodge a criminal complaint against the seer at the local police station.
Janwadi Mahila Sanghatane spokesperson Vimala said, "The seer's followers had told the victim that if she tried to speak about the incident to anyone else she would be punished by God and her life would be destroyed."
Vimala explained that the victim's family was impoverished and unable to get her married. After seeking help from the seer, they succeeded in finding her a groom.
"Even after she got married, she was forced to have sexual relation with the seer. His followers had told her that whenever she was summoned by the swami, she should visit him happily and obey his orders," said Vimala.
She also said that the woman decided to seek help from the organization because she could not bear the mental and physical torture that was being inflicted upon her by Ramachadrapura's followers.
"There are several other women who are facing similar problems but are scared to come out in the open. We have given a complaint to the State Women's Commission, too," the activist said.
A senior police official confirmed that a First Information Report had been registered against Ramachandrapura under sections 323 (causing hurt), 342 (wrongful confinement), 363 (kidnap), 376 (rape) and 506 (criminal intimidation) of the Indian Penal Code.
"We have spoken to the victim and obtained the necessary information to take up further investigation," he added.
Photo Credits: Wikipedia