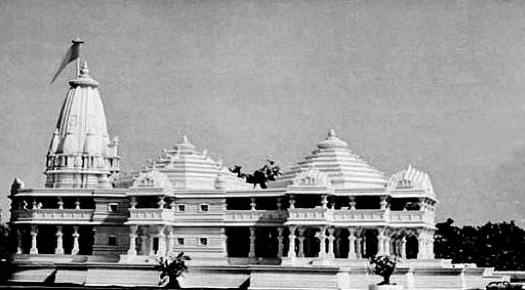 Hindutva-backed Muslim Rashtriya Manch (MRM) passed a resolution earlier this month to hold talks with the Muslim community and decide by consensus whether a proposed Ram Temple will be built in Ayodhya. Describing Lord Ram as an 'icon of Indian-ness', MRM said it would ensure Muslims are made aware of the 'truth' –that Ram happens to be the center of faith for Hindus– but Mughal Emperor Babar does not claim a similar spot for them.
"We have to send a message to the (Muslim) community that relations with Ram will be better than foreign invaders like Babar, Mohammad Gori and Mahmud of Ghazni. Lord Rama is at the center of belief of Hindus. But Babur is not at the center of belief of Muslims. He was an invader. We are conveying the truth to our Muslim brothers. The issue can be settled by construction of temple but we want Muslim consensus," said MRM national convener, Mohammad Afzal, who added, "Ram ke naam par hinsa nahin honi chahiye (There should be no violence in the name of Ram)."
Afzal told the media that a few days ago, during a national executive meeting in Varanasi, MRM members had passed a resolution to regularly meet with the Muslim community and convince them to agree to the building of a Ram Temple at the disputed location.
"Ram temple will come up, but only when we take each other into confidence. There is a need to speak to Muslims, members of other communities over this," Afzal said.
He also confirmed that a detailed strategy would be discussed in a meeting in Delhi.
Rashtriya Swayam Sevak national executive member, Indresh Kumar (who also serves as patron of MRM) was present at the meeting that was attended by at least 150 delegates from 25 states.
During a book launch on January 4, Kumar made a subtle pitch for a Ram Temple in Ayodhya saying that ancestors of all Muslims in India were Hindus, Ram is the same as the Muslim 'khuda' or the Christian 'god'; and it would be blasphemous to reduce his status to that of a 'mere king'. The following day, Kumar claimed that most Muslims want to take the initiative to facilitate the construction of a Ram Temple. He said it was highly likely that a mass movement from within the community in 2016 would demand the same.
"I am in touch with many Muslims who say they will take the initiative to build a Ram temple at Ayodhya. They may begin a mass movement for this in 2016," he said.
Kumar cited the example of Hasan Khan Mewati, who is believed to have fought against the Mughal King Babar alongside Rajput King Rana Sanga, saying that he should be the role model for Indian Muslims.
MRM's resolution came only days after another RSS wing, Vishwa Hindu Parishad, said that they would not run any campaign against the Central Government for constructing a Ram Temple in Ayodhya. They said the issue would be discussed further at a meeting in Allahabad in February.
The same day, MRM passed a second resolution thereby launching a campaign titled 'No Beef Party, Hold Milk Party', which hopes to make MRM loyalists offer cow milk to Muslims in exchange of a promise against the eating of beef. Afzal said that the Gau-Prakosht (cow cell) of MRM would run this campaign across India.
A third resolution was passed by MRM, whereby it declared to recite 'Ayat-e-Kareema' ten crore times. Ayat-e-Kareema is a prayer that would protect the country from terrorism, stop sectarian clashes and help maintain harmony between Hindus and Muslims.
"We will also pray that Pakistan-supported terrorism is stopped in India and cordial relations are developed between the two nations," said Afzal.
Stressing that MRM wants to provide a platform for Hindus and Muslims to amicably settle the Ayodhya issue, Afzal said however there was no possibility of a mosque being built at the same location.
"No Muslim organisation has been able to prove ownership rights over the land at Ayodhya. There can either be a Ram temple or status quo," he confirmed.
The Ayodhya dispute is an ongoing historical, socio-religious and political debate in India that revolves around a plot of land in the state of Uttar Pradesh. The debate was sparked when no person was able to decide whether the disputed location was the birthplace of the Hindu Lord Ram, and if it was, then how the Muslim Babri Mosque managed to be built on the same location. This led to speculations during the 1990s that Babar may have demolished a Hindu temple in Ayodhya to have the mosque made in its place. These rumours eventually led to the mosque being torn down by hardline Hindu activists during a communal riot that broke out amidst a political rally in December 1992.
Photo Credits: Samvada