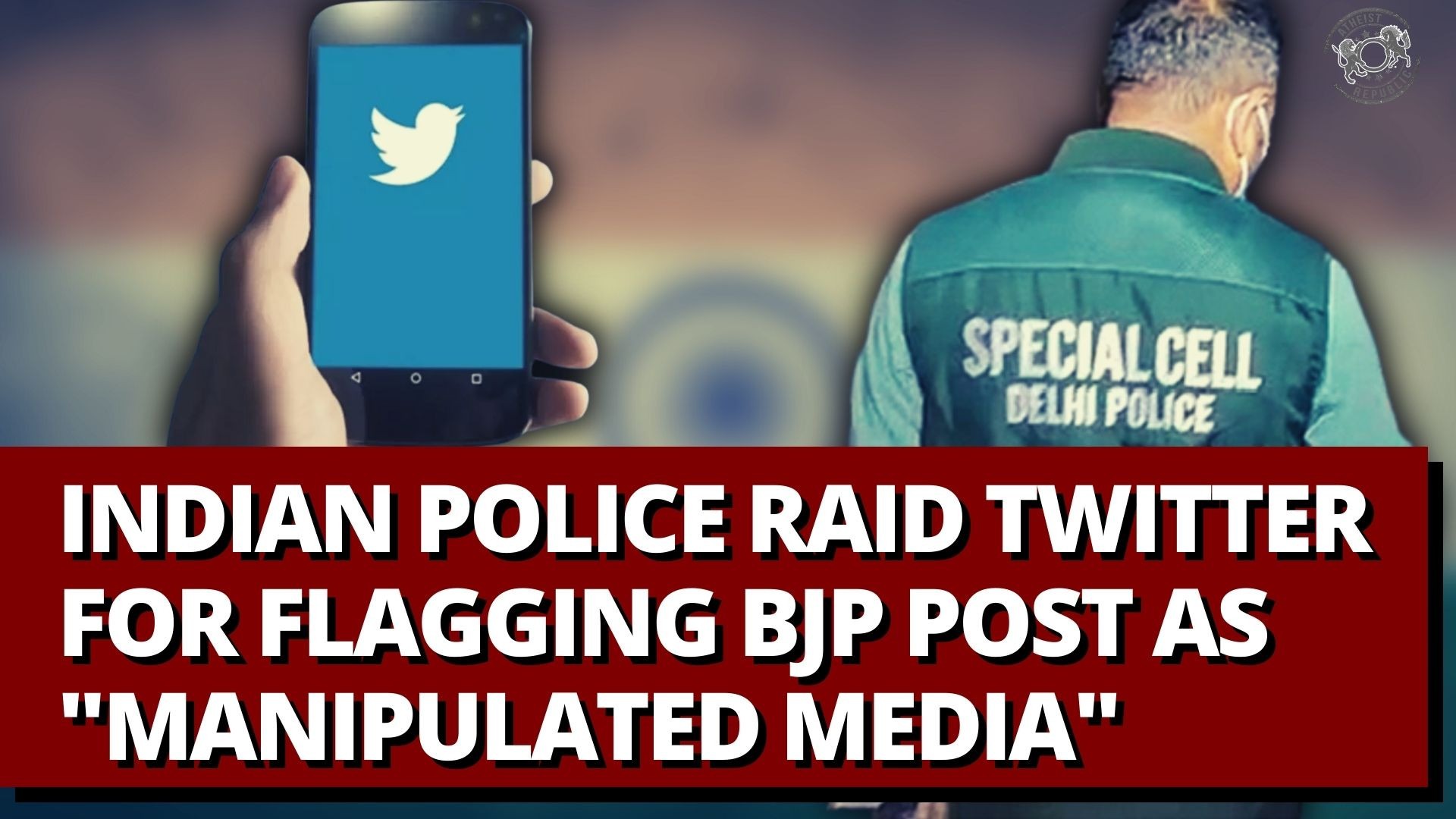 On May 24, 2021, the central government-supervised Delhi Police Special Cell raided Twitter India's Delhi and Gurgaon offices concerning the social media outlet tagging BJP spokesperson Sambit Patra's tweet on "congress toolkit" as "manipulated media". As social media platforms are under fire from the central government to hand over rights of policing content, the freedom of speech in India takes another hit as the government unleashes police force on Twitter for not favouring the ruling party on its platform.
Friends look at the #CongressToolKit in extending help to the needy during the Pandemic!
More of a PR exercise with the help of "Friendly Journalists" & "Influencers" than a soulful endeavour.
Read for yourselves the agenda of the Congress:#CongressToolKitExposed pic.twitter.com/3b7c2GN0re

— Sambit Patra (@sambitswaraj) May 18, 2021
Twitter India has been struggling with government interference and prosecution threats in India for almost half a year. In January 2021, the Indian government sent notices to Twitter requesting to take down several posts and footages related to Farmers' Protest, which the IT Ministry flagged for allegedly "spreading misinformation" and having the potential to "lead to imminent violence affecting public order situation in the country", and block accounts sharing the same information. After Twitter India refused to do so, the IT Ministry threatened to jail every employee in Twitter India's office, forcing them to back down and comply. 
By now, the central government has made Twitter take down almost 50 posts flagged by them and several related accounts, as conveyed to the Lumen Database by Twitter, including some posts that were critical of the government's handling of the COVID-19 crisis.
In February, Twitter introduced its' "manipulated media policy", which allows for flagging shared media that has been "significantly and deceptively altered or fabricated" in order to change its' meaning or context. Due to this policy, a post by Sambit Patra (National spokesperson of the Bharatiya Janata Party) where he claimed that the largest opposition party (Congress) is using a "toolkit" to defame the government's efforts on handling COVID-19, was labeled as "manipulated media" by Twitter.
However, this led to the Special Cell of Delhi Police first sending a notice to Twitter India MD Manish Maheshwari, which reads: "it has come to our knowledge that you (Twitter India) are acquainted with the facts of the matter and are in possession of information with regard to the same. You are therefore requested to be present in the office of the undersigned for the purpose of investigation with all the relevant documents on 22 May, 2021 at 01:00 pm."
"We wanted to ascertain who is the right person to serve a notice, as replies by Twitter India MD have been very ambiguous," as stated by The Delhi Police PRO Chinmoy Biswal after the raid. Both teams returned after finding out that Twitter employees have been working from home since March 2020.
Noteworthy: this incident occurred not before 24 hours of Twitter and Facebook facing the deadline for compliance with India's new guidelines to regulate social media. According to Delhi Police, the reason for this raid was a case filed against Patra and former Chhattisgarh Chief Minister, Raman Singh, over the "toolkit" tweets by the police in Congress-ruled Chhattisgarh. Meanwhile, Congress has called the document shared by Patra "fake" and wrote to Twitter India requesting to ban BJP leaders' profiles on account of "spreading misinformation and unrest in society."
Several people, including activists, politicians, and the general populace, have condemned Delhi Police's actions and expressed concerns about the right to freedom of speech being vulnerable in this country. CPI(M) General Secretary Sitaram Yechury posted on Twitter, "Priority of these times is to focus on providing healthcare, medicines & vaccines. Union Home Minister instead unleashes Delhi Police on a social media platform to intimidate it for petty & partisan political purposes. Inhuman. Shameful".