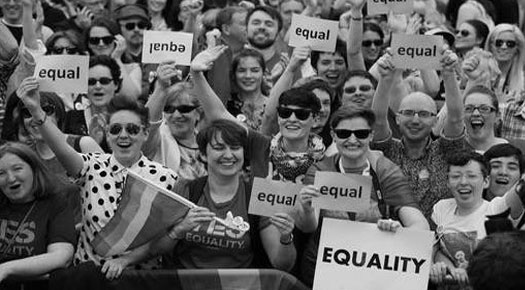 Last month, Ireland voted by a huge majority to legalize same-sex marriage, thus becoming the first country in the world to have achieved the same via popular vote. The historic referendum, which saw 62 percent of the Irish Republic's electorate voting in favor of same-sex marriage, is being hailed as a social revolution. Obviously, the legislation was welcomed with much jubilation across the world.
The result of the referendum went on to prove that the republic, which was once controlled by the Catholic Church, chose to negate the instructions and indoctrination of its cardinals and bishops. This historic vote will now be remembered as yet another milestone in Ireland's journey towards a more secular and liberal society. In an electorate that comprised of more than 3 million individuals, 1,201,607 supported same-sex marriage while a measly 734,300 opposed the same. Quite naturally, the end result prompted lavish street parties around various LGBT districts across central Dublin.
Addressing Ireland's LGBT community, Taoiseach Enda Kenny said the referendum was proof that a majority of the country's population supports gays and lesbians.
"In the privacy of the ballot box, the people made a public statement. With today's vote we have disclosed who we are. We are a generous, compassionate, bold and joyful people who say yes to inclusion, yes to generosity, yes to love, yes to gay marriage," he said.
Health Minister Leo Varadkar, who came out earlier this year as Ireland's first openly gay minister, said that the campaign was nothing short of a social revolution.
Deputy Prime Minister Joan Burton said, "The people of Ireland have struck a massive blow against discrimination."
All except one of Ireland's 43 parliamentary constituencies voted in favor of same-sex marriage. The social transformation that the country experienced was evident on the grounds of Dublin Castle, the erstwhile seat of British rule as well as the chosen site for the national count of the referendum that was quite possibly unimaginable even two decades ago. It was not before 1993 that Ireland decriminalized homosexuality. However, rainbow colored flags, associated with the global LGBT movement, were seen lighting up the 18th-century cobbled courtyard on May 23, amidst loud cheers and jubilant gestures as more than 2,000 LGBT activists celebrated the resonating victory.
Before the referendum took place, the Fine Gael-Labour coalition had asked voters to amend their 78-year-old constitution, by allowing them the opportunity to add to it the following text:
"Marriage may be contracted in accordance with law by two persons without distinction as to their sex."
The vote for reform was also invigorated by a last minute campaign #hometovote that aimed at using social media to urge young Irish expats to return to Ireland so they too could cast their votes.
The first constituency to declare its votes in favour of same-sex marriage was Sligo/North Leitrim, where 'Yes' received 54 percent votes and 'No' 46 percent. In most other constituencies though, 'Yes' received more than 70 percent of the total votes.
At the announcement of the first confirmed result, veteran LGBT activist and Senator David Norris arrived at Dublin Castle, where he was celebrated as a hero, by younger LGBT activists, for having pursued court cases all the way to the European Court of Human Rights and eventually compelling a former Irish government to decriminalize homosexuality in 1993.
"The battle is not over. There are countries throughout Africa and Asia in which it is terribly dangerous to be gay," Norris said. "It's wonderful. It's a little bit late for me … I've spent so much time pushing the boat out that I forgot to jump on, and now it's out beyond the harbor on the high seas. But it's very nice to look at."
Acknowledging the extent to which the Church seemed to have been defeated in what was once the Vatican's most loyal country, Diarmuid Martin, archbishop of Dublin, described the outpour of support for same-sex couples as a revolution that did not take place in one day.
"It's a social revolution that's been going on – perhaps in the church people have not been as clear in understanding what that involved," he said. "It's clear that, if the referendum is an affirmation of the views of young people, the church has a huge task in front of it."
The vote in favor of same-sex marriage captured headlines from across the world, with well-known personalities lauding the result.
"Sitting here watching the Irish make history. Extraordinary and wonderful," tweeted author J K Rowling.
British rights campaigner Peter Tatchell said, "The Irish people have voted for love and equality. Oscar Wilde would be so proud."
United States Vice President Joe Biden, who is of Irish descent, also applauded his homeland for becoming the first country in the world to legalize same-sex marriage via popular vote.
"More than 1.2 million Irish voters took a courageous stand for love and family when they overwhelmingly chose marriage equality," Biden opined. "They recognized the fundamental truth that every person is entitled to dignity and respect, and that there can be no justification for the denigration or persecution of anyone because of who they love or who they are… In 22 years, Ireland has gone from a nation where simply being LGBT was against the law to a nation where the people resoundingly stand for equal rights… There are still too many nations that deny people even the right to be safe from violence and severe discrimination, and too many states here in America that allow a person to be fired simply for being lesbian, gay, transgender, or bisexual."
Back in Dublin Castle, the rejoicing crowd welcomed prominent human rights activist, gay spokesperson and drag queen Panti Bliss or Rory O'Neill.
Dressed in a blonde wig and high hells, Bliss said, "I am drunk on Yes … It's not that Ireland has changed today, but that Ireland has confirmed the change that we already knew had happened."
As thousands in Ireland leapt in joy and waved their rainbow colored flags high above, there was a reminder from the LGBT community in Northern Ireland, where the pursuit for marriage equality continues to be a struggle. Gavin Boyd, spokesperson of Rainbow Project in Belfast, mournfully informed the world that a ban on same-sex marriage continues to exist only north of their border.
"To the people of Ireland, we offer our thanks. You have done what no other country in the world has done. You have chosen, as a nation, to extend marriage rights to your LGBT family, friends and neighbors and this will go down in history as another example of the decency and fairness of the Irish people. However, for us, this sweet victory is tinged with sadness. Northern Ireland is now the only region in western Europe where marriage equality is not a reality. This is a shameful injustice which cannot be allowed to continue," Boyd said.
Like Northern Ireland, certain elements within the Catholic Church too begged to differ with the stance adopted by Ireland with regards to marriage equality. Vatican's secretary of state slammed Ireland for introducing to the world such a forward notion and called the reform a 'defeat for humanity'.
"I think that you cannot just talk of a defeat for Christian principles, but of a defeat for humanity. The family remains at the centre and we have to do everything to defend it and promote it," he said.
Deeply saddened by the predominantly Catholic country voting 62 percent in favour of same-sex marriage, Cardinal Pietro Parolin's views conflicted with those of his colleague Martin, who had earlier referred to the result of the referendum as a reality check for the Church, which according to him over time has completely drifted away from the young generation.
"I appreciate how gay and lesbian men and women feel on this day. That they feel this is something that is enriching the way they live. I think it is a social revolution," he had said.
Resounding Parolin's regressive stance however, Gordon Klingenschmitt, former American military chaplain and current Republican from the state of Colorado, likened those who voted in favor of same-sex marriage to snakes while urging St Patrick to return to Ireland so he could get rid of the demonic spirits that have apparently taken over the country.
While admonishing voters for having rejected Christ by choosing to reform their constitution, Klingenschmitt said, "There was a time when it was said that St. Patrick drove the snakes out of Ireland and now I'm concerned that the snakes have returned to Ireland. And when I say snakes, I'm not talking about physical snakes, I'm talking about the demonic spirits inside of some of the people you see parading their sin in pride around the country, rejecting not just the Catholic Church but rejecting Jesus Christ himself… Jesus Christ defined marriage between one man and one woman and maybe it's time for another St. Patrick to go back into Ireland and preach the good news that Jesus can make you free from sin and drive out the snakes once again."
On a positive note however, some 20,000 people in Northern Ireland participated in a rally in support of marriage equality on June 13. After being labeled as the last country in Western Europe that does not allow gays and lesbians to marry legally, demonstrators delivered moving speeches and signed petitions, hoping to initiate a similar change as recently witnessed on the other side of their border.
"In 2005, history was made when Northern Ireland became the first place in the UK to hold a civil partnership," the Irish Congress of Trade Unions (ICTU) said. "Ten years later, with every other part of these islands recognizing marriage equality, citizens in Northern Ireland have effectively been left behind."
Irish celebrities and advocates of marriage equality like Bronagh Gallagher and Gary Lightbody were seen participating in the march alongside the country's common people.
Photo Credits: NBC News