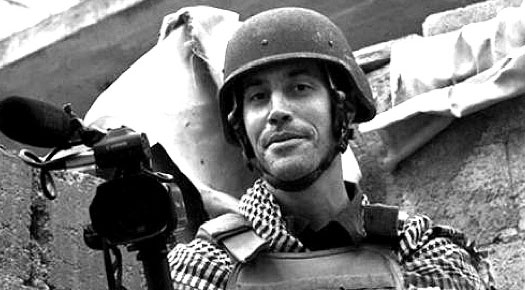 ISIL recently released a video that shows a member of the extremist group beheading of American journalist James Foley while threatening the life of another journalist. The killer in the video is heard saying United States President Barack Obama is responsible for both lives since he decided to resume the current military operations in Iraq. In the video that was posted on YouTube on August 19, Foley is seen kneeling next to a man, reading a message that was presumably scripted by his captors.
Blaming America for being his real killer, Foley is heard saying, "I wish I had more time. I wish I could have the hope for freedom to see my family once again," before viewers see him being executed brutally.
National Security Council spokeswoman Caitlin Hayden said, "We have seen a video that purports to be the murder of U.S. citizen James Foley by (ISIS). The intelligence community is working as quickly as possible to determine its authenticity. If genuine, we are appalled by the brutal murder of an innocent American journalist and we express our deepest condolences to his family and friends."
Foley went missing near the Syria-Turkey border in November 2012. Reportedly, he was forced into a van by gunmen while out reporting for the United States-based news portal GlobalPost. On August 19, his mother Diane took to social media to praise her son and mourn his death.
"We have never been prouder of our son Jim. He gave his life trying to expose the world to the suffering of the Syrian people. We implore the kidnappers to spare the lives of the remaining hostages. Like Jim, they are innocents. They have no control over American government policy in Iraq, Syria or anywhere in the world. We thank Jim for all the joy he gave us. He was an extraordinary son, brother, journalist and person. Please respect our privacy in the days ahead as we mourn and cherish Jim," she said in a post on the Free James Foley Facebook page.
Foley grew up in New Hampshire and pursued graduation at Northwestern University's Medill School of Journalism. Like many other journalists, he started to focus on conflict areas including Afghanistan and Iraq, after the September 11 terror attacks. He had previously been held captive for six weeks in Libya, along with three other journalists, in 2011, after which his captors inexplicably released him.
"On behalf of John and Diane Foley, and also GlobalPost, we deeply appreciate all of the messages of sympathy and support that have poured in since the news of Jim's possible execution first broke.... We have been informed that the FBI is in the process of evaluating the video posted by the Islamic State to determine if it is authentic. Until we have that determination, we will not be in a position to make any further statement. We ask for your prayers for Jim and his family," said Philip Balboni, GlobalPost CEO and co-founder, in a statement.
In the video, the militant is heard speaking fluently in British English. Before executing Foley, he is heard saying the life of another journalist, namely Steven Sotloff, hangs in balance, depending on what Obama does next. Sotloff, who is a contributor for Time and other foreign policy magazines, was abducted from the same area as Foley, in 2013.
A day after Foley's beheading made it to the headlines, Obama fiercely condemned the brutality that ISIL has displayed recently, saying the United States will do whatever it takes to ensure its citizens are safe. Referring to Foley's beheading as "an act of violence that shocked the conscience of the entire world," Obama said ISIL has killed innocent civilians, subjected children and women to torture, rape and slavery.
"So ISIL speaks for no religion. Their victims are overwhelmingly Muslim, and no faith teaches people to massacre innocents. No just God would stand for what they did yesterday and what they do every single day. ISIL has no ideology of any value to human beings. Their ideology is bankrupt," Obama said.
British Prime Minister David Cameron called short his vacation as the country's intelligence tried to identify Foley's murderer. Apparently, the ISIL video displayed high technical proficiency and its use of British English was intended so viewers could completely comprehend its contents. During their investigation of the footage, British intelligence concluded that Foley's killer is possibly one of the hundreds of European Muslims that have volunteered to fight for ISIL. They believe that these jihadists will prove to be of great security threat to not only America but also to Britain, once they return from the Middle East.
In the meanwhile, France urged international cooperation from permanent members of the United Nations Security Council as well as regional countries so they can together oppose the religious extremists fighting in Iraq and Syria. In addition, Italy and Germany said they are ready to send arms if the Kurds in the region wish to further strengthen their military capabilities.
The video was posted on YouTube after America recently resumed air strikes in Iraq. ISIL has been carrying out executions in an attempt to establish a Muslim caliphate that spans across Syria and Iraq. According to the Committee to Protect Journalists, approximately 20 journalists are currently missing in Syria and most of them are being held hostage by ISIL.