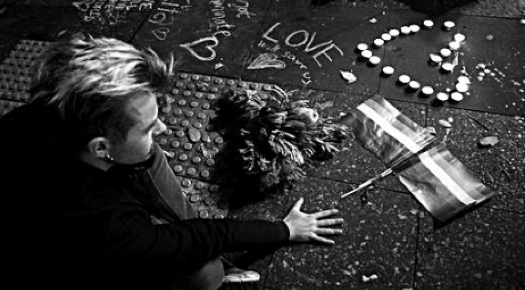 An Islamist gunman—who called 911 proclaiming his allegiance to the terror group Islamic State and has in the past been investigated for possible terrorist links—stormed into a gay nightclub in Orlando on June 12, yielding a pistol and an assault rifle, to carry out what turned out to be the worst mass shooting in the history of the United States. The incident left as many as 49 dead and 53 injured. It is still not clear why the shooter, identified as 29-year-old Omar Mateen, decided to single handedly turn a celebratory night of dancing at the popular Pulse nightclub into a gruesome scene of unfathomable slaughter.
Following the attack, terrified locals from the neighborhood scrambled to carry wounded victims to safety while police vehicles continued to serve as provisional ambulances rushing casualties to nearby hospitals.
Joel Figueroa and his friends were dancing away to glory when they first heard the gunshots.
"I heard shots, bam, bam, bam," he said, adding, "Everybody was screaming and running toward the front door."
That night, Pulse, which describes itself as Orlando's Latin Hotspot, was throwing its weekly Upscale Saturdays party. As the shooting started at 2 am, some clubbers initially thought the gunshots they heard were either firecrackers or part of the loud, thumping music. Upon realizing what was really going on, clubbers rushed to seek refuge in whichever discreet corner they could find while others frantically called 911 or posted distress messages across various social media platforms pleading for help.
Pulse took to its Facebook page to warn everyone of what was happening inside: "Everyone get out of Pulse and keep running," the post read.
The initial assault was followed by a three-hour standoff, with people inside being effectively held hostage until 5 am, when law enforcement officials led by a SWAT team were finally able to raid the club with the help of an armoured vehicle and explosives made to distract and disorient. More than a dozen police officers and sheriff's deputies involved themselves in a shootout with Mateen, before shooting him dead. At least 30 people were rescued from inside the nightclub.
Even the most hardened police veterans who invaded the building and combed through it— identifying the dead and escorting the living—were shocked by what they witnessed.
Orlando police chief John Mina said, "Just to look into the eyes of our officers told the whole story."
In no time, hundreds of people had gathered in the glare of flashing red lights on the peripheries of the law enforcement cordon around Pulse and later at nearby hospitals, hoping against hope that their family and friends were safe. Even 12 hours after the attack, helpless relatives continued to pace between Orlando Regional Medical Center and a nearby hotel, as they waited to hear the fate of their loved ones. Reportedly, so many had been gunned down by Mateen that the hospital decided to tag all victims anonymous until each and every one of them was identified. 
"We are here suffering, knowing nothing," said Baron Serrano, whose brother, Juan Rivera, 36, had been celebrating a friend's birthday with his husband and was as of that moment unaccounted for. "I cannot understand why they can't tell me anything because my brother is a very well-known person here in Orlando. He is a hairstylist, and everybody knows him."
A tally of victims, whose relatives had already been informed, started to slowly build on the city website around 6 pm.
The June 12 nightmare in Orlando has emerged as the worst act of terrorism on American soil since the September 11 attacks in 2001. It also happens to be the deadliest attack to have been carried out on a gay target in the country's history.
Delivering a special address from the White House, President Barack Obama said, "Today, as Americans, we grieve the brutal murder —a horrific massacre— of dozens of innocent people… This was an act of terror and an act of hate. In the face of hate and violence, we will love one another… This is an especially heartbreaking day for all our friends —our fellow Americans— who are lesbian, gay, bisexual or transgender. The shooter targeted a nightclub where people came together to be with friends, to dance and to sing and to live… We will not give in to fear or turn against each other. Instead, we will stand united as Americans to protect our people and defend our nation, and to take action against those who threaten us."
As he has done in the aftermath of previous mass shootings, Obama said this massacre once again demonstrates the need for what he has repeatedly referred to as 'common sense gun measures'.
"This massacre is therefore a further reminder of how easy it is for someone to get their hands on a weapon that lets them shoot people in a school or a house of worship or a movie theater or a nightclub," Obama said. "We have to decide if that's the kind of country we want to be. To actively do nothing is a decision as well."
Reportedly, the Federal Bureau of Investigation interrogated Mateen in 2013 after his comments to coworkers suggested that he may have terrorist ties. He was once again investigated the following the year for possible links to Moner Mohammad Abusalha, an American suicide bomber who wrecked havoc in Syria. But each time, the FBI found no solid evidence against Mateen that could establish a connection between him and terrorism or any crime for that matter.
Mateen, a resident of Fort Pierce, Florida, was employed as a security guard with the security firm G4S, where he had served since 2007, and was thereby able to purchase guns. According to the Federal Bureau of Alcohol, Tobacco, Firearms and Explosives; Mateen had legally acquired a long gun and a pistol in the past fortnight. However, it is not evident whether those were the weapons used for the June 12 massacre, which officials described as an AR-15 type of assault rifle and a handgun.
Moments before the bloody massacre, Mateen called 911, declaring his allegiance to Islamic State. Hours after the attack, the terror group released a statement over an encrypted phone app, claiming responsibility for the mass shooting.
Even though the transcript provided by SITE Intelligence Group—which tracks jihadist propaganda online—suggests Mateen was in fact an Islamic State fighter, government officials said court records show Mateen may have been inspired by the terror group but was not directly connected with it.
Islamic State has gone on record to encourage 'lone wolf' attacks of this sort in the West, a point recently reiterated by the group's spokesperson Abu Muhammad al-Adnani in his annual speech just before the commencement of Ramadan.
In the meanwhile, American Muslim groups went on to condemn the mass shooting: "We condemn this monstrous attack and offer our heartfelt condolences to the families and loved ones of all those killed or injured. The Muslim community joins our fellow Americans in repudiating anyone or any group that would claim to justify or excuse such an appalling act of violence," said Rasha Mubarak, regional coordinator of the Council on American-Islamic Relations in Orlando.
Calling on all American Muslims to donate blood in the wake of the attack, CAIR joined other faith leaders to extend support to all the victims as well as their families.
At the same time, when gay groups volunteered to donate blood for the same cause, organizers turned them away, citing certain FDA guidelines that prohibit gay donors who may have engaged in sexual intercourse in the past year from giving blood.
"It really goes out of its way to oppress a group that's already oppressed," said Our Lives Madison Publisher Patrick Farabaugh, calling the current blood standards antiquated. "It still operates on the perception that HIV is a LGBT or specifically a gay male disease and that's not true anymore."
Madison Red Cross spokesperson Rick Roseneck explained that even though the daily national requirement borders on finding 1,400 units of blood, the blood banks must ensure that they abide by FDA guidelines.
"We have to follow the FDA guidelines, that's the thing, it's in the FDA's hands because they treat it like a drug, so we have to follow their guidelines," he said.
The reasoning in 1983, when this ban was sanctioned, was to curtail the spread of HIV/AIDS through blood transfusions.  At the time, gay and bisexual men were overwhelmingly linked to the epidemic until testing for HIV was significantly improved. Today, HIV is not limited to only men who engage in intercourse with other men. Yet, the ban has remained—amid decades of activism from LGBTQ members who viewed a lifetime blood ban as being discriminatory. Even the largest blood banks in the country, including American Red Cross and America's Blood Centers, have dismissed the ban as both 'medically and scientifically unwarranted'.
Amidst all this hullaballoo, at least eight Christian leaders were quick to express their hatred towards those who lost their lives or were gravely injured on Sunday.
Calling homosexuality a sin, Pastor Steven Anderson of Faithful Word Baptist Church said there were at least 50 less pedophiles in the world following Sunday's carnage.
The Westboro Baptist Church followed suit, celebrating the death of all 50 people who were killed at Pulse on June 12. The church implied that all those who died in the carnage had in fact called upon their death by choosing to be homosexual and infuriating God.
https://twitter.com/WBCSaysRepent/status/742153238271516673
https://twitter.com/WBCSaysRepent/status/742139596574576640
https://twitter.com/WBCSaysRepent/status/742127037872144384
https://twitter.com/WBCSaysRepent/status/742106840591306753
Pastor Roger Jimenez from Verity Baptist Church in Sacramento also preached to his flock about how much more safe Orlando would be, now that 50 frightful homosexuals had been shot dead.
Similarly, Pastor Perry Noble of New Spring Church in South Carolina decided to share his two cents with his congregation.
Despite false reports claiming that Pat Robertson had reacted to Sunday's incident almost immediately, the televangelist took his own sweet time to spread some hate among his followers.
On his show, Pass the Salt, religious activist Dave Daubenmire claimed those killed in the Orlando mass shooting had been sacrificed by Satan to advance his larger mission, which is to implement gun control and prompt the government to persecute Christians.
Pastor Bryan Fischer also extended support to America's LGBTQ community, saying he would like to heal those who are willing to change.
https://twitter.com/BryanJFischer/status/741990740113248257
Pastor Matt Barber of Liberty University hoped that all the homosexuals who were killed on Sunday remembered to repent for their sins before breathing their last. 
https://twitter.com/jmattbarber/status/742075905229651968?ref_src=twsrc%...
As though Saturday night's bloodbath was not agonizing enough for America's LGBTQ population, the gunman's father, Seddique Mateen uploaded an apology video, saying his son should not have taken matters into his own hand, as it is solely Allah's duty to punish homosexuals.
Stating how the sight of two gay men kissing in public last month infuriated his son, Seddique Mateen tried to explain that his son's actions actually stemmed from homophobia and not religious extremism.
More recently though, people who knew Mateen have come forward to say he himself was a homosexual. A man, who attended the police academy with Mateen in 2006, said the two frequented gay bars where the latter told the former once that he wanted to pursue a relationship with him.
"We went to a few gay bars with him, and I was not out at the time, so I declined his offer," he said. "Mateen was gay and closeted with an 'awkward' figure. He just wanted to fit in but no one liked him, he was always socially awkward."
Others have also come forward to say that they had interacted with Mateen on various gay hookup apps such as Jack'd and Grindr.
"He's a homosexual and he was trying to pick up men," said Jim Van Horn, who called Mateen a Pulse 'regular' and described his approach of chatting with people in the club. "He would walk up to them and put his arm around them or something and maybe try to get them to dance a little bit or something and go over and buy them a drink."

"I recognized him off Grindr," said Cord Cedeno while reiterating that Mateen was in fact a regular at Pulse. "He's been there several times. I know that for a fact."
Kevin West said he had spoken with Mateen on Jack'd for an entire year before meeting him in person.
Sunday's attack, which most assumed had stemmed from religious extremism, now appears to have links with Mateen's shame over his own sexuality. Investigators are thus exploring his internal conflict as a possible motive.
According to more clubbers, who frequently visit Pulse, Mateen religiously dropped by for the last three years, drinking alcohol and trying to pick up attractive men.
A couple of drag queens who perform at the popular nightclub on 1912 South Orange Avenue said they had seen Mateen party at Pulse. Chris Callen and Ty Smith said the 29-year-old was sometimes so drunk that he would have to be removed from the club.
"I've seen him a couple of times at Pulse, a couple of other people that I've spoken with, including an-ex security guard, have actually witnessed this guy at Pulse many times before," said Callen while Smith said, "We didn't really talk to him a lot, but I remember him saying things about his dad at times. He told us he had a wife and child."
Mateen's first wife, Sitora Yusufiy, who met him online in 2009 and married him soon after, said he possibly committed the mass murder because he was in turmoil about who he really was and not because of religious extremism.
"When we had gotten married, he confessed to me about his past -- that was recent at that time - and that he very much enjoyed going to clubs and the nightlife," Yusufiy said. "So, I feel like it's a side of him or a part of him that he lived but probably didn't want everybody to know about."
Yusufiy said Seddique Mateen had insultingly called his son gay on more than one occasion. When asked to clarify, Seddique Mateen said his son was not gay or he would not have followed through with his act, which truly stemmed from his hatred for homosexuals.
Yusufiy also said that Mateen started to beat her after a few months of their marriage, which is why she decided to leave him in 2011.
"After a few months he started to beat me. He was mentally unstable… he was obviously disturbed," she said.
Mateen apparently married a second time after separating from Yusufiy. Along with Noor Zahi Salman, with whom he had a son, Mateen got a mortgage in 2013 even though the two were not staying together at the time of this recent carnage.
Photo Credits: NBC New York