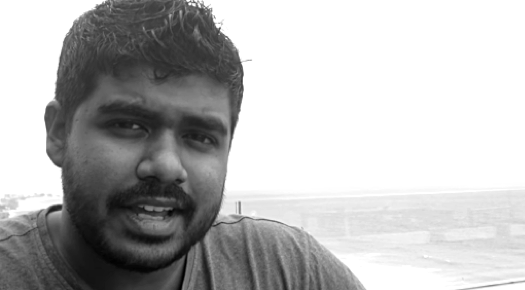 MALÉ, Maldives — Yameen Rasheed, 29, was getting multiple death threats from different people and he repeatedly complained to the police about the threats. On Sunday, he was brutally murdered; actually he was stabbed in the stairway of his apartment building and died after that. The police said that Mr. Rasheed was found with multiple stab wounds in his apartment building in the capital, Malé, shortly before 3 a.m. He was rushed to Indira Gandhi Memorial Hospital and died soon after. His father, Hussain Rasheed, told the local news media that his son had been stabbed 16 times in the chest, neck and head.
Mr. Rasheed was a coordinator of a campaign 'Find Moyameehaa' to find his friend Ahmed Rilwan Abdulla, a journalist for The Maldives Independent who was abducted in 2014. He thought the threats he was facing are the consequence of his writing and doing the campaign. This year, in an interview with The New York Times, he spoke about his complaints to the police and added that the police often failed to return his calls or dropped his complaints without investigation.
According to his blog, The Daily Panic, Yameen Rasheed was a disobedient writer and occasional satirist who comments on society and politics in Maldives. He was best known for his satirical Twitter posts and his popular blog, The Daily Panic, which he used to criticize the government's use of religion to appeal to the public.
"He was aware of the threats, but cautious," Celine Peroni, Mr. Rasheed's girlfriend, said. "He wanted the voice of the truth to be heard, despite the risks." Ms. Peroni also said she and Mr. Rasheed had often talked about the death threats, which intensified in December when his name began circulating as a person of interest within extremist groups.
The Republic of Maldives, a nation of nearly 1,200 islands southwest of India, is best known as a spectacular vacation destination. After the long Buddhist period of Maldivian history, Muslim traders introduced Sunni Islam. Maldivians converted to Islam by the mid-12th century. According to the government there were at least 49 Maldivians who traveled to Syria to fight with the group, also known as ISIS. A 2015 study by an international security firm noted that the actual number was about 200.
"We condemn this action in the harshest terms," President Abdulla Yameen said in a statement. "All resources of the state will be utilized to bring the perpetrators of this heinous crime to justice." "This crackdown has intensified in recent weeks and must end immediately," Amnesty International said. "Authorities should protect those who speak out, not try to criminalize them."
Photo Credits: Patheos