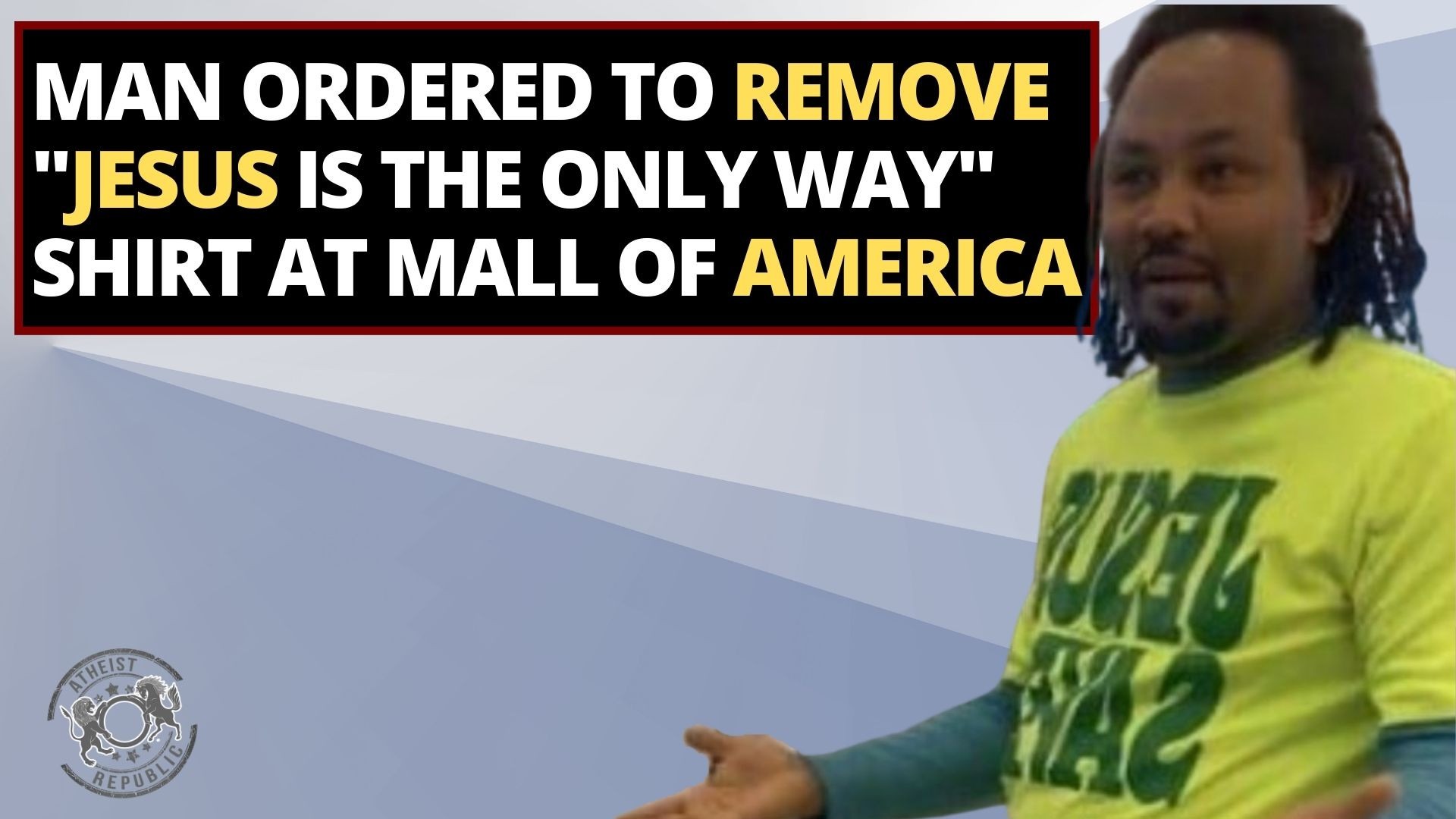 A video capturing a confrontation between a man and security guards in Mall of America went viral online after guards asked him to remove his t-shirt, which read, in part, "Jesus is the only way."
In the video taken by Kameko Rawls and uploaded on Facebook, one of the guards was seen talking to the man, identified as Paul Shoro, regarding his clothes. The bright yellow t-shirt read "Jesus Saves" on the front with another message on the back saying "Jesus is the only way" and the Coexist logo crossed out.
"Jesus is associated with religion, and it's offending people," One of the security guards in the Bloomington mall said to Shoro, a street preacher, in the video. The guard also said that "people have been offended" by the shirt.
"I didn't say anything, though," Shoro replied to the guards. "I didn't speak... I didn't say anything. I just went to Macy's."
"Again ... I'm giving you a couple options: take the shirt off, and you can go to Macy's, and you can do your shopping — or you can leave the mall, OK? Those are your only options right now." the security guard insisted.
"If you want to shop here, you need to take that shirt off!" The security guard told Shoro in a raised voice. A second cut in the same video saw the guard getting angry at Shoro.
When Shoro asked what was wrong with his shirt, the guard sharply told him, "it is religious soliciting; there is no soliciting allowed on mall property, which is private property!"
The guard also said, "We've had guests come up saying that they've been offended by your shirt ... take the shirt off, and you can go shopping!"
I automatically assumed this was overseas, but it's right here in America. pic.twitter.com/Q79eUCG7xh

— John Mason (@LivingGodsTruth) January 12, 2023
In response, Shoro said he is an American citizen aware of the US Constitution. Another clip showed Shoro and the guard parting ways. He was also seen giving a fist bump to another guard.
Paul Shoro explained in a follow-up interview with Kingdom Bizness, a YouTube channel, that he had been distributing pamphlets at the mall and security guards warned him not to do it again.
"A couple weeks, they find out that I am doing this, and they warn me, do not do it again, and I was really very angry because, I mean, they allow tens of thousands of people in that mall. You know, it's the biggest mall in America. So I was so mad because they stopped me from preaching the Gospel," Shoro said.
Paul Shoro also revealed that he was given a 24-hour trespassing ban for giving out pamphlets to the mall's visitors.
There is more to the story. If you listen to the conversation, the security guards have had past interactions and issues with this man. It sounds like he has been a persistent nuisance.

— Tim Goyetche (@WitchDrTim) January 17, 2023
Mall of America stated on its website that they do not allow visitors wearing "apparel that has obscene language, obscene gestures or racial/religious/ethnic slurs that are likely to create a disturbance."
However, many Christians were not pleased with the incident and even encouraged Shoro to sue the mall. Many individuals and groups plan to wear Jesus shirts to the mall as a protest.
This guy should make a killing from the lawsuit he needs to file.

— Matt (@shagmamba) January 16, 2023
Critics argued that Shoro's t-shirt was offensive because it crossed out the Coexist logo, implying intolerance against religions other than Christianity.
Did you miss the part of the story where the back of his shirt had "coexist" crossed out? I could see why people would be upset with that. He wasn't kicked out for the "Jesus Saves" part, but I'm not surprised that's the narrative everyone is going with.

— Derek Miller (@DRockMiller) January 17, 2023