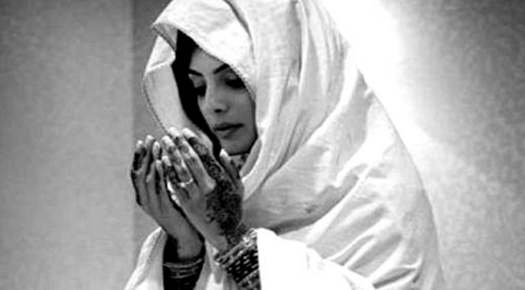 In a landmark decision, a mosque in the Indian state of Uttar Pradesh allowed Muslim women to offer prayers on Eid-al Fitr last month. A large number of women turned up alongside their male counterparts to offer namaz at the 300-year-old Aishbagh Eidgah in Lucknow on July 6 and later greet each other to exchange good wishes.
Maulana Khalid Rashid Firangi Mahli—imam of Aishbagh Eidgah—elaborated how this year, a separate hall with the capacity to hold as many as 7,000 individuals was allocated to women so many more could visit the mosque for namaz on Eid.  Eid is the last and most important day of the Islamic holy month of Ramadan, which sees Muslims across the globe fasting and abstaining from worldly pleasures.  Mahli said part of the reason the mosque took this step was to dispel the many controversies surrounding gender discrimination within the religious community.
"The idea behind inviting women for Eid namaz is to rubbish misconceptions that Islamic clerics and leaders oppose the rights granted to women by Islam," he said. "We are of the opinion that both men and women are equal and so provision has been made for women to offer namaz."
"In Arab countries, it is common for men and women to come together to offer namaz on Eid, as Islam does not prohibit the latter from doing so", elucidated Mahli.
Upon the mosque's decision to allow women into its premises to offer namaz on Eid, the state government made elaborate security arrangements to ensure safety for all.
Atiya Mushtaq, principal of a madarsa in Lucknow, said she would always remember this day as she got the opportunity to offer namaz at a mosque. Even though a separate provision was made for women at the Tayyab Hall while men met on the grounds of Aishbagh Eidgah, Mushtaq said this was definitely a move in the right direction.
"It really gave me a special feeling after I offered the Eid Namaz. It was definitely a special moment in my life, and I would treasure it," she said.
She also hoped that this refreshing change would continue in the future.
Fariah Saad, a homemaker, also shared her excitement after offering namaz at the mosque.
"We had offered Namaz in various mosques across the world. But, for the first time, I got such an opportunity in India, and I am proud to be a part of it," she said.
She further stated how this groundbreaking move would go a long way in sending a positive message about equality between men and women in Islam.
Greeting those who had gathered at Aishbagh Eidgah to celebrate Eid, Uttar Pradesh chief minister Akhilesh Yadav said the festival was one that symbolizes brotherhood and bonhomie.
"I extend my best wishes to people of the state on the occasion of Eid-ul-Fitr. The entire country is celebrating Eid and all sections of society are involved in the festival. I hope that Eid generates love among people," he said.
Ram Naik, Governor of Uttar Pradesh, added to Yadav's comments, saying the Prophet had intended to create a brotherhood with his messages of love and peace, which are relevant even today.
"A true Muslim is concerned about the welfare of his neighbors, society, fellow citizens as well as country," he concluded.
The following day, women's rights activist Shamina Shafiq welcomed Aishbagh Eidgah's landmark decision to allow women into its premises so they too could offer namaz on Eid, but said the mosque should not restrict its generosity for only one day in the entire year.
Thanking Mahli and requesting him to consider opening the mosque's doors for women throughout the year, she said, "It is a matter of great happiness that Maulana Khalid Rashid Firangi Mahli has taken such a historic step. This should have been done much earlier… But, it should not be restricted only for Eid – it should be implemented throughout the year. At least in Lucknow, every women should be able to go to Mosque and pray."
Lucknow created history last year as well, when Sibtainabad Imambara witnessed a unique citizen-initiated effort called Shoulder to Shoulder on the occasion of Eid-al Adha, the second of the two Eid holidays in the Islamic calendar. The initiative saw Sunnis and Shias perform a joint namaz to spread the message of universal brotherhood.
As Sunni imam Maulana Shehzad led the prayers at a Shia monument, with worshippers following his lead in their individual manner, Shia cleric Maulana Kalbe Sadiq had said, "It is a welcome move that both sects are standing together to pray and this should be sustained and nurtured."
Photo Credits: The Little News