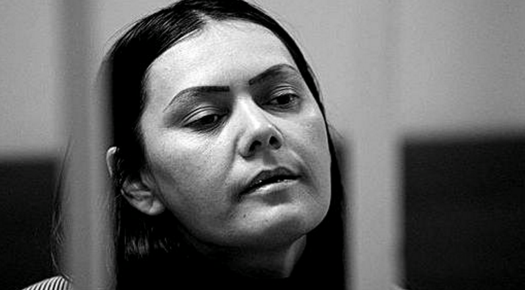 A Muslim nanny, accused of decapitating a baby girl in her care and brandishing her severed head outside a metro station in Russia, smiled at the cameras after confessing that Allah ordered her to carry out the heinous act. 38-year-old Gulchekhra Bobokulova, who is also the mother of three sons, said yes when asked if she admitted to being guilty while entering the courtroom in Moscow on March 2. In pictures that shocked the world, the hijab-wearing woman was seen strutting the streets of Moscow with the severed head of Nastya Meshcheryakova in her hands for as long as an hour until the police finally arrived at the scene and detained her.
According to witnesses, Bobokulova shouted in the street, "I hate democracy. I am a terrorist. I want you dead. You have become so hardened, you have eliminated so many of us. Look, I am a suicide bomber. I will die. Doomsday will come in a second," before pulling out the baby's severed head from a red bag and swaying it in front of the entrance to the metro station.
Bobokulova's appearance in court came a day after police officials revealed that the nanny kept her schizophrenia a secret after a bitter divorce led to her being homeless. Fresh pictures showing the inside of the apartment where four-year-old Nastya's decapitated body was discovered emerged a day later.
The baby girl's distraught father, Vladimir, said there were no words to describe the weakness, helplessness and hatred that he and his family were feeling at the moment.
"Everyone, perhaps, knows about our terrible grief. There are no words to describe the feeling of hatred, weakness and helplessness. There is no way to understand the insanity that surrounds our world, but I am sure that there are people who went through something similar - and I am grieving for Nastya with them," he said.
He also pleaded neighbors to help find the family dog Lyusya, who went missing during the blaze Bobokulova started at their apartment.
As the nanny walked into the court, journalists asked her if she wanted the parents of Nastya to forgive her. To that, she pointed her finger to the sky and said, "I will ask nobody. Only Allah." When another journalist asked her what Allah had ordered her to do, she replied rather unabashedly, "To kill."
Judge Tatyana Vasyuchenko told the court that the nanny had initially stabbed the baby girl, resulting in mortal neck injuries, before beheading her. When asked if she pleaded guilty, Bobokulova nodded yes, just as she shook her head no when asked if she regretted her decision to kill Nastya.
Speaking in broken Russian, Bobokulova said, "Allah is sending a second prophet to give news of peace."
She also complained that she was extremely hungry and would die within a week if not fed immediately. "Hi to everyone," she said afterward, while waving at the crowd of journalists in the courtroom.
Investigator Olga Lapteva told the court that the nanny committed an extremely serious crime for which she should face a prison sentence of more than three years. He also revealed that a mystery boyfriend might have accompanied her in killing the baby girl before fleeing the scene of the crime.
Despite her having confessed to the killing, police officials believe that Bobokulova was not the instigator of the crime. They are now searching for the mystery man who was allegedly dating her and might have been responsible for having radicalized her over time. The man has been identified as 46-year-old Mamur Dzhirakulov.
An investigator told the court, "The accomplices of the suspect –or we better say the instigators– are currently at large."
A relative of Nastya said that Bobokulova, who was known as Gulya to the family, was married to a man while visiting Uzbekistan 18 months ago.
"Gulya seriously changed after this," said the relative. "She started wearing hijab, she began to pray in her room… Before she was never religious, she wore ordinary clothes; sports clothes, shirts. But when he left the flat, she always put on a hijab."
Nastya's mother, Katya, dealt with the changes in Bobokulova's behavior by understanding them as a result of her changing religious preferences.
"I know she was arguing with her new husband on the phone very often recently," said the relative. "The day before the murder they had a particularly loud argument that Katya even asked Gulya to slow down."
Reportedly, Bobokulova had been registered at a psychiatric clinic in Uzbekistan after her schizophrenic condition continued to deteriorate.
Escorted by armed police personnel, a handcuffed Bobokulova guided investigators through the apartment, where she stabbed the baby girl –who apparently had learning difficulties– before decapitating her with a kitchen knife and leaving her headless body in her cot.
She told them, "I came here and took off my skirt, threw it in a rubbish bin. Got changed into what we wear to have prayer. A voice told me to wear so."
A day before she appeared in court, it was found that Bobokulova had been married for 12 long years. After her divorce, she was left on the streets, with her three sons being adopted by different relatives in the Samarkand region of Uzbekistan. Reportedly, Bobokulova met a married man a year ago and agreed to become his unofficial wife. When she returned to Uzbekistan to renew her passport, she learned that her second husband already had a family there.
"When she got to her home, she learned that her husband had started a new family. She was invited to become a second wife. In total, she spent 25 days there," said a source.
Upon returning to Russia, Bobokulova complained to Nastya's family about how her husband had cheated on her. Reportedly, these problems triggered acute manic psychosis in her.
Even though both Vladimir and Katya noticed the nanny's changed behavior, they blamed it on fatigue and exhaustion.
"Believe me, if something was wrong, Katya would not miss this moment," said the relative. "She is a shrewd woman, she would notice. She trusted Gulya fully, she worked with them for three years, she considered her a family member… They all lived in one flat. That is why Katya and Vladimir rented a big flat with two bedrooms, so they all had enough space."
Meanwhile, another investigator claimed that Bobokulova's relatives already underwent investigations at their native village.
The investigator summarized, "The parents of Bobokulova and her husband were called to police for interrogation… I can tell you only one thing - the relatives are shocked with the cruel murder, but they were not surprised. They know very well why Gulchekhra did it… Everybody here knew Gulchekhra. She was a strange woman, to put it mildly. She had schizophrenia. She was registered in the local psychiatric clinic for a long time and had special medical documents. Everybody knew it. She failed to find a job here for this very reason. Strange things often happened to her in spring. Her parents watched her and tried to send her to the psychiatric clinic when spring came… Her condition was gradually deteriorating. Before it was not that noticeable, but as time was going, it got worse… Some 15 years ago, she was in a hospital for two years… Soon after that, she left for Moscow… She often visited her family. Probably she fooled the medical commission in Russia, if she had to face it. People here were talking about it. She did not take any medical documents with her. She did not tell anybody about her condition."
Then the investigator added,"She did not live with her husband for good while. In 2000, Gulchekhra was officially registered as an insane… She was very ill then, she often suffered from attacks. It was dangerous to live with her so her husband Radmin left her… Officially they divorced in 2002. Radmin quickly remarried, and he has two more children. The eldest son lives with Gulchekhra's parents and the younger ones are with their father. So Radmin and his second wife take care of four children. Radmin is not working now, neither is his wife. It is very hard to find a job here. Gulchekhra did not support her relatives with money."
Bobokulova could face up to 20 years in jail if she is deemed psychologically fit to stand trial.
Russia's Children's Rights Commissioner, Pavel Astakhov, described the incident as monstrous and inexplicable, urging parents to carefully check the medical records of all nannies at the time of hiring.
Photo Credits: Jihad Watch